Three judges, prosecutor held on graft charges
Three Taiwan High Court judges and a district prosecutor were detained yesterday in connection with bribes that were allegedly paid during a corruption case involving former Chinese Nationalist Party (KMT) Miaoli County commissioner Ho Chi-hui (何智輝).
The case stems from a five-year investigation that began in 2005. Observers say it was the largest investigation into judicial corruption ever conducted by the Special Investigation Panel (SIP) of the Supreme Prosecutors' Office.
About 100 agents from the Ministry of Justice's Investigation Bureau raided more than 34 locations early on Tuesday, including the judges' offices at the Taiwan High Court and their residences.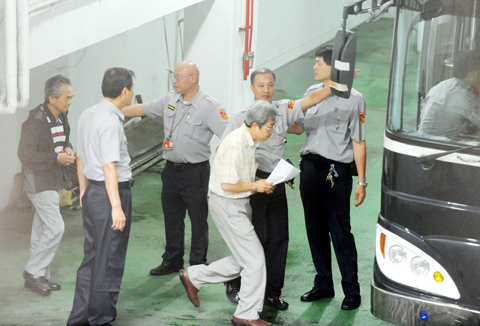 Taiwan High Court judges Tsai Kuang-chih, left, and Lee Chun-ti, third right, are led onto a bus outside the Taipei District Court yesterday on their way to the Taipei Detention Center. They have been accused of taking bribes from former Chinese Nationalist Party (KMT) Miaoli County commissioner Ho Chi-hui.
PHOTO: CHANG CHIA-MING, TAIPEI TIMES
The Taipei District Court said yesterday afternoon that all four, along with another two people alleged to be connected to the case, had been taken into custody.
The District Court said High Court judges Lee Chun-ti (李春地), Chen Jung-ho (陳榮和), Tsai Kuang-chih (蔡光治), Banciao Prosecutor Chiu Mao-jung (邱茂榮) and an alleged accomplice, Huang Lai Jui-jen (黃賴瑞珍), had been charged under the Anti-Corruption Act (貪污治罪條例). If found guilty, they could face a minimum of 10 years in prison and have to repay up to NT$100 million (US$3.1 million) each.
The other alleged accomplice, Hsieh Yen-jen (謝燕貞), could face a prison sentence of between one and seven years and a fine of up to NT$3 million if found guilty. She is also under suspicion for allegedly destroying evidence, the SIM card from a mobile phone, during Tuesday's police raids.
The six are suspected of taking or facilitating bribes offered by Ho in return for overturning a lower court's guilty verdict in a corruption case stemming from his time as a legislator.
Ho, 60, is believed to be on the run. An order barring him from leaving the country was issued yesterday, and prosecutors said they would issue an arrest warrant if he did not turn himself in.
Ho has served as a Miaoli County councilor, Miaoli County commissioner and a legislator.
He was indicted in 2004. In 2006, he was sentenced to 19 years in prison after being convicted of receiving large kickbacks during the development phase of the Tongluo expansion of the Hsinchu Science Park in Miaoli County. Ho appealed the case to the Supreme Court and in May the Taiwan High Court found him not guilty.
Documents released by the Taipei District Court yesterday alleged Ho had paid off some of the judges, possibly through intermediaries during clandestine meetings in cars and underground parking lots. Evidence complied by the court show the payments were believed to have reached NT$3.5 million at one point.
Lee and Chen were the reporting judge and the presiding judge of the High Court trial that acquitted Ho of taking bribes.
Judicial Yuan President Lai In-jaw (賴英照) was infuriated over the "breakdown of order" in the judiciary and pledged to immediately form a special task force to come up with concrete steps in to correct judicial discipline, the Judicial Yuan said in a statement on Tuesday.
The Presidential Office yesterday said President Ma Ying-jeou (馬英九) fully supported efforts to get to the bottom of the case and urged civil servants and judicial personnel to steer clear of corruption.
"The public's trust in the government is the most important asset of a government," Presidential Office Spokesman Lo Chih-chiang (羅智強) quoted Ma as saying. "Corruption erodes such trust."
ADDITIONAL REPORTING BY KO SHU-LING
Comments will be moderated. Keep comments relevant to the article. Remarks containing abusive and obscene language, personal attacks of any kind or promotion will be removed and the user banned. Final decision will be at the discretion of the Taipei Times.