Ma admits PRC sees ECFA as tool
'HEAD IN THE SAND' The opposition said everybody except the president knew that Beijing saw the trade agreement as an instrument to facilitate unification
President Ma Ying-jeou (馬英九) yesterday said that while he was aware that China had a political agenda behind the recently signed Economic Cooperation Framework Agreement (ECFA), Taiwan's sovereignty would not be harmed by the trade deal with China.
The president said he recognized China's ultimate intention was to take over Taiwan, but said there was no "political language or demands" in the ECFA document.
Prior to the signing, Ma said issues such as the potential political impact the agreement would have on Taiwan or how it would affect cross-strait developments were all being carefully considered.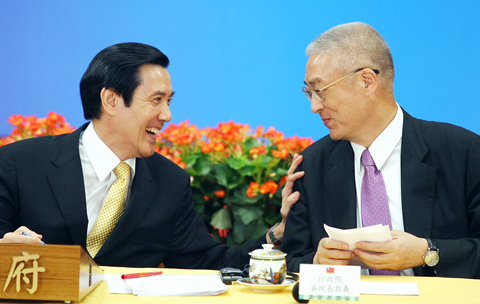 President Ma Ying-jeou, left, exchanges words with Premier Wu Den-yih following a press conference at the Presidential Office yesterday.
PHOTO: CNA
"There were concerns about the possible harm mainland China would cause us via the ECFA, but our assessments led us to believe it was a deal that we could go ahead with," Ma told a press conference at the Presidential Office yesterday.
"Moreover, members of the international community view the ECFA as a giant step toward cross-strait harmony," he said.
Speaking with a roomful of local and foreign reporters two days after the ECFA was signed in China, Ma said the two sides of the Taiwan Strait had reached a consensus to seek economic cooperation before negotiating on political issues.
Asked to comment on China's failure to remove the estimated 1,500 missiles it still has aimed at Taiwan, Ma, who had previously vowed not to enter into negotiation with China unless the missiles were removed, said it was a thorny issue for the two sides, adding that the timing was not ripe to handle political issues.
"Both sides agreed that we should put aside political issues for now and solve economic problems first," Ma said.
Ma dismissed the opposition camp's labeling of the ECFA as a preliminary step toward unification and said his administration would adopt "practical" policies by making economic issues a priority in the present stage before turning to political issues.
Ma said that more economic problems remained to be discussed and negotiated upon and that the ECFA, as other cross-strait policies promoted by his administration, would give the people on either side of the Taiwan Strait a chance to better understand each other.
At a separate setting yesterday, Democratic Progressive Party spokesperson Tsai Chi-chang (蔡其昌) said Ma's comments made it clear "to everyone but the president" that China's political ambition is to erase Taiwan's sovereignty.
"Everybody knows that the negotiations were heavily political and included [China's] motives for unification, but Ma pretends he can't see them and buries his head in the sand like an ostrich," Tsai said.
Tsai said the DPP believed that Beijing's political ambitions for Taiwan were what initially sparked negotiations for the ECFA, adding that "this became more readily apparent during the negotiations."
"The ECFA was part of China's political strategy right from the start … The only person that still can't see this is the president," he said.
Additional reporting by Vincent Y. Chao
Comments will be moderated. Keep comments relevant to the article. Remarks containing abusive and obscene language, personal attacks of any kind or promotion will be removed and the user banned. Final decision will be at the discretion of the Taipei Times.