APPROACHING ECFA: Protesters brave storms to rally against ECFA
NO FREE LUNCH Protesters said the economic pact with China to be signed on Tuesday threatened Taiwan's hard-won democracy and would not benefit average citizens
Tens of thousands of protesters rallied in downtown Taipei City yesterday, braving heavy rain as they voiced displeasure with the government's plan to sign a controversial trade deal with China on Tuesday.
Shouting slogans such as "Say no to unification, say no to China," and "Put the interests of the people first," the protesters called for a referendum on the trade pact, saying Taiwanese have a right to express their views before it takes effect.
As they marched down some of Taipei's main thoroughfares, some protesters held signs that read, "It's a shame to embrace communist China" and "Protect Taiwan, protect our jobs," while others featured creative homemade props expressing their dissatisfaction with the government.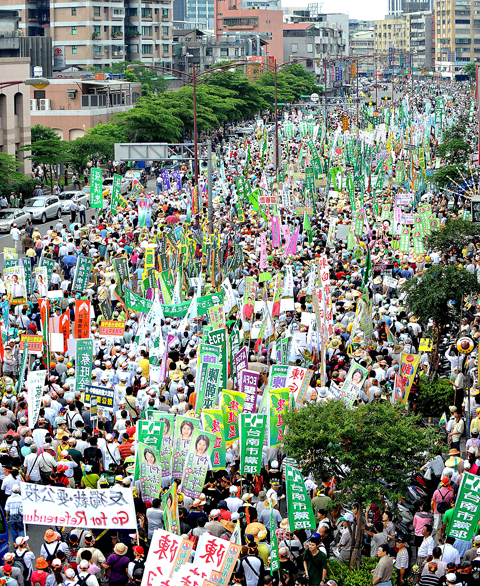 Tens of thousands of people stage a protest in Taipei yesterday against the economic cooperation framework agreement to be signed with China.
PHOTO: PATRICK LIN, AFP
President Ma Ying-jeou's (馬英九) administration maintains that an ECFA will benefit Taiwan's export-based economy by giving preferential tariff reductions to a number of Taiwanese goods to enter the Chinese market. Taiwan and China are slated to sign the agreement on Tuesday, with Deputy Chairman of China's Association for Relations Across the Taiwan Strait Zheng Lizhong (鄭立中) saying in Taipei on Thursday that the "two sides are one family."
However, opponents say the accord will increase China's influence over Taiwan, and will be tantamount to a first step toward unification.
"There is no free lunch in this world," said Andrew Chen, a businessman in Taipei, while ­brandishing a World Cup-style South African vuvuzela trumpet in his hands. "I think Taiwan is getting too close to China and we need to be on our guard."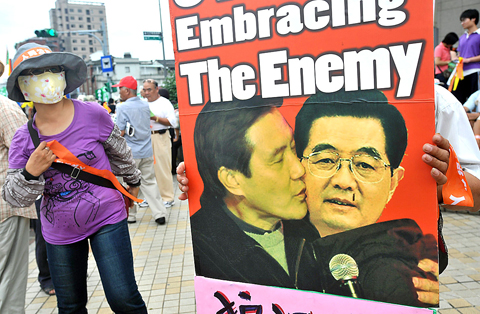 A protester holds a placard reading "stop embracing the enemy" along with a digitally manipulated photo of Taiwan's President Ma Ying-jeou and Chinese President Hu Jintao during a protest in Taipei yesterday against a major trade deal to be signed in the coming days with China.
PHOTO: PATRICK LIN, AFP
Jason Ho, a graduate student, said that Ma's administration should not have signed the deal without the people's consent.
"The public doesn't even know what is in an ECFA, but it's already a done deal. This is very upsetting," Ho said.
Chang Chi-fang (張啟方), 51, from Pingtung County said he farmed grouper fish.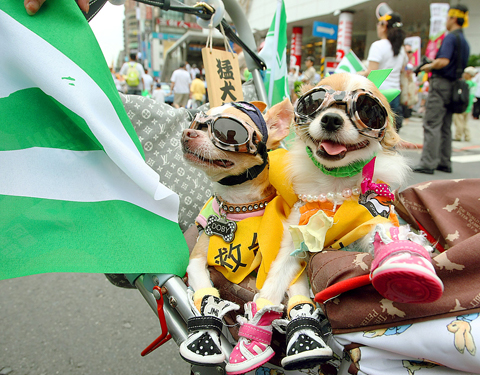 Pet dogs join their owner at an anti-ECFA protest march in Taipei ­yesterday.
PHOTO: CNA
"Even though groupers are on the early harvest list and I might be able to export my products to China, it won't be long before the cultivation technology I use is stolen by China. We will all suffer," he said.
A rubber factory worker surnamed Chang (張) from Changhua County said the trade pact would turn Taiwan into another Chinese territory like Hong Kong.
"Taiwanese have worked so hard to achieve the democracy we have today and we will not allow China to control us," he said.
Farmer Wu Hsien-che dismissed China's acceptance of tariff-free imports of some Taiwanese farm products as "sugarcoated poison."
Among the crowd was the lead vocalist of the heavy metal band Chthonic, Freddy Lim (林昶佐). He said he did not oppose exchanges between China and Taiwan, but he "strongly opposes signing an economic pact that would profit big business, but be hard on ordinary people."
"In fact, today [yesterday] is international anti-political prisoner day," he said. "The UN and many countries have spoken out against ­political ­persecution today. China is notorious for its political persecution, but the Ma government said nothing about it today. The Ma government should not negotiate economics with China and give up our democratic values."
Yesterday's demonstration, organized by Democratic Progressive Party (DPP), began at two separate locations in the city at 4pm. DPP Chairperson Tsai Ing-wen (蔡英文), who is also running for Sinbei City mayor, former president Lee Teng-hui (李登輝) and former premier Frank Hsieh (謝長廷) led a procession from Wanhua Station, while former vice president Annette Lu (呂秀蓮), former presidential advisor Koo Kwang-ming (辜寬敏) and the DPP's contender for Taipei mayor, Su Tseng-chang (蘇貞昌), led thousands from Ding-Hao plaza.
Meanwhile, walking in pairs and followed by dozens of taxis while singing songs and shouting slogans, a group of pro-independence advocates yesterday staged their own march against the ECFA.
Although the hundreds of people mobilized by the Alliance of Referendum for Taiwan and the Association for Taiwan Independence joined the two routes arranged by the DPP-hosted rally, they marched separately.
"The [signing of an] ECFA is a ­serious issue, but there are too many candidates [for the year-end special municipalities elections] trying to promote themselves on the two official routes, making the rally more like an election campaign activity," said Tsay Ting-kuei (蔡丁貴), founder of the Alliance of Referendum for Taiwan. "We are here to stand for the common public who are against an ECFA."
The third route organized by the group was headed by 92-year-old founder of the Association for Taiwan Independence Su Beng (史明), who once fought side-by-side with the Chinese Communist Party (CCP) army in the 1940s against the Chinese Nationalist Party (KMT) in China, but left China years later after witnessing the bloody and authoritarian rule of the CCP.
"You can never trust the CCP, they always try to give you something good to get you into a trap, and then catch you at once when you're in it — I know it very well, I've worked with them," he said. "Right now, they're giving Taiwan some economic benefits, but what they really aim for is political takeover. If you don't believe it, you can wait and see."
Both DPP-led marches later converged on Ketagalan Boulevard in front of the Presidential Office at 5pm, where tens of thousands of people roared slogans including, "Say no to a 'one China market,'" and "We want a referendum on an ECFA."
Lee called on voters to reject the Ma administration's China-leaning policies by voting for DPP candidates in the year-end special municipality elections.
"The Ma administration is pushing for an ECFA even though it goes against the interests of the Taiwanese public," he said.
"Let's see victories in all five of the cities [due for election in November]. We must throw Ma out to protect Taiwan," he said, adding that he believed "Ma lacked the balls" to guard Taiwanese interests.
Saying that Taiwan is a democratic society, Tsai added that an important policy like an ECFA should be decided on through a public referendum.
She pledged to side with the middle class and smaller sized businesses, which would be potentially hurt by the trade pact.
"Once an ECFA is signed, these businesses could disappear — impacting jobs and breaking down communities that rely on them," she told the crowd, many of whom were from southern Taiwan.
She also vowed that her party would not give up its opposition toward the trade agreement.
Joining her were representatives from labor and farming organizations, who also voiced their opposition to an ECFA, alleging that the benefits would be concentrated within a few large corporations, while Taiwan's income disparity gap would continue to grow.
Despite the pouring rain, organizers said they still believed up to 100,000 managed to take part in the event, although a significant number of participants were seen leaving the scene after a thunderstorm began at about 5pm, as many of them needed to take buses back to southern Taiwan.
ADDITIONAL REPORTING BY LOA IOK-SIN, JIMMY CHUAN AND AGENCIES
Comments will be moderated. Keep comments relevant to the article. Remarks containing abusive and obscene language, personal attacks of any kind or promotion will be removed and the user banned. Final decision will be at the discretion of the Taipei Times.