Lawmakers clash over PRC students
HEATED EXCHANGE While the KMT accused the DPP of resorting to violence, the DPP chief said the scuffle was caused by the KMT's move to ram the bill through
A legislative committee meeting descended into a fight yesterday as Chinese Nationalist Party (KMT) and Democratic Progressive Party (DPP) lawmakers clashed over two proposed bills that would recognize Chinese diplomas and allow Chinese students to study in Taiwan.
DPP legislators occupied the podium at around 7am — more than two hours before the meeting was scheduled to begin — and took control of the microphones in a bid to paralyze the meeting of the Education and Culture Committee.
When Minister of Education Wu Ching-ji (吳清基) arrived, the lawmakers surrounded him, accusing him of trying to sell out Taiwan by opening it to Chinese students.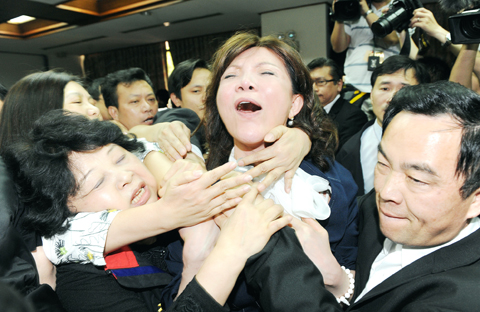 Chinese Nationalist Party (KMT) Legislator Chao Li-yun, center, is surrounded by scuffling legislators as she tries to chair a meeting of the legislature's Education and Culture Committee in Taipei yesterday.
PHOTO: CHIEN JUNG-FONG, TAIPEI TIMES
Physical clashes erupted as DPP lawmakers tried to prevent committee head and KMT caucus member Chao Li-yun (趙麗雲) from getting to the convener's podium to announce the meeting's agenda.
DPP legislators Hsueh Ling (薛凌) and Chen Ting-fei (陳亭妃) tried to stop Chao by covering Chao's mouth, while some KMT legislators tried to shield Chao.
Wu gave the committee a short briefing on the two bills, while the conflict between the KMT and the DPP continued, with some legislators jumping onto the desks and shouting at each other.
Chao surprised many by fainting shortly after announcing that the two bills would be put to cross-party negotiations — a necessary procedure before a bill is put to a second reading.
She was rushed to National Taiwan University Hospital (NTUH). DPP Legislator Kuan Bi-ling (管碧玲) and Chen also took an ambulance to NTUH for medical checkups. The meeting was adjourned shortly afterwards.
Wu later said he regretted the incident and condemned the use of violence.
DPP Legislator Chen Ying (陳瑩) accused Chao of faking her collapse, saying: "I heard other KMT lawmakers telling her to faint."
The KMT caucus, however, accused the DPP of resorting to violence.
KMT caucus whip Lin Yi-shih (林益世) called the DPP "psycho" and told DPP lawmakers to go see a psychiatrist.
President Ma Ying-jeou (馬英九) visited Chao in hospital yesterday evening.
Taiwan currently does not recognize Chinese credentials or allow Chinese students to study in the country, but Chinese students can apply to come for short-term research purposes.
The KMT administration wants to start recruiting students from China in September, but the DPP has been boycotting the bills.
The two parties are also divided as to whether the committee completed the preliminary review of the two bills during yesterday's clashes.
Lin said the bills had passed the preliminary review because Chao had announced the referral of the bills to the plenary session. The DPP, however, questioned the legitimacy of yesterday's meeting, saying the committee failed to complete a preliminary review of the bills.
In response to the scuffles, DPP Chairperson Tsai Ing-wen (蔡英文) said that the problem began because the KMT attempted to ram its bill through the legislature without a cross-party consensus.
"It's disappointing that the KMT blames the opposition for the scuffles, when it hasn't even tried to exchange opinions," Tsai said.
The DPP said it opposes the bill on easing restrictions for Chinese students because it is closely tied to another proposed bill on recognizing Chinese educational credentials, which it said would hasten Taiwan's brain drain and see Taiwanese workers compete with their Chinese counterparts for jobs.
Lawmakers have yet to achieve a consensus on such a measure, the chairperson said.
"If you open our schools to Chinese students today, you will have to recognize their certifications or their degrees. After all, how will they apply to our universities or grad schools otherwise?" DPP Spokesperson Tsai Chi-chang (蔡其昌) said.
"We haven't seen the Ma administration make any studies or take measures to deal with the proposal's potential impact," Tsai Chi-chang said.
Meanwhile, responding to the allegations that she supported a similar measure during her tenure as Mainland Affairs Council (MAC) chief from 2000 to 2004, Tsai Ing-wen said that the proposal she supported would only see Chinese students come to Taiwan for exchanges — not full-time study.
"I said that both Chinese and Taiwanese students should partake in more exchanges in universities or institutions. A major difference is that this does not involve recognizing Chinese educational degrees," Tsai Ing-wen said.
ADDITIONAL REPORTING BY MO YAN-CHIH
Comments will be moderated. Keep comments relevant to the article. Remarks containing abusive and obscene language, personal attacks of any kind or promotion will be removed and the user banned. Final decision will be at the discretion of the Taipei Times.