Ma makes stopover in Marshall Islands, travels on to Kiribati
FLYING VISIT Marshall Islands President Jurelang Zedkaia presided over a red-carpet welcome complete with full military honors when Ma Ying-jeou arrived
President Ma Ying-jeou (馬英九) arrived in the Marshall Islands yesterday for a five-and-a-half-hour state visit aimed at strengthening diplomatic ties with the Pacific island nation.
The Marshall Islands is the first leg of Ma's seven-day diplomatic trip that will also take him to five other allies in the South Pacific.
Ma received a red-carpet welcome complete with full military honors upon his arrival aboard a chartered flight. The welcome ceremony was presided over by Marshall Islands President Jurelang Zedkaia.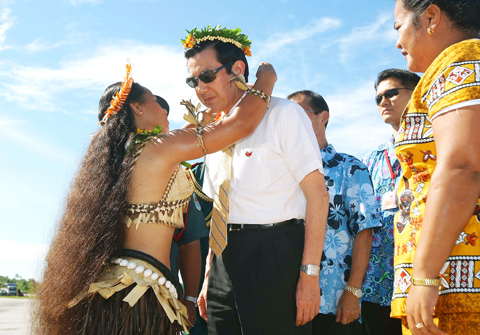 A girl presents a wreath to President Ma Ying-jeou at the airport yesterday as he arrives in the Republic of Kiribati, the second stop on his diplomatic trip.
PHOTO: CNA
Addressing the ceremony, Ma said the two countries have forged close cooperative relations in various fields, including agriculture, healthcare, education, fisheries, science and technology, since they established diplomatic ties 12 years ago.
Noting that both Taiwan and the Marshall Islands are democratic countries that uphold freedom and peace as core values, Ma said he hopes the two countries would continue to expand and deepen cooperation in the coming years.
This is Ma's first trip to the South Pacific since assuming office in May 2008. His previous four trips as head of state all took him to Latin America and the Caribbean.
Ma and his entourage traveled to Kiribati yesterday afternoon, where Ma told Kiribati President Anote Tong that Taiwan would work to help its ally in the fight against rising sea levels caused by climate change.
Meanwhile back in Taipei, Democratic Progressive Party Legislator William Lai (賴清德) yesterday said the government's foreign policy was not as successful as Ma has claimed.
Lai said the reason Ma changed his initial plan to visit Taiwan's South Pacific allies in the presidential plane was that the US refused permission for him to land in Guam as the plane is considered a symbol of national sovereignty.
Ma and his entourage made a refueling stopover in Guam en route to the Marshall Islands and will also stop there on the return journey on March 27.
In September 2006, former president Chen Shui-bian (陳水扁) flew directly to Palau in the official presidential plane, a Boeing 737 maintained by the Air Force, the first time a president had ever traveled overseas in the plane.
The presidential plane returned to Taipei when Chen and his entourage flew from Palau to Nauru on two chartered China Airlines planes because of the smaller size of Nauru's airport. On Chen's return trip, he took a charter flight to Guam before returning to Taipei.
At the time, Chinese Nationalist Party (KMT) Legislator Lin Yu-fang (林郁方) said the US would not allow Chen to land in Guam and it appears Ma has faced a similiar denial on this occasion.
"Ma's 'modus vivendi' isn't much to boast about," Lai said at the legislature's Foreign and National Defense Committee.
In response, Deputy Minister of Foreign Affairs David Lin (林永樂) said the decision to use a civilian aircraft rather than the presidential plane was made after taking a number of different factors into account.
Last June, the Presidential Office indicated that Ma preferred to use the presidential plane for his planned trip to the South Pacific, originally scheduled for October.
Comments will be moderated. Keep comments relevant to the article. Remarks containing abusive and obscene language, personal attacks of any kind or promotion will be removed and the user banned. Final decision will be at the discretion of the Taipei Times.