DPP almost makes another clean sweep
THREE STEPS CLOSER Three by-election victories against the KMT yesterday gave the DPP added momentum toward the year-end special municipality elections
The Democratic Progressive Party (DPP) yesterday scored a massive win in the legislative by-­elections, handing another loss to the Chinese Nationalist Party (KMT), which managed to secure only one out of four seats up for grabs.
According to the final election results released by the Central Election Commission (CEC), the DPP's candidate, Huang Jen-chu (黃仁杼), in Taoyuan County's third electoral district won 45,363 votes, defeating KMT candidate Apollo Chen (陳學聖) by 2,763 votes; DPP candidate Peng Shao-chin (彭紹瑾) in Hsinchu County received 71,625 votes, beating his KMT opponent Cheng Yung-tang (鄭永堂) by 15,283 votes; DPP candidate Chen Ming-wen (陳明文) in Chiayi County's second electoral district garnered 57,451 votes, easily beating KMT rival Lin Te-jui (林德瑞) by 30,313 votes.
The KMT's only victory was in Hualien, where its candidate Wang Ting-sheng (王廷升) took 39,379 votes against DPP opponent Hsiao Bi-khim (蕭美琴), who had 33,249 votes, the CEC figures showed.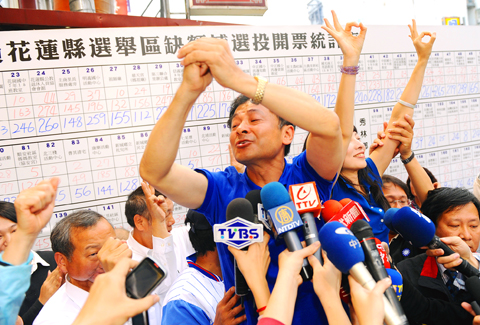 Wang Ting-sheng, the Chinese Nationalist Party's (KMT) candidate in yesterday's legislative by-election in Hualien, thanks voters after his victory.
PHOTO: LO PEI-DER, TAIPEI TIMES
"The voter turnout in the four constituencies was 41.37 percent in Taoyuan County's third electoral district, 36 percent in Hsinchu County, 38.36 percent in Chiayi County, and 41.59 in Hualien County," a CEC statement said. "The four legislators-elect will serve until the end of the seventh legislature [in 2012]."
Yesterday's electoral results will increase the amount of seats held by the DPP in the legislature, bringing its total number to 33, while the number of KMT lawmakers will drop to 74 seats.
Although the official tallies were not released until after 6:30pm, all four legislators-elect declared ­victory before 6pm. The CEC said the by-election results would be confirmed in a commission meeting next Friday.
Hsiao Bi-khim, the Democratic Progressive Party's candidate in yesterday's legislative by-election in Hualien, left, thanks campaign workers after her defeat.
PHOTO: FANG PIN-CHAO,TAIPEI TIMES
All four legislative vacancies filled in the by-election yesterday were left open when then-­legislators Chang Hwa-kuan (張花冠) from Chiayi, John Wu (吳志揚) from Taoyuan, Chiu Ching-chun (邱鏡淳) from Hsinchu and Fu Kun-chi (傅崑萁) from Hualien were elected county commissioners in their respective constituencies in the December elections last year.
Yesterday's electoral results came as the second setback this year for the KMT after it lost all three seats in another legislative by-election earlier last month.
KMT Secretary-General King Pu-tsung (金溥聰) yesterday ­apologized to supporters for the party's disappointing performance in the by-election, but pledged to continue with party reform and insisted on nominating candidates with integrity while nurturing young talent.
"We faced a tough battle in the by-election, and obviously we did not work hard enough. I need to apologize to our supporters, but we will continue with party reform and stay firm on our principles," King said in a post-election press conference at KMT headquarters. "I want to apologize to our supporters again. We've done our best, and both the government and the party will re-examine ourselves."
The by-election yesterday was King's first election since taking up the post of party secretary-general late last year. The post puts him in charge of the nomination process and election campaigning.
King said he talked to President Ma Ying-jeou (馬英九), who doubles as KMT chairman, and Ma also stressed the importance of continuing with party reform regardless of election results.
King said the party was under great pressure during the nomination process, and its victory in Hualien yesterday showed that the KMT's insistence on nominating a candidate with integrity would win support from local voters.
"We refused to seek integration in Hualien and we won a tough battle. We will continue insisting on doing the right things," he said.
The KMT's victory in Hualien was a defeat for Fu, who withdrew from the KMT to run as an independent in the Hualien County commissioner election in December last year. He endorsed independent candidate Shih Sheng-lang (施勝郎), who won 8,863 votes.
King denied that the by-election in Hualien had become a battle between the KMT and Fu, but stayed in Hualien since Thursday to focus campaign efforts in the county.
King said he had expected that the party would win in Taoyuan, but a pan-blue split caused the defeat in Taoyuan. However, King lauded Apollo Chen for his integrity and great performance as a politician, and said the party did not regret nominating him despite opposition from local factions.
The KMT lost Taoyuan despite intense campaigning from KMT heavyweights, including former KMT chairman Wu Poh-hsiung (吳伯雄) and Vice Premier Eric Chu (朱立倫), both of whom have served as Taoyuan County commissioners.
Independent candidates, former Taoyuan County councilor Wu Yu-tung (吳餘東) and Jhongli Deputy Mayor Lin Hsiang-mei (林香美) withdrew from the KMT to join the by-election, grabbing about 10,000 votes each.
King also lauded Cheng and Lin Te-jui, saying the KMT would continue its efforts to cultivate talent around the nation.
Speaking about the year-end five special municipality elections, King said the KMT would finalize the nomination process this week and decide on the final candidates via negotiations or polls.
The DPP yesterday said the turnout was a sign that voters are frustrated with the KMT government's economic policies.
"These election results signal growing dissatisfaction with KMT policies ... the public does not believe in the KMT's claims of change," DPP Secretary-­General Su Jia-chyuan (蘇嘉全) told a post-election press conference. "The three seats will help the DPP continue our monitoring over the government's economic programs and President Ma Ying-jeou's financial policies."
Standing alongside party officials, Su thanked voters for "once again giving the DPP a chance" and said the public supported the DPP in its commitment to fight a clean election battle.
DPP candidates in Hsinchu and Taoyuan counties managed to beat their KMT opponents by narrow margins, showcasing the party's gains in the historically pan-blue strongholds.
"In this election battle, the DPP has shown that it can win the trust of voters that have traditionally voted for the KMT. It shows that the people have come to choose the candidates that can govern best and gain their support," Su said.
Despite the defeat in Hualien, the three new DPP seats will be a boon for DPP Chairperson Tsai Ing-wen (蔡英文), who has just come fresh off the party's sweep of all three seats in last month's legislative by-elections in Taoyuan, Taichung and Taitung.
Speaking after declaring victory last night, Huang told supporters gathered outside his campaign headquarters that he would do his best to represent Taoyuan residents in the legislature and thanked voters for their continued support.
Su yesterday said that while the election success signaled that the DPP was on the right track before the year-end special municipal elections, "the DPP must continue to offer the public plans for Taiwan's development [and] show that we are a party that can win back governance."
The DPP's strong showing is sure to boost its morale, allowing it to hit harder at Ma, especially his signature policy of forging closer economic ties with China. He is pushing for a free-trade pact with China this year, which the DPP says will undermine Taiwan's sovereignty and cost thousands of jobs.
Ma's support rating in public opinion polls has plunged to between 20 percent and 30 percent since August last year, when Typhoon Morakot killed an estimated 700 people, and his administration was widely criticized for botching rescue and relief efforts. When he took office in May 2008, his support rating was above 60 percent.
Comments will be moderated. Keep comments relevant to the article. Remarks containing abusive and obscene language, personal attacks of any kind or promotion will be removed and the user banned. Final decision will be at the discretion of the Taipei Times.