Haiti death toll may hit 200,000
SEARCH FOR ORDER The earthquake may be one of the 10 deadliest in history. The Haitian government has turned control of its main airport over to the US to bring order
Tensions rose among desperate Haitians awaiting international aid and food that began to trickle in three days after an earthquake that Haitian authorities say killed 200,000 people.
Haiti's shell-shocked government gave the US control over its main airport to bring order to aid flights from around the world and speed relief to the impoverished Caribbean nation.
US Secretary of State Hillary Clinton was heading to Port-au-Prince yesterday to meet with Haitian President Rene Preval at the airport. Her plane was to bring in supplies and return with evacuated Americans.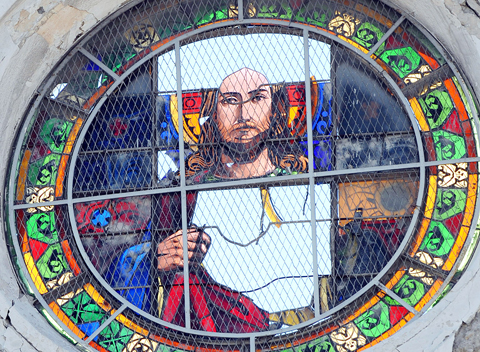 The face of Christ is still visible in a damaged stained-glass window of the toppled ­cathedral of Port-au-Prince on Friday.
PHOTO: AFP
"We will also be conveying very directly and personally to the Haitian people our long-term unwavering support, solidarity and sympathies," Clinton said.
Trucks piled with corpses have been carrying bodies to hurriedly excavated mass graves outside the city, but thousands of bodies still are believed buried under rubble.
"We have already collected around 50,000 dead bodies," Interior Minister Paul Antoine Bien-Aime said. "We anticipate there will be between 100,000 and 200,000 dead in total, although we will never know the exact number."
Some 40,000 bodies had been buried in mass graves, Haitian Secretary of State for Public Safety Aramick Louis said.
If the casualty figures turn out to be accurate, the 7.0 magnitude quake that hit Haiti on Tuesday and flattened much of its capital city would be one of the 10 deadliest ever recorded.
Health Minister Alex Larsen said three-quarters of Port-au-Prince will have to be rebuilt.
Three days after the earthquake struck, gangs of robbers had begun preying on survivors living in makeshift camps on streets strewn with debris and decomposing bodies, as aftershocks rippled through the hilly neighborhoods. Authorities reported some looting and growing anger among survivors despairing over the delay in life-saving assistance. Meanwhile, the US and other nations rushed to deliver food, water and medical supplies through a jammed airport, a smashed seaport and roads littered with rubble.
FIGHTING FOR FOOD
Hungry residents fought each other for bags of foods handed out by UN trucks in downtown Port-au-Prince.
A senior UN official warned that hunger would fuel trouble if aid does not arrive promptly, although the law and order situation remained under control "for the time being."
"There have been some incidents where people were looting or fighting for food. They are desperate, they have been three days without food or any assistance," UN Undersecretary General for Peacekeeping Alain Le Roy told The PBS NewsHour.
"We have to make sure that the situation doesn't unravel, but for that we need very much to ­ensure that the assistance is coming as quickly as possible so that the people who are dying for food and medicine get them as soon as possible," he said.
The UN mission responsible for security in Haiti lost at least 36 of its 9,000 members when its headquarters collapsed. Its two top officials have not been accounted for.
The weakened Haitian government was in no better position to handle the crisis. The quake destroyed the presidential palace and knocked out communications and power.
Preval and Haitian Prime Minister Jean-Max Bellerive were living and working in the judicial police headquarters.
"I do not have a home; I do not have a telephone. This is my palace now," the president said in an interview. "We have to make sure there is gas available ... for the trucks collecting the bodies. The hospitals are full, they are overwhelmed."
US President Barack Obama, who pledged an initial US$100 million in quake relief, promised the US would do what is necessary to save lives and get Haiti back on its feet.
"The scale of the devastation is extraordinary ... and the losses are heartbreaking," Obama said at the White House.
Obama said the US, Brazil, Mexico, Canada, France, Colombia, Russia, Japan, Britain and other countries managed to fly in rescue and logistics personnel and supplies. While some aid was getting in, the White House hoped improved logistics would streamline and accelerate the effort.
Planes and ships arrived with rescue teams, search dogs, tents, water purification units, food, doctors and telecoms teams, but faced a bottleneck at the small airport.
Air traffic control, hampered by damage to the airport's tower, now will be handled by the US military with backup from a nuclear-­powered aircraft carrier.
The USS Carl Vinson with 19 helicopters arrived off Haiti on Friday, opening a second significant channel to deliver help. Navy helicopters had begun taking water ashore and ferrying injured people to a field hospital near the airport.
The US military aimed to have about 1,000 troops on the ground in Haiti on Friday and thousands more in ships offshore. The total will reach 9,000 to 10,000 troops by tomorrow.
NO WATER, NO SUPPLIES
The Pan American Health Organization said at least eight hospitals and health centers in Port-au-Prince had collapsed or sustained damage and were unable to function.
"We have no supplies. We need surgical gloves, antibiotics, antiseptic, disinfectant," said a doctor, Jean Dieudonne Occelien. "We have nothing. Not even water. We have children out here with dry mouths and no water to give them."
Police were scarcely seen on the streets and although some ­Brazilian UN peacekeepers were patrolling, there were reports of sporadic scavenging, some looting and one report of gunshots in downtown Port-au-Prince on Friday.
At one collapsed supermarket, scores of people swarmed over the rubble to try to reach the food underneath. Just outside the Cite Soleil slum, desperate people crowded around a burst water pipe, jostling to drink from the pipe or fill buckets.
Raggedly dressed survivors held out their arms to reporters touring the city, begging for food and water.
Comments will be moderated. Keep comments relevant to the article. Remarks containing abusive and obscene language, personal attacks of any kind or promotion will be removed and the user banned. Final decision will be at the discretion of the Taipei Times.