Wu sorry over 'idiots' comment
PUBLIC BACKLASH After defending his use of the word 'idiots' in his description of independence advocates, Wu Den-yih backed down and issued an apology yesterday
Premier Wu Den-yih (吳敦義) yesterday apologized for controversial remarks he made on Tuesday when he described independence advocates as "idiots."
In a press release Wu said he was sorry for using the term "idiots" to describe people who seek independence for Taiwan and that he took it back.
His apology, however, came hours after several attempts to defend his remarks.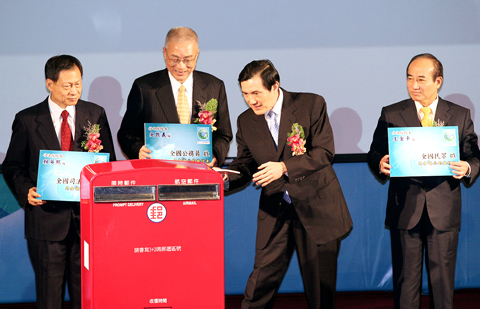 President Ma Ying-jeou, second right, accompanied by Premier Wu Den-yih, second left, and Legislative Speaker Wang Jin-pyng, right, mails a letter to the UN during an event to battle corruption and protect human rights in Taipei yesterday.
PHOTO: CNA
Wu said during an interview with the UFO Network on Tuesday: "If you want to talk about unification, nobody will support it. You don't have the capability to unify [China] and you don't want to be unified by it. Declaring independence is unnecessary because the ROC [Republic of China] is already an independent, sovereign nation. If you want to found a country with a different national title, it will only create division at home and stir tensions abroad. Only irresponsible people or idiots would want to seek independence [for Taiwan]."
Approached by reporters yesterday morning, Wu at first defended himself, saying what he meant was that the ROC has been an independent state since 1912.
Wu spoke to reporters before attending an event at the National Central Library in Taipei to promote the Act Governing Execution of the International Covenant on Civil and Political Rights and the International Covenant on Economic, Social and Cultural Rights (公民與政治權利國際公約及經濟社會文化權利國際公約施行法), which goes into effect today.
He said he firmly believed in the "three noes" principle espoused by President Ma Ying-jeou (馬英九), referring to Ma's pledge not to discuss unification with Beijing during his presidency, not to pursue or support Taiwanese independence and not to resort to military force to resolve the Taiwan issue.
He said the administration's position is to maintain the "status quo," adding that all cross-strait policies must be based on the principle that Taiwan is always the focus and public interest comes first.
Wu said he respected the freedom of those who seek independence for Taiwan and such a right should be protected by the government.
However, as the premier of the ROC, Wu said his responsibility was to safeguard the ROC — not to seek unification or independence.
"It is my fundamental belief that protecting Taiwan means defending the sovereignty integrity of the ROC and the safety and well-being of the 23 million people of Taiwan," he said.
While some reporters still questioned whether the term "idiot" was too strong, Wu said it was "not good" to focus only on a single word and that what he said referred to two groups of people — those who were "irresponsible or idiots."
"When I say you are either a boy or a girl, I don't necessarily say you are a girl," Wu added.
The Democratic Progressive Party (DPP) panned Wu's comment and criticized the government for "burying its head in the sand" when it comes to the nation's sovereignty.
"It is unthinkable that a senior government leader could be so self-defeating. This kind of mentality is completely unacceptable," DPP Legislator Tsai Huang-liang (蔡煌瑯) said.
Kuan Bi-ling (管碧玲), another DPP lawmaker, said Wu's statement was discriminatory to all Taiwanese people who view themselves as citizens of a sovereign state and called on the premier to recant his words.
DPP Spokesman Tsai Chi-chang (蔡其昌) said it was an indisputable fact that the ROC is an independent, sovereign country and if Wu has any doubt on the country's status, then he should consider stepping down.
"Since he believes that people who support independence are idiots, does that mean he is the idiotic premier leading an idiotic government?" Tsai said.
Later yesterday, the Government Information Office issued a statement saying Wu considered the words "or idiots" to be "unnecessary words."
The statement said Wu would like to take back "or idiots" because the term was inconsistent with his "mild" and "harmonious" style.
ADDITIONAL REPORTING BY JENNY W. HSU
Comments will be moderated. Keep comments relevant to the article. Remarks containing abusive and obscene language, personal attacks of any kind or promotion will be removed and the user banned. Final decision will be at the discretion of the Taipei Times.