Wu refuses to apologize over trip to Hong Kong
UNCLEAR ACCOUNT Wu Den-yih struggled to deliver his administrative report amid calls for an apology, and his speech was delayed by 80 minutes
Premier Wu Den-yih (吳敦義) yesterday refused to apologize over his controversial trip to Hong Kong he made shortly before accepting the premiership, saying he would resign if he had offered an incorrect account of the visit.
Pressed for an apology on the first day of the new legislative session by Democratic Progressive Party (DPP) legislators over the trip, during which he met two members of the Chinese People's Political Consultative Conference (CPPCC), Wu said: "I should not have to apologize."
"I would do something to take responsibility if I had lied about anything surrounding the trip … including resigning," Wu told DPP caucus whip Yeh Yi-ching (葉宜津) during a question-and-answer session.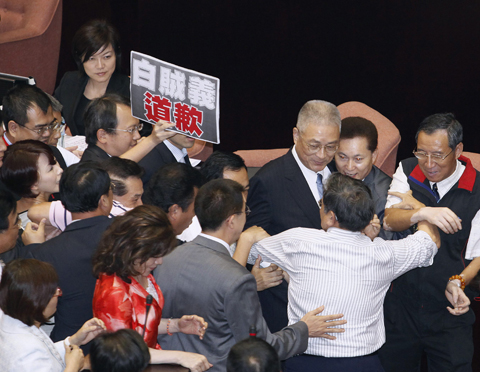 Protesters from the Democratic Progressive Party surround Premier Wu Den-yih, fourth right, as he makes his way to the podium to deliver an administrative report at the Legislative Yuan in Taipei yesterday.
PHOTO: NICKY LOH, REUTERS
Since assuming office last Thursday, Wu has been bombarded with questions regarding the short trip he made to Hong Kong on Sept. 5, a sensitive time as it was after President Ma Ying-jeou (馬英九) had asked him to take the job as premier and before his appointment was announced on Sept. 6.
The issue was further complicated by inconsistent explanations offered by government officials on the purpose of Wu's trip and the concealment of his meeting with Peter Kwok (郭炎), a CPPCC member, as well as his meeting with the man many see as Beijing's preferred candidate for the territory's next chief executive, Leung Chun-ying (梁振英).
Wu admitted that he had met with Leung, but his explanation that it was to discuss mudslide prevention methods was met with skepticism by the DPP.
The DPP has accused Wu of discussing his appointment as premier with Beijing's representatives and seeking China's prior approval.
"You first said you went there to find out more about [the Hong Kong administration's work on] mudslide prevention, but then you said you didn't, as it [Sept. 5] was a Saturday. First you said you were invited by Leung, but then Leung said you asked to see him. Then you said you didn't meet with any Chinese officials, but you were pictured talking to Peter Kwok," DPP Legislator Chai Trong-rong (蔡同榮) said.
Prior to the question-and-answer session, Wu struggled to deliver his administrative report amid calls for an apology.
Wu's presentation was delayed by 80 minutes as DPP lawmakers staged a boycott of the session following his refusal to offer an apology for what they said were his "unclear accounts" of his trip and the "numerous lies" he had told when explaining it.
Flanked by DPP lawmakers holding banners that read: "Liar Yih, Apologize," "Liar premier, how can you rule a country without honesty?" Wu skipped a large portion of his 15-page statement, polishing it off in just 10 minutes.
Wu raised his voice toward the end of his presentation as DPP lawmakers interrupted him by shouting "liar" whenever Wu talked about what he expected to achieve.
Approached by reporters during the lunch break, Wu said that he "has a clear conscience" about his trip to Hong Kong, so he couldn't act rashly and offer an apology.
Wu acknowledged meeting Kwok after a picture of them standing outside a restaurant was published in Thursday's Chinese-language Apple Daily, saying that Kwok introduced a fortune teller to his youngest son.
While the DPP continued to question Wu about the purpose of his meeting with Kwok, KMT Legislator Ho Tsai-feng (侯彩鳳) said that it was "not a surprise" that Wu went to see a fortune teller.
"It's no secret that [Wu] has always sought the opinions of fortune tellers when he is at a crossroads. He does this and many people in the south know about it," Ho said.
Earlier yesterday, Wu denied again that he went to see the fortune teller in Hong Kong himself.
Meanwhile, Mainland Affairs Council Chairwoman Lai Shin-yuan (賴幸媛) dismissed the allegation made by KMT Legislator Lo Ming-tsai (羅明才) that Wu's trip to Hong Kong was disclosed to DPP Chairperson Tsai Ing-wen (蔡英文) by Mainland Affairs Council official Jeff Yang (楊家駿), the country's representative to the territory.
DPP spokesman Chao Tien-lin (趙天麟) also said it was not true.
"Lo's accusation was not true at all — it is a KMT strategy to blur the issue," Chao said yesterday. "The controversial thing about the trip is Wu's honesty and the crisis of confidence in the Cabinet that results. No one should try to blur the focus."
ADDITIONAL REPORTING BY LOA IOK-SIN
Comments will be moderated. Keep comments relevant to the article. Remarks containing abusive and obscene language, personal attacks of any kind or promotion will be removed and the user banned. Final decision will be at the discretion of the Taipei Times.