Rescue helicopter crashes in Pingtung
HELP The rescue chopper was on its second round of deliveries to help stranded villagers when it crashed in the mountains of Pingtung County, an official said
A rescue helicopter ferrying supplies to people stranded after Typhoon Morakot crashed in the mountains of Pingtung County yesterday, the National Airborne Services Corps (NASC) said.
The fate of the three crewmen — the pilot, the co-pilot and a crewmember — was unclear at press time.
A Central News Agency report last night cited a source from the NASC as saying that the three were probably dead.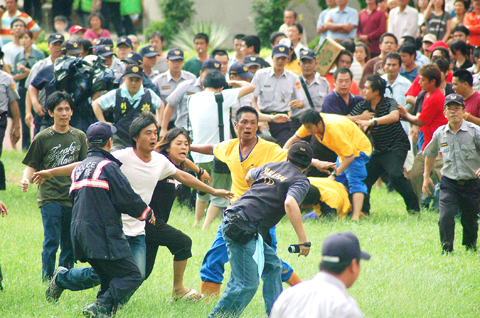 Relatives of flood victims clash with police as they vie to get on board a helicopter ahead of others in Kaohsiung County yesterday.
PHOTO: TSAI CHING-HUA, TAIPEI TIMES
The NASC sent another helicopter and a team of ground forces to search for the three crewmembers immediately after the incident.
The report quoted an NASC pilot as saying he saw three bodies on the mountainside, suggesting that they might have been thrown out of the helicopter when it crashed.
It said the rescue helicopter was unable to land on the mountainside to approach the crew because of the steeply sloped terrain.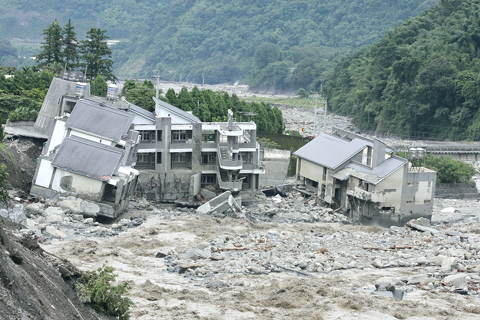 Collapsed buildings at Lunghua Elementary School in Nantou County's Hsinyi Township are engulfed by floodwaters yesterday.
PHOTO: CHAN CHAO-YANG, TAIPEI TIMES
It said it would take about four or five hours for ground forces to reach the location.
Confirming the incident at a press conference later yesterday, Captain Chen Chung-hsien (陳崇賢) of the NASC said that the UH-1H chopper crashed at 3:32pm in the Yila Valley in Wutai Township (霧台).
"The helicopter apparently hit the mountain before plunging into the Yila River valley," Chen said.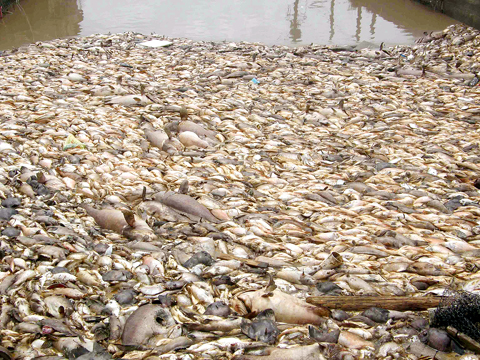 Hundreds of dead grouper fish float belly-up at a fish farm in Pingtung County's Jiadong Township yesterday after floodwaters brought by Typhoon Morakot receded.
PHOTO: CNA
"It happened as it began its second round of deliveries in the afternoon. It had completed five trips this morning, delivering a total of 2,100kg in relief goods and lifting 50 people and four bodies from the disaster area," Chen said.
Chen said the three crew members were 42-year-old pilot Chang Shun-fa (張順發), 47-year-old co-pilot Wang Tsung-li (王宗立) and 43-year-old crew chief Huang Mei-chih (黃鎂智).
Chen said that the cause of the accident still needed to be investigated.
"Weather conditions and the age of the helicopter were both possible causes of the accident," Chen said, adding that the chopper, built in 1976, had undergone maintenance in June and flown 36 hours since its last examination.
Chang had accumulated 3,285 flight hours and Wang 5,045 hours, Chen said.
ADDITIONAL REPORTING BY DPA
Comments will be moderated. Keep comments relevant to the article. Remarks containing abusive and obscene language, personal attacks of any kind or promotion will be removed and the user banned. Final decision will be at the discretion of the Taipei Times.