TSU says economic agreement with China spells 'death'
The Taiwan Solidarity Union (TSU) released a pamphlet yesterday listing the ways Taiwan would be harmed if it signed an economic cooperation framework agreement (ECFA) with China.
TSU Chairman Huang Kun-huei (黃昆輝) told a press conference that the pamphlet would help the public realize the major disadvantages of an ECFA.
The TSU is cooperating with the Democratic Progressive Party (DPP) to promote a referendum on any pact, Huang said.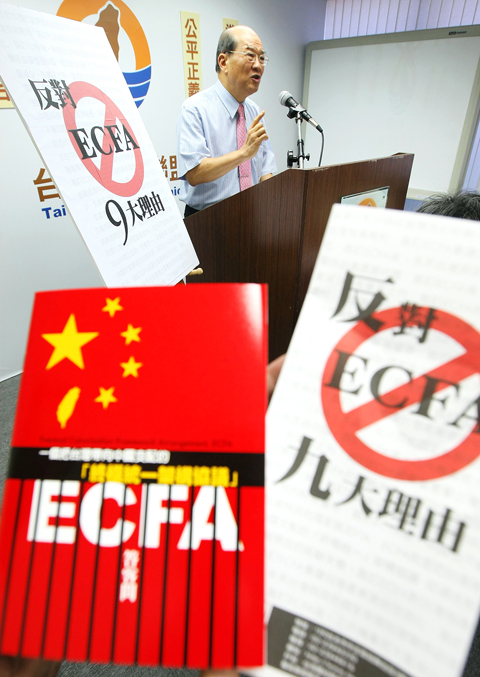 Taiwan Solidarity Union Chairman Huang Kun-huei addresses a press conference in Taipei yesterday to launch a pamphlet listing possible disadvantages for Taiwan if the government signs an economic cooperation framework agreement with China.
PHOTO: CNA
The pamphlet is written by three economists — National Taiwan University economics professor Kenneth Lin (林向愷), National Taiwan University agricultural economics professor Woo Rhung-jieh (吳榮杰) and Wang To-far (王塗發), an adjunct professor of economics at National Taipei University.
Huang said Taiwan's industrial base had been hollowed out, unemployment had soared and wages had declined since 2001 because of over-investment in China, but President Ma Ying-jeou (馬英九) had ignored this by pushing for closer economic relations with China.
He said that after signing an ECFA with China, Beijing would control Taiwan's trade with other countries, making Taiwan an economic subsidiary of China.
An ECFA would seriously affect Taiwan's agriculture sector, Huang said, adding that poor quality Chinese products would inundate the local market and China would absorb Taiwan's production technology and high quality plant and animal species.
An ECFA would be the death knell for the country's agriculture sector, he said.
The TSU chairman said that after Hong Kong signed a Closer Economic Partnership Arrangement (CEPA) with China in 2003, its average annual salary declined from US$27,708 to US$24,244 in 2007, mainly because its manufacturing industries were forced to relocate to China.
Huang said Taiwan would not enjoy beneficial treatment along with the ASEAN-plus-China grouping under an ECFA unless Taiwan acknowledged it was a province of China.
China would continue to block Taiwan from signing free trade agreements with other countries, he said.
Making a play on the acronym, Huang described it as an Eventual Colonization Framework Agreement, adding that it was a framework agreement leading Taiwan toward ultimate unification with China.
Comments will be moderated. Keep comments relevant to the article. Remarks containing abusive and obscene language, personal attacks of any kind or promotion will be removed and the user banned. Final decision will be at the discretion of the Taipei Times.