Ma rejects idea of ECFA referendum
NOT POLITICAL The president told reporters in Belize the proposed economic pact would do more good than harm and would not contain any political items
President Ma Ying-jeou (馬英九) on Thursday reiterated his opposition to a referendum on the government's planned economic cooperation framework agreement (ECFA) with China, saying it was not necessary because no political items would be included in the proposed agreement.
Ma made the remarks at a press conference in Belize for Taiwanese reporters when he was asked to comment on the Democratic Progressive Party's (DPP) push for a referendum on the proposed ECFA.
The DPP has argued that an ECFA would tilt Taiwan too far toward China.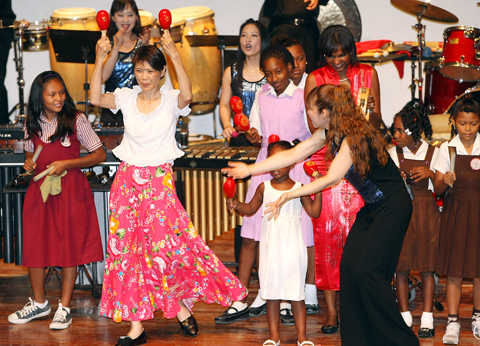 First lady Chow Mei-ching, second left, dances with children on Thursday during a celebration in Belize.
PHOTO: CNA
"An ECFA with China will do more good to Taiwan than harm," Ma said.
The signing of an ECFA with China was urgently needed for Taiwan because a free-trade agreement between China and ASEAN will take effect next year, further marginalizing Taiwan and crippling its trade-dependent economy, the president said.
Taiwan cannot afford to ignore that China is its biggest trading partner and the third-largest economic entity in the world, he said, reiterating that the government would push to sign an ECFA this year or next year.
Only issues of greater importance, such as those involving Taiwan's sovereignty, need to be put to a referendum, he said.
"There won't be any political items, such as 'one nation, two systems,' in the ECFA," he said.
Stressing that the proposed ECFA was an economic agreement, Ma said holding referendums is time-consuming and expensive, and it would be difficult for the government to operate if it had to hold a referendum on every major policy issue.
"It would be meaningless if referendums were held too often and on less important issues," the president said.
Ma defended his cross-strait and "flexible diplomacy" policies, saying that Taiwan's diplomatic breakthrough should begin with peaceful relations with China, and that the improvement of cross-strait relations under his administration would help Taiwan engage in diplomatic relations with other countries.
"We should turn Taiwan from a troublemaker into a peacemaker through reconciliation across the Taiwan Strait," Ma said.
"Now that cross-strait relations have improved, countries that have developed friendly relations with us can breathe a sigh of relief," he said.
All foreign aid programs must be carried out in an "appropriate, legitimate and effective" manner, and "honest and decent" diplomacy will earn the respect of the international community, he said.
In Taipei, acting DPP spokesman Chao Tien-lin (趙天麟) yesterday accused the government of having double standards on referendums.
"Why did the government agree to a referendum on legalizing casinos in Penghu, yet opposed a referendum for an issue relating to national interests such as on the ECFA?" Chao said.
"President Ma should not deprive the public of the right to decide on the ECFA," Chao said.
The spokesman also said the DPP will soon release its proposal for an ECFA referendum. The party hopes to collect 80,000 signatures to reach the first benchmark needed for a proposed national referendum, he said.
The Referendum Act (公投法) stipulates that the signatures of 0.5 percent of eligible voters — approximately 80,000 — must be collected to apply to hold a referendum.
In the second application stage, 5 percent of eligible voters — approximately 800,000 — must sign the petition before the proposed referendum can be screened by the Referendum Review Committee
ADDITIONAL REPORTING BY RICH CHANG
Comments will be moderated. Keep comments relevant to the article. Remarks containing abusive and obscene language, personal attacks of any kind or promotion will be removed and the user banned. Final decision will be at the discretion of the Taipei Times.