Prosecutors retrace steps of suspected Chinese spy
UNDER SUSPICION The chairman of a Chinese high-tech firm was taken into custody after taking pictures at a military recruitment center in Taipei on Monday
A Chinese tourist was arrested on Monday on a charge of spying on a military facility, prompting accusations from Democratic Progressive Party (DPP) legislators yesterday that the government was neglecting national security.
Military police had detained the tourist, Ma Zhongfei (馬中飛), chairman of a high-tech company in China, for taking photos of military property at the Armed Forces Recruitment Center in Taipei. He was placed under arrest late on Monday night and detained for questioning.
Taipei prosecutors said they transferred the case to the Taiwan High Court Prosecutors' Office at midnight on Monday because the case fell under the High Court's jurisdiction.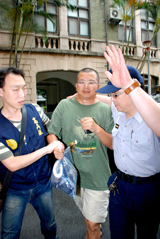 Officers yesterday escort Chinese tourist Ma Zhongfei, center, to reconstruct his movements at the Armed Forces Recruitment Center in Taipei, where he was arrested on Monday on suspicion of taking photographs for intelligence purposes.
PHOTO: CNA
Prosecutor Tseng Chiun-che (曾俊哲) yesterday took Ma back to the recruitment center to question him about the exact locations where he had taken photos and where he had aimed his camera.
This would be important in determining Ma's reasons for taking the photos, prosecutors said.
Ma told prosecutors that he came to Taiwan on a nine-day tour and had planned to return to China today.
He left his tour group on Monday afternoon saying he was going to Sindian (新店) in Taipei County to pay his respects to a deceased Taiwanese friend. As he traveled along Keelung Road, he stopped at the recruitment center and took some pictures.
Ma said he entered the recruitment center to take photos of the buildings.
He said he asked the guards on duty at the center whether he could look around and take some pictures.
They told him it was permitted, as the building is open to the public, Ma said. The suspect took some photographs of the buildings, vehicles and people inside the center, Ma said.
He said had no intention to steal military secrets.
"Prosecutors are still in the process of determining whether the defendant intended to intrude or had accidentally entered the center," Taiwan High Court Prosecutors' Office spokesperson Lin Bang-liang (林邦樑) said.
Ministry of National Defense spokesman Major-General Yu Sy-tue (虞思祖) told a press conference that Ma had been arrested because he had entered a restricted area through a back door, after which he immediately pulled out his camera and began taking pictures.
He was discovered by security guards, who arrested him on the spot, Yu said.
"Our guards stopped him immediately and arrested him because what he did was in violation of the law," the spokeman said.
Yu said Ma violated Article 112 of the Criminal Code, for which he faces a prison sentence of up to 12 months if found guilty.
"After being questioned by military police, the man was transferred to the Taiwan High Court Prosecutors' Office," Yu said.
"Military personnel acted correctly throughout," he said.
While the recruitment center has been temporarily closed to the public since yesterday, military personnel at the center were maintaining their regular work schedules, Yu said.
Members of the DPP caucus said at a press conference yesterday that the government was neglecting the potential threat to national security posed by the growing number of Chinese tourists visiting Taiwan.
"Chinese tourists have also been found filming and taking photos of the air force's Chiashan [佳山] base in Hualien when they visited a scenic spot next to the base, but the military and the government did nothing to stop it and prevent military secrets from being leaked," DPP Legislator Yeh Yi-ching (葉宜津) said.
"Perhaps the government should rename Chiashan air force base as Chiashan sightseeing spot," she added.
Yeh said Taiwan could not rely on President Ma Ying-jeou (馬英九) to protect the country.
But Chinese Nationalist Party (KMT) Legislator Lin Yu-fang (林郁方), a member of the Foreign and National Defense Committee, downplayed the possible impact on national security.
Lin urged the public to remain alert, but not to worry.
"Military facilities that perform classified duties are usually hidden somewhere," he said.
"Many military facilities of real importance are either underground, hidden in caves or in forests," Lin said.
ADDITIONAL REPORTING BY FLORA WANG
Comments will be moderated. Keep comments relevant to the article. Remarks containing abusive and obscene language, personal attacks of any kind or promotion will be removed and the user banned. Final decision will be at the discretion of the Taipei Times.