Pentagon warns on conceding to China
GOAL A Pentagon report says that while Beijing speaks of peaceful unification, its continuous military upgrade shows that it is not willing to renounce the use of force
A new Pentagon report on Chinese military power suggests that Beijing may be trying to frighten Taiwan into making repeated concessions.
It says that despite apparently improved cross-strait relations under President Ma Ying-jeou (馬英九), "there have been no signs that Beijing's military dispositions opposite Taiwan have changed."
The 60-page annual report to Congress on China's military also makes clear that the US "is maintaining the capacity to defend against Beijing's use of force or coercion against Taiwan."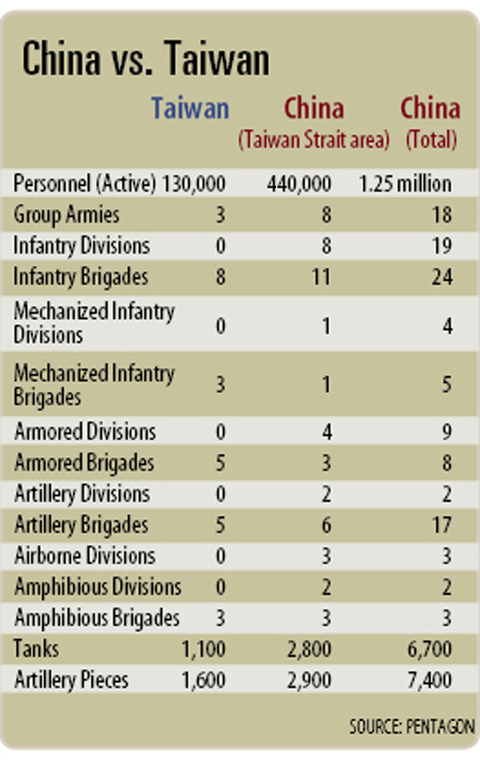 "Beijing appears prepared to defer the use of force as long as it believes the trend of cross-strait relations continues toward unification and the costs of a conflict outweigh the benefits," it says.
"In the near term, Beijing's objective appears to be focused on preventing Taiwan from moving toward de jure independence through a strategy that integrates political, economic, cultural, legal, diplomatic and coercive military instruments of power," it says.
"Although Beijing professes a desire for peaceful unification that would allow Taiwan to retain a high degree of autonomy, the PLA's [People's Liberation Army's] deployment of short range ballistic missiles, enhanced amphibious warfare capabilities and modern, advanced long-range anti-air systems across the strait from Taiwan underscores that Beijing remains unwilling to renounce the use of force," the report adds.
As part of an "executive summary" the report concludes that the PLA is pursuing comprehensive transformation from a mass army designed for protracted wars of attrition on its territory to one capable of fighting and winning short-duration, high-intensity conflicts along its periphery against high-tech adversaries.
"These same capabilities," the report says," could in the future be used to pressure Taiwan toward a settlement of the cross-strait dispute on Beijing's terms while simultaneously attempting to deter, delay or deny any possible US support for the island in case of conflict."
Some Pentagon analysts hold that China would first pursue a measured approach characterized by signaling its readiness to use force, followed by deliberate buildup of force to optimize the speed of engagement over strategic deception.
Others contend that it is more likely that Beijing would sacrifice preparations in favor of surprise to force a rapid military or political resolution before other countries could respond.
"Beijing might use a variety of disruptive, punitive or lethal military actions in a limited campaign against Taiwan, likely in conjunction with overt and clandestine economic and political activities," the report says.
"Such a campaign could include computer network or limited kinetic attacks against Taiwan's political, military and economic infrastructure to induce fear on Taiwan and degrade the populace's confidence in the Taiwan leadership. Similarly, PLA special operations forces that have infiltrated Taiwan could conduct attacks against infrastructure or leadership targets," it says.
The report says that limited short range missile strikes and precision strikes against air-defense systems, including air bases, radar sites, missiles, space assets and communications facilities, could support a campaign to degrade Taiwan's defenses, neutralize Taiwan's military and political leadership, and possibly break the Taiwan people's will to fight.
The report, going into surprising detail, predicts that the PLA is capable of accomplishing various amphibious operations short of a full-scale invasion of Taiwan.
"With few overt military preparations beyond routine training, China could launch an invasion of small Taiwan-held island such as the Pratas [Dongsha Islands] or Itu Aba [Taiping Island in the Spratlys]," it says.
"This invasion would demonstrate military capability and political resolve while achieving tangible territorial gain and simultaneously showing some measure of restraint. However, this kind of operation includes significant, if not prohibitive, political risk because it could galvanize the Taiwan populace and generate international opposition," it says.
The report states as fact: "A PLA invasion of a medium-sized, defended offshore island such as Mazu [Matsu] or Jinmen [Kinmen] is within China's capabilities."
But it concludes: "An attempt to invade Taiwan would strain China's untested armed forces and invite international intervention. These stresses, combined with China's combat force attrition and the complexity of urban warfare and counterinsurgency [assuming a successful landing and breakout] make amphibious invasion of Taiwan a significant political and military risk."
In Taipei yesterday, the Mainland Affairs Council (MAC) urged Beijing to dismantle missiles targeting Taiwan.
Deputy Minister Liu Te-shun (劉德勳) said it was the responsibility of both sides to improve cross-strait relations. Only with the destruction of the missiles aimed at Taiwan could peace and stability in the Taiwan Strait and the region be restored and a win-win situation be created, he said.
The Ma administration will make efforts to maintain the "status quo" of peace and stability in the Taiwan Strait, he said, under the basis of "three noes": no discussion of unification with Beijing during Ma's presidency, no pursuit or support of de jure Taiwan independence and no use of military force to resolve the Taiwan issue.
Meanwhile, China said yesterday that the Pentagon report marked a misrepresentation of facts and urged the US to halt the annual publication.
"This is a gross distortion of the facts and China resolutely opposes it," foreign ministry spokesman Qin Gang (秦剛) told journalists in Beijing. "This report issued by the US side continues to play up the fallacy of China's military threat."
He asked the US to stop issuing the annual report to "avoid further damage to the two sides' military relations."
The Chinese foreign ministry reaction came shortly after it also reacted harshly to a resolution by US lawmakers pledging continued strong support of Taiwan.
"The Chinese side expresses its strong dissatisfaction and has made solemn representations with the US side," Qin said in a statement that was posted overnight on the Chinese foreign ministry's Web site.
The US Congress passed a resolution on Tuesday vowing "unwavering commitment" to Taiwan's security and calling the 1979 Taiwan Relations Act a "cornerstone" of US policy.
ADDITIONAL REPORTING BY KO SHU-LING AND AFP
Comments will be moderated. Keep comments relevant to the article. Remarks containing abusive and obscene language, personal attacks of any kind or promotion will be removed and the user banned. Final decision will be at the discretion of the Taipei Times.