SEF, ARATS heads begin historic talks
TIGHT SECURITY Straits Exchange Foundation head Chiang greeted his Chinese counterpart as police broke up protests, fracturing the finger of a Taiwanese activist
Association for Relations Across the Taiwan Strait (ARATS) Chairman Chen Yunlin (陳雲林) and his 60-member delegation arrived from China yesterday, kicking off five days of high-level talks between Taipei and Beijing amid a heavy police presence and a slew of protests.
The highest-ranking Chinese official to ever visit Taiwan arrived in a chartered Air China Boeing 737-800 at Taiwan Taoyuan International Airport at 11:46am.
The countries resumed talks in June after a 10-year hiatus.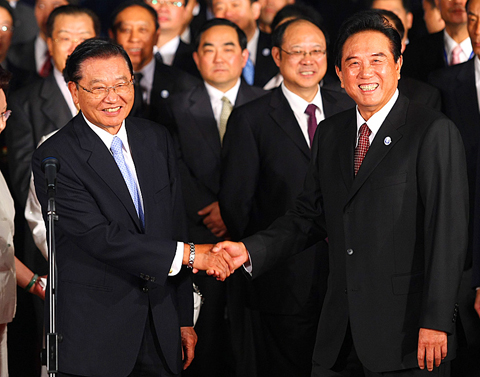 Straits Exchange Foundation Chairman Chiang Pin-kung, left, greets Association for Relations Across the Taiwan Strait Chairman Chen Yunlin at the Grand Hotel in Taipei yesterday.
PHOTO: CNA
Two agreements were signed at the time allowing weekend chartered flights and increasing the number of Chinese allowed to visit Taiwan.
This time around, both sides plan to ink four agreements today on food safety, direct air and shipping links and direct postal services.
Police escorted a black limousine carrying Chen from the airport to the Grand Hotel. He was welcomed by his Taiwanese counterpart, Straits Exchange Foundation (SEF) Chairman Chiang Pin-kung (江丙坤), in the hotel lobby, where the two exchanged greetings and made brief speeches.
Minutes after Chen began to talk, four Taipei City Democratic Progressive Party (DPP) councilors began shouting "Taiwan and China are two different countries on each side of the Taiwan Strait!"
They were immediately swarmed by security officers and swept into the hotel's basement.
"I am bringing goodwill wishes to Taiwan's 23 million compatriots from the mainland's 1.3 billion people," Chen said.
Saying the purpose of his visit was "clear and simple," Chen said the meeting would not touch on any political issues and that it was a rare opportunity for the negotiators to meet again, this time in Taiwan.
Chen said former ARATS chairman Wang Daohan (汪道涵) and former SEF chairman Koo Chen-fu (辜振甫), who conducted the first cross-strait negotiations in 1993 in Singapore, would have been happy to see this moment, adding that peaceful development of the Taiwan Strait was the common wish of "compatriots on both sides." Wang and Koo both passed away in 2005.
"Only communication can enhance mutual trust and cooperation to create a win-win situation," Chen said.
Describing his state as "emotional," Chen said it was his first time visiting Taiwan, which he called a "lovely land," and that he was happy to make close contact with "respectful Taiwanese compatriots."
Chiang said Chen's visit was a "historic moment" that took about 60 years to bring about and was being closely watched by Taiwanese, Chinese and the entire world.
It is also a "key moment" in the history of cross-strait development because it is the first time negotiations have taken place in Taipei, as well as a significant step for cross-strait peace and a win-win situation economically, Chiang said.
Chiang said he believed a majority of Taiwanese welcomed his meeting with Chen because the four accords serve the public interest.
Thousands of police were deployed at the airport and hotel, where they set up barbed wire and large nets to block eggs or other items thrown by protesters.
In the afternoon, Chen visited Cecilia Koo (辜嚴倬雲), the widow of Koo Chen-fu, at the Taiwan Cement Corp Building, while the SEF and ARATS vice chairmen held preparatory negotiations on the four deals.
An agreement was reached on tripling direct passenger flights to 108 per week and expanding services to 16 more Chinese cities, the Central News Agency reported. Chen and Chiang are set to sign the deal this afternoon, the report said.
The report could not be immediately confirmed with the SEF.
The two sides in June agreed to operate 36 flights across the Taiwan Strait each weekend, connecting the Taiwan and five Chinese cities.
Cecilia Koo lamented the stalemate in cross-strait relations over the years, saying Chen's visit signified the thawing of the relationship and "the end of winter and beginning of spring."
She said her late husband always said there were no petty matters in cross-strait relations and that all things must be carefully and seriously dealt with.
Chen invited her to visit China "at an appropriate time."
Chen said cross-strait relations over the past 60 years had been "eventful" and sometimes moved forward, sometimes stalled and sometimes even reversed. Nevertheless, what people on both sides hoped to see was peace, he said.
Chen rounded off his first day in Taipei with a banquet hosted by the SEF at Taipei 101.
ADDITIONAL REPORTING BY AGENCIES
Also See: More direct flights won't boost airline profits: analysts
Comments will be moderated. Keep comments relevant to the article. Remarks containing abusive and obscene language, personal attacks of any kind or promotion will be removed and the user banned. Final decision will be at the discretion of the Taipei Times.