Wu cites health to avoid court
HOSPITAL STATEMENT The former first lady's lawyer said his client had 'reluctantly' decided to heed a warning of the threat to her health a court appearance might cause
Former first lady Wu Shu-jen (吳淑珍) failed to appear in court again yesterday to face charges of embezzlement, citing a statement from the National Taiwan University (NTU) Hospital that suggested appearing in court could be injurious to her health.
"The former lady had decided to appear in court, but she reluctantly agreed to abide by the National Taiwan University Hospital's statement and respect professional opinion," her attorney, Lee Sheng-hsiung (李勝雄), told a press conference at former president Chen Shui-bian's (陳水扁) office.
The wheelchair-bound Wu was indicted on Nov. 3, 2006, for using other people's receipts to claim NT$14.8 million (US$460,100) in reimbursements from the president's "special state affairs" fund between 2002 and 2006 while her husband was president.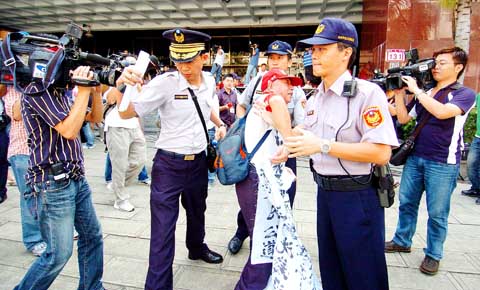 Police try to persuade a protester carrying a banner to move away from the Taipei District Court as the "state affairs fund" case reopened yesterday.
PHOTO: GEORGE TSORNG, TAIPEI TIMES
Chen was named a suspect in the same case but he avoided immediate prosecution because of presidential immunity.
He has admitted to using false receipts to claim money from a fund set aside for national affairs, but insisted the money was used for "secret diplomatic missions" that he could not publicly disclose.
Wu has repeatedly declined to appear in court after collapsing during her first hearing on Dec. 15, 2006, despite 16 court subpoenas. She cited ill health each time.
Lee said NTU hospital issued a statement at 3:30pm on Thursday afternoon, which said Wu might suffer from low blood pressure, shock or face a life-threatening situation considering the mental pressure and other stress she would face by appearing in court.
Lee said he told Wu about the statement and she had decided to respect the hospital's suggestion. She notified the prosecutors at about 7:30 pm on Thursday.
Lee said the court had listed the statement as a permanent classified document.
Lee left the press conference after making the announcement, refusing to take any questions.
Chen declined to comment yesterday on his wife's absence from court when he attended a Rotary Club luncheon.
The Taipei District Court, which had arranged to have an ambulance on call during Wu's appearance and had increased security for her, said the reason for her absence was "invalid."
"Wu is a former lawmaker and first lady ... the rationale that her mental condition and pressure from the [court] situation could endanger her life are invalid," the court said in a statement.
None of the defendants in the case, or Wu's three defense attorneys — Lee, Liao Hsueh-hsing (廖學興) and Yang Fang-wan (楊芳婉) — showed up for yesterday's hearing.
Their absence upset prosecutors. Prosecutor Lee Chia-ming (李嘉明) asked the three judges presiding over the trial for a warrant to require Wu to appear in court.
The judges dismissed the request, however, and ordered an end to the preparatory proceedings. Leading judge Tsai Shou-shun (蔡守訓) said he would begin the trial on the substance of the case, but he did not set a date.
Meanwhile, a hospital spokesman said a diagnosis certificate to excuse Wu from court had not been issued.
Spokesman Tan Ching-ting (譚慶鼎) said the statements issued by the hospital on Aug. 21 and Sept. 17, in response to requests from the Taipei District Court, contained the same medical assessment of Wu's state of health.
"The hospital advised the court of Wu's physical state 'based on her past medical history,'" Tan said.
"We regret that the official correspondence was misinterpreted," Tan said, adding that the statements were kept confidential to protect patient privacy.
Department of Health (DOH) Minister Lin Fang-yue (林芳郁), who was the hospital's superintendent before joining the new government, said Wu's lawyer had "over-interpreted" the statement the hospital gave the court.
He said the hospital statement was not specifically written about Wu's condition but a reminder of what things a court should take into consideration when a paralyzed person is questioned.
Wu's absence drew mixed reactions from lawmakers.
"She cannot hide forever and as a former first lady she should not trash the judicial system like this. She should bravely face the law," Chinese Nationalist Party (KMT) Legislator Wu Ching-chih (吳清池) said.
On the legislative floor, Premier Liu Chao-shiuan (劉兆玄) was asked by KMT Legislator Chiu Yi (邱毅) about Wu's repeated refusal to appear in court, but Liu declined to respond.
Minister of Justice Wang Ching­-feng (王清峰) filled in for Liu, saying officials should refrain from giving instructions to judges on how to handle a case under examination.
ADDITIONAL REPORTING BY SHELLEY HUANG
Comments will be moderated. Keep comments relevant to the article. Remarks containing abusive and obscene language, personal attacks of any kind or promotion will be removed and the user banned. Final decision will be at the discretion of the Taipei Times.