Four dead, 17 injured in Sinlaku's wake
HEAVY CONSEQUENCES Officials were in the process of closing Houfeng Bridge when rushing water brought part of the structure down, along with three vehicles
Typhoon Sinlaku, which brought torrential rains to Taiwan from Friday, left four dead, seven missing and 17 injured, the Central Emergency Operation Center said. One man drowned and five were missing after Taichung County's Houfeng Bridge (后豐橋) collapsed on Sunday.
About 15,950 families were without electricity and agricultural damage was estimated at NT$330 million (US$10 million). Ilan County suffered the most damage at an estimated NT$140 million.
At 8:30pm, the Central Weather Bureau lifted sea and land alerts for Sinlaku, which was downgraded to a tropical storm on Sunday night.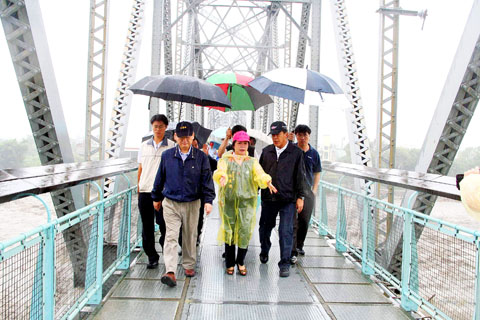 Minister of Transportation and Communications Mao Chi-kuo, front left, and Chinese Nationalist Party (KMT) Legislator Yang Chiung-ying, center, inspect the Houfeng Bicycle Path in Taichung County to discuss allowing access to scooter drivers.
PHOTO: OU SU-MEI, TAIPEI TIMES
The bureau still warned residents in Nantou, Taichung, Chiayi, Tainan and Kaohsiung counties of torrential rain.
Rescuers found the body of Lei Yu-chi (雷毓琦), a 23-year-old cable TV engineer, after his car plunged into the river when the Houfeng Bridge collapsed.
Bridge cameras showed that two more vehicles plunged into the water, but no bodies had been found at press time. Police say one of the vehicles was likely a taxi with two passengers and the other a motorcycle with one passenger.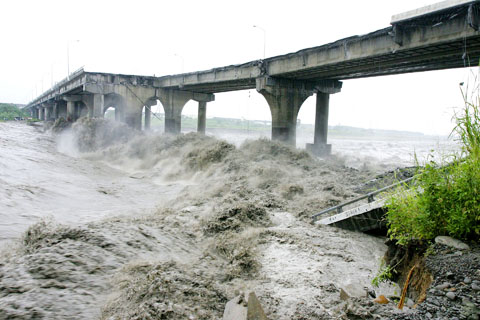 The collapsed Houfeng Bridge connecting Houli and Fengyuan in Taichung County is pictured yesterday.
PHOTO: CHAN CHAO-YANG, TAIPEI TIMES
The Directorate General of Highways said yesterday that Houfeng Bridge had been listed as needing immediate repair, and work was scheduled to begin on Wednesday next week. NT$1.56 billion has been allocated to the project, the directorate said. The bridge, which connects Houli (后里) and Fengyuan (豐原), is part of Provincial Highway 13.
The directorate also said it had sent officials to monitor water levels at the bridge on Sunday afternoon. The officials closed the bridge at 6:50pm after the water level reached a dangerous level. But they were unable to stop two cars that had passed the entrance before the "closure."
Kaohsiung County's Chiashian Bridge (甲仙橋) on Provincial Highway 20 also collapsed on Sunday night after a pier tilted.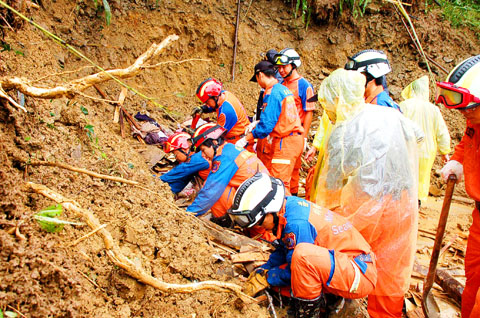 Firefighters from the Miaoli County Fire Department yesterday search through rubble for a married couple who were buried alive.
PHOTO: CHANG HSUN-TENG, TAIPEI TIMES
Following a survey last year, the directorate placed 40 bridges on a priority list for repairs. It planned to complete all repairs by 2013.
Chiashian Bridge was not on the list.
In Miaoli County, rescuers dug out the bodies of a married couple buried alive by a mudslide. The couple's family said the couple had insisted on staying in the area.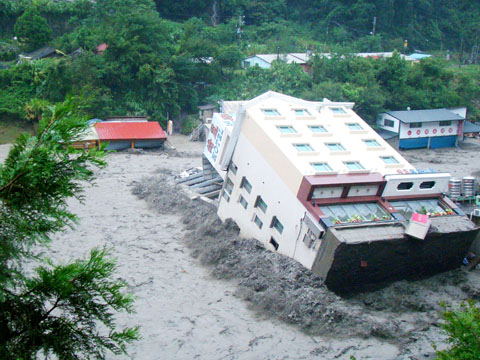 Kirei Hot Spring Hotel in Jenai Township in Nantou County is pictured after it collapsed yesterday afternoon.
PHOTO COURTESY OF YANG SHI-TE
In Nantou County, Fenchiu Tunnel (豐丘明隧道) was crushed by a mudslide yesterday, burying four cars.
Mudslides also swamped hotels in the Lushan Hot Springs Area.
Kirei Hot Spring Hotel (綺麗大飯店), a seven-story hotel in the area, collapsed.
Premier Liu Chao-shiuan (劉兆玄) yesterday inspected Houfeng Bridge, requesting the Ministry of Transportation and Communications conduct a thorough check of the nation's dangerous roads and bridges and repair them as soon as possible.
Liu demanded that government agencies complete an investigative report of the incident and determine if any government officials were at fault.
Asked to give a deadline for the report, Liu said rescue and relief work were the government's priority at the moment.
Liu promised to request funding from the legislature to reconstruct all bridges in the next few years after the ministry presents a priority list.
Liu said the government had reserved budgets for bridges in urgent need of reconstruction in this year's fiscal budget, adding that the government would propose another NT$5 billion budget for bridge reconstruction in the next fiscal year.
Minister of Transportation and Communications Mao Chi-kuo (毛治國) told the premier that reconstruction of all of the dangerous bridges was expected to be completed in four years.
Kuo Chin-tu (郭進都), a representative in Fengyuan, criticized Taichung County Commissioner Huang Chung-sheng (黃仲生), who accompanied Liu on the inspection.
Kuo said Huang should step down to take responsibility for the incident.
"He has served as commissioner for eight years. He cannot tell us he was unaware of [how dangerous the bridge was]," Kuo said.
Earlier yesterday, Liu took inspection trips to typhoon-hit farms in Ilan, promising farmer subsidies.
Liu said agricultural damage in Ilan County amounted to NT$95 million so far, but could go beyond NT$100 million.
He requested that the Council of Agriculture help the farmers deal with the impact of the typhoon.
Legislators across party lines yesterday demanded that the administration immediately rebuild or renovate bridges in bad condition.
Democratic Progressive Party (DPP) caucus whip Chang Hua-kuan (張花冠) urged the administration to come up with plans and set up dates for rebuilding or renovating 10 bridges deemed dangerous.
Chang said it was pathetic for the government to have put forth a mammoth NT$58.3 billion plan to expand infrastructure, while failing to rebuild or renovate any of the 10 most dangerous bridges.
Chang demanded that Liu resign over the collapse, claiming that the collapse reflected "the truth" about the manner in which the administration has run the country over the past several months, with words but no action.
Chinese Nationalist Party (KMT) Legislator Chang Shuo-wen (張碩文) said the incident reflected the financial difficulties facing local governments, adding that the central government should tackle the matter immediately.
"Officials rushing to the scene of accidents to express concern in the wake of accidents do not help in terms of solving the deep-rooted problems," Chang said.
Officials at the Public Construction Commission should get out of their offices to visit problem areas, Chang said, adding that 228 bridges were in need of repair or renovation nationwide.
The Shihmen Reservoir in Taoyuan County yesterday released large amounts of excessive water, enough to generate 80,000kw/h.
The reservoir began to release water on Friday. The total amount of the overflow for the weekend had reached 400 million cubic meters by yesterday morning — the equivalent of two Shihmen reservoirs.
Authorities said residents in the greater Taoyuan area need not worry about water turbidity, as the typhoon and heavy rains had not affected the area's clean water supply.
Meanwhile, the latest statistics from the Ministry of Education showed that the typhoon left 266 schools flooded and NT$76.29 million in damage.
Vice Minister of Education Lu Mu-lin (呂木琳) said that high schools had suffered the most damage.
Lu said that classes at the flooded schools could be temporarily suspended in consideration of student safety.
The damage caused by Typhoon Sinlaku over the weekend was not limited to schools, farming and fishing areas, as freshwater supply systems were also affected.
A Water Resource Agency report said that the water supply to some 65,000 households in the northern areas of Changhua County had been suspended, as flooding caused by the typhoon damaged a major supply line between Changhua and Taichung counties the previous day.
While working to fix the broken water line, the state-run Taiwan Water Corporation found that the supply to Changhua would not be restored until Thursday, the report said.
Water supplies to other areas were also disrupted, including the Shuangsi Community (雙溪) in Taipei County, Guosing Township (國姓) in Nantou County, some communities in Hsinchu's Jianshih Township (尖石), as well as in Nantou's Hsinyi Township (信義), Ilan's Tungshan (冬山) and Taoyuan's Dasi Township (大溪), the report said.
In related news, China evacuated about 460,000 people from two eastern provinces as the outer bands of Tropical Storm Sinlaku battered the coast after it pummeled Taiwan.
Heavy rain yesterday lashed eastern and northern Zhejiang, where about 230,000 people have been moved, and northern parts of Fujian, where another 230,000 people left, the official Xinhua news agency reported, citing flood control headquarters. Some 30,000 fishing boats were recalled to harbor in Zhejiang.
Sinlaku weakened from a typhoon at 8am yesterday and was about 196km southeast of Wenzhou in Zhejiang and moving north at 5kph, Xinhua cited local weather authorities as saying.
The storm probably won't make landfall in China, according to a graphic on the center's Web site. It was heading northeast and its eye was forecast to brush the southern tip of Japan's Kyushu island later this week. On its current path the storm will pass south of Tokyo.
Sinlaku, the 15th storm of the northwest Pacific cyclone season, is the name of a goddess worshipped on the island of Kosrae in Micronesia, said the Hong Kong Observatory, which lists tropical cyclone names in use in the Pacific.
Additional reporting by Bloomberg
Publication Notes
Ten dangerous bridges
1. Kueishan Bridge (龜山橋) Miaoli County 2. Chungkangsi Bridge (中港溪橋) Miaoli County 3. Lansi Bridge (蘭勢橋) Miaoli County 4. Wenshui Bridge (汶水橋) Miaoli County 5. Youluosi Bridge (油羅溪橋) Hsinchu County 6. Wusi Bridge (烏溪橋) Taichung County 7. Houfeng Bridge (后豐橋) Taichung County 8. Yenping Bridge (延平橋) Nantou County 9. Shalihsientung Bridge (沙里仙洞橋) Nantou County 10. Ertsenghang Bridge (二層行橋) Tainan County SOURCE: DIRECTORATE GENERAL OF HIGHWAYS
Comments will be moderated. Keep comments relevant to the article. Remarks containing abusive and obscene language, personal attacks of any kind or promotion will be removed and the user banned. Final decision will be at the discretion of the Taipei Times.