Fung-wong approaches Taiwan
THE PHOENIX ARRIVES The Fisheries Agency issued a sea alert yesterday while the Department of Health said six operation centers were activated to deal with crises
Typhoon Fung-wong was approaching Taiwan from the east and was expected to make landfall within the next 24 to 48 hours, the Central Weather Bureau said yesterday, after issuing a sea alert at midday.
As of 8:30pm, Fung-wong was 540km east of Ouluanbi (鵝鑾鼻), Pingtung County, moving west at a speed of 16kph.
The bureau said that if Fung-wong stayed on its present course, the eye would hit central Taiwan late tomorrow morning.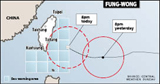 SOURCE: CENTRAL WEATHER BUREAU
"Rain is expected to hit the entire country, with the east being affected first," bureau forecaster Douglas Hsiao (蕭家森) said.
Clearer figures on precipitation would only become available after the typhoon gets closer, he said.
"Contrary to what many people think, what is most important in a tropical storm or typhoon alert isn't whether it will make landfall, but how severe its impact on the nation will be," he said.
The Council of Agriculture's Fisheries Agency also issued an alert to fishermen yesterday, urging them to cease fishing activities starting in the afternoon.
The Department of Health said that six regional emergency operation centers around the county had been established to respond to any crisis situation, adding that medical supplies for chronic patients in remote areas were being distributed to ensure they could still get what they need during the storm.
Fung-wong comes on the heels of Typhoon Kalmaegi, which hit Taiwan on July 18, triggered flash floods in central Taiwan and killed 19 people.
A marketing company manager said yesterday that people in Taipei had few choices of vegetables following the torrential rains brought by Kalmaegi, adding that root crops and cabbages grown on high-altitude farms were now dominating the vegetable market.
Chen Chia-nan, a director at the Taipei Agricultural Products Marketing Co, said that since the passage of Kalmaegi, the daily supply of vegetables had declined by about 200 tonnes. Farmlands had yet to recover from the floods, he said.
With Typhoon Fong-wong approaching, vegetable supplies in Taipei were not expected to recover anytime soon, Chen said, adding that customers should buy root crops or frozen vegetables instead.
Also See: Ma tells Cabinet to speed up flood-prevention work
Comments will be moderated. Keep comments relevant to the article. Remarks containing abusive and obscene language, personal attacks of any kind or promotion will be removed and the user banned. Final decision will be at the discretion of the Taipei Times.