Cross-strait charter flight deal inked
Negotiators from Taiwan and China yesterday signed agreements to begin regular weekend charter flights from July 4 and allow Chinese tourists to visit Taiwan starting from July 18.
The Taiwanese delegation later met Chinese President Hu Jintao (胡錦濤) at the Diaoyutai State Guesthouse in Beijing.
Hu told Straits Exchange Foundation Chairman Chiang Pin-kung (江丙坤) the agreements marked a "good start."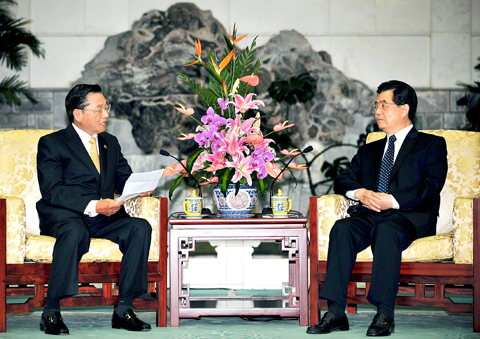 Straits Exchange Foundation Chairman Chiang Pin-kung, left, talks with Chinese President Hu Jintao at the Diaoyutai State Guesthouse in Beijing after a deal was reached on cross-strait weekend charter flights and expanding Chinese tourism in Taiwan.
PHOTO: EPA
"The resumption of talks signals a good start of the improvement and development of cross-strait relations," China's state media quoted Hu as saying.
Under the agreement signed by Chiang and Association for Relations Across the Taiwan Strait Chairman Chen Yunlin (陳雲林) — in a ceremony broadcast on Chinese national television — weekend charter flight services will cover five Chinese cities and later be expanded to six more.
The first five are: Beijing, Shanghai, Guangzhou, Xiamen and Nanjing. Later Chengdu, Chongqing, Hangzhou, Dalian, Guilin and Shenzhen will be added.
Eight destinations in Taiwan were listed: Taoyuan, Kaohsiung, Taichung, Taipei, Penghu, Hualien, Kinmen and Taitung.
The charter services will run from Friday to Monday, with each side operating 18 round-trip flights per week, or a total of 36 round-trip flights.
Taiwanese carriers cannot operate more than nine round-trip flights a week to Shanghai, while Chinese carriers are not allowed to offer more than six round-trips a week to Taichung, the pact said.
The two sides agreed they would negotiate as soon as possible on the air route and air traffic control procedures to allow the charters to fly "direct routes."
Before more direct air routes are agreed upon, the charter flights will be required to detour through Hong Kong's air space before heading to their destinations.
Negotiations on cross-strait cargo charter flights will be held within three months of the start of the weekend passenger services, the agreement said.
The pact calls for the first group of Chinese tourists to arrive on July 4, alongside the launch of the weekend charter flights, but Chinese will only be officially allowed to visit Taiwan on holiday as of July 18.
The agreement stated that ordinary Chinese must come and leave in groups and the daily ceiling on the entry of Chinese tourists will be 3,000 initially. That number will be adjusted in the second year based on market demand.
The two sides also agreed that each group of Chinese tourists should number between 10 and 40 and be allowed to stay a maximum of 10 days.
Taiwan opened its door for group tours by certain categories of Chinese in 2002, but ordinary Chinese were not allowed to holiday in Taiwan.
At a press conference after his meeting with Hu, Chiang told reporters he had raised the issue of Taiwan's participation in international affairs.
"I told Hu ... that the two sides both belonged to the Chinese race and we should make positive contributions to the international community together," he said. "The question of international space does not take second priority to the normalization of trade ties."
Chiang said Hu told him that he agreed, and suggested that Taiwan and China should seek mutually acceptable solutions to the issue.
Hu had responded: "We understand Taiwan compatriots' feelings on this issue," Chiang told reporters.
The US on Thursday endorsed the cross-strait talks in Beijing and said it hopes they will resolve the bitterness that has infected relations for decades.
State Department spokesman Gonzalo Gallegos said: "Our understanding is that they had a good conversation, and we are hoping that they will continue."
While Chinese and Taiwanese officials were all smiles yesterday after signing a landmark deal on flights however, in one area Taiwan was not happy — the controls on its normally freewheeling press corps.
China limited access to the media for much of the talks, aside from a few photo opportunities, though the Taiwanese delegation held regular news conferences at which all were welcome.
Comments will be moderated. Keep comments relevant to the article. Remarks containing abusive and obscene language, personal attacks of any kind or promotion will be removed and the user banned. Final decision will be at the discretion of the Taipei Times.