More than 70,000 houses destroyed by aftershocks
SUFFERING SICHUAN Weather forecasts said that heavy rain yesterday and today could hamper relief efforts, which were already made more difficult by a new temblor
A big aftershock rattled southwest China yesterday, killing at least one person and injuring 400, state media reported, nearly a fortnight after a big quake killed tens of thousands in the same area.
More than 70,000 houses were toppled during yesterday's tremor in Sichuan Province, state TV reported. The 5.8 magnitude aftershock was epicentered 40km west-northwest of Guangyuan, the US Geological Survey said.
At the same time hundreds of troops carrying explosives were trekking through the area, attempting to reach a "quake lake" that threatened a secondary disaster.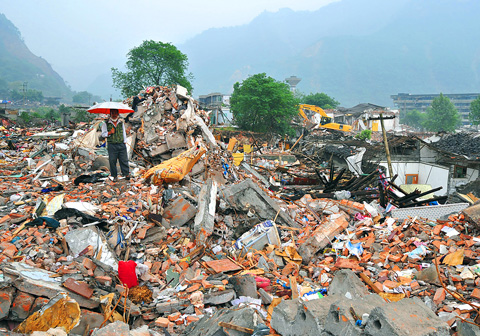 A quake survivor stands amid rubble where buildings once stood in Hanwang, Sichuan Province, China, yesterday.
PHOTO: AFP
Concerned by a rise in the water level of a giant lake at Tangjiashan, authorities have been seeking to blast a hole in the barrier before it bursts and causes a flashflood. Thousands have been evacuated below the lake as a precaution.
Chinese Premier Wen Jiabao (溫家寶), who believes the overall death toll from the main quake could exceed 80,000, has said the main concerns are now secondary disasters like flooding and landslides, epidemics and providing shelter for the millions of displaced.
State TV earlier reported that an 80-year-old partially paralyzed man was the longest known survivor to date. He was pulled alive from the rubble on Friday, 266 hours after the 7.9 magnitude quake hit.
The man was rescued in Mianzhu City, where he had been trapped under a collapsed pillar of his house. He had survived after being fed by his wife, the TV report said.
The biggest concern among the dozens of quake lakes is the one at Tangjiashan, which rose 1.93m yesterday to 723m, Xinhua said.
"The relief work for Tangjiashan quake lake is now at critical stage," Vice Minister of Water Resource E Jingping (鄂竟平) told a news conference in Beijing.
"The daunting difficulty in treating a quake lake is its unpredictability — its formation and when it could burst," he said.
But a military expert near the wrecked town of Beichuan said the lake did not pose an immediate threat.
"This is a precautionary step in case there is rain over the coming days. The dam is far from overflowing yet, but we need to release water in case the predicted rains come," said the People's Liberation Army officer, surnamed Liu.
Forecasts of rain added to worries yesterday about relief efforts to house the millions of people left homeless by the earthquake.
The government warned that heavy rain was on the way, possibly hampering work to get temporary shelters up to house the estimated 5 million who lost their homes in Sichuan Province.
The State Meteorological Bureau said yesterday that parts of Sichuan would suffer "heavy and even in some areas torrential rains" later yesterday and today.
The bureau warned of "possible mudslides" caused by the heavy rain.
Rescuers were also trying to reach 24 coal miners who officials said were trapped in three mines by the disaster, though they didn't know if the miners were alive.
Xinhua news agency said that China's customs office had streamlined entry procedures for relief materials and rescue personnel. It said that on Saturday 47 batches of overseas relief materials, including tents and medicine had arrived in quake-hit areas. Aid is being sent by large and small countries.
Also See: Games organizers shorten torch's trip through Tibet
Comments will be moderated. Keep comments relevant to the article. Remarks containing abusive and obscene language, personal attacks of any kind or promotion will be removed and the user banned. Final decision will be at the discretion of the Taipei Times.