Missing Kenting divers found alive
Families and friends of eight scuba divers who went missing in waters off Kenting National Park on Saturday morning were rejoicing yesterday after a marathon 10-hour swim by one of the group led to the rest being rescued.
Ting Po-ling (丁柏齡), a diving instructor, reached the shoreline of Taimali Township (太麻里), Taitung County, before midnight on Sunday to raise an alert.
Ting told coast guard officers that he had left the other seven divers alive in waters off Taimali.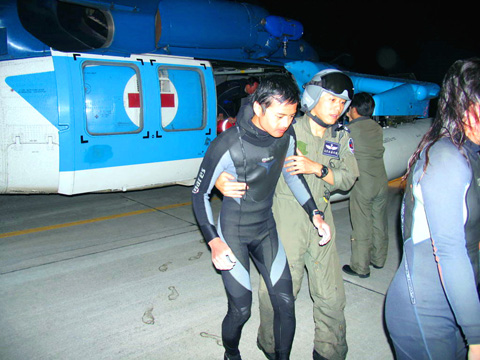 Helicopter crews from Chiayi Airforce Base yesterday assist scuba divers rescued from waters off National Kenting National Park in Pingtung County.
PHOTO: CNA
Helicopters rescued five of the divers at 2am yesterday after the divers used the flashes on their underwater camera to pinpoint their location. The remaining two divers were picked up by helicopter around 10am, coast guard officers said.
The six men and two women were hospitalized immediately, officers said. Doctors said they were suffering from minor dehydration, facial burns and hypothermia, but were in stable condition.
Ting told reporters at the hospital that it took him almost 10 hours to reach the coast.
"The desire to have a cold sports drink gave me the strength to reach land," he said.
Ting said the group was diving between Oluanpi (鵝鑾鼻) and Chihsingyen (七星岩), a popular diving spot off Kenting National Park, on Saturday morning.
He had planned to lead the divers to the south, but the strong current carried them to the northeast and they lost contact with their dive boat.
The first night in the water was very cold, Ting said, and he asked the others to watch out for one another and try to stay awake. He said they floated on their backs to save energy, linked hands to ensure they would stick together, and chatted and joked to keep their spirits up.
At 6:30am on Sunday they saw a helicopter flying nearby, but they were not spotted, he said, and that was when the decision was made for some of the group to swim for help.
Ting said he divided the eight into two groups based on their strengths.
"I teamed up with three divers, but later I decided to swim to the coast by myself," he said.
The eight, all experienced divers, were part of a 12-person group that had begun a dive at 10:30am on Saturday and were supposed to return to their boat at 11:30am.
After the eight failed to return to the boat, the boat's skipper reported their disappearance to the coast guard at Hengchun (恆春). Five helicopters and nine patrol boats took part in the rescue operation, while the divers' relatives hired fishing boats to help with the search.
Comments will be moderated. Keep comments relevant to the article. Remarks containing abusive and obscene language, personal attacks of any kind or promotion will be removed and the user banned. Final decision will be at the discretion of the Taipei Times.