Taiwan takes to streets in huge rallies
LOUD AND CLEAR Hundreds of thousands of people gathered at campaign events, with the DPP candidate speaking in Taipei and the KMT's candidate in Tainan
Senior members of the Democratic Progressive Party (DPP) and the Chinese Nationalist Party (KMT) led their supporters in giant rallies across the country yesterday, canvassing votes on Super Sunday for their respective presidential tickets as the election race entered its final week.
The DPP marked the anniversary of Beijing's "Anti-Secession" Law, which was on Friday, with a motorcade, including a truck carrying a giant golden index finger pointing to the sky and an 8m-tall wooden "Trojan horse."
The motorcade for DPP presidential candidate Frank Hsieh (謝長廷) and his running mate Su Tseng-chang (蘇貞昌) included the Trojan horse as a symbol of the dangers posed by the "cross-strait common market" proposed by Chinese Nationalist Party (KMT) presidential candidate Ma Ying-jeou (馬英九), the DPP said.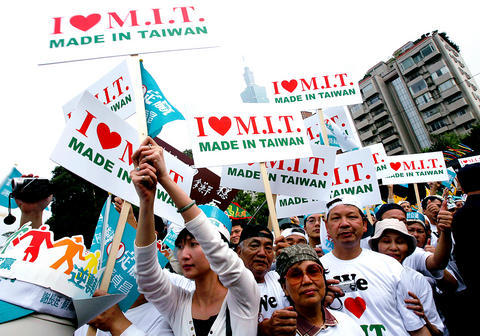 Supporters of Democratic Progressive Party candidate Frank Hsieh hold placards at a campaign rally in Taipei yesterday.
PHOTO: VINCENT YU, AP
If such a market were to be established, Hsieh said "men would not be able to find a job," "women would not be able to find a husband" and "soldiers would do their military service in Heilongjiang" in China.
Tens of thousands of DPP supporters gathered at Sun Yat-sen Memorial Hall to launch the rally, chanting "Taiwan, jiayou," an expression of encouragement, and "Frank Hsieh for president."
The DPP called the rally "1 million people high-five, come-back win."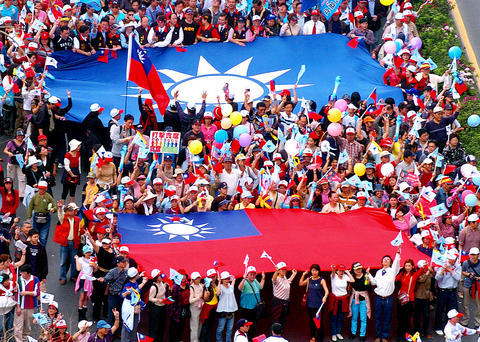 Chinese Nationalist Party (KMT) supporters carry the flags of the Republic of China and the KMT through Taipei yesterday.
PHOTO: CHANG CHIA-MING, TAIPEI TIMES
Hsieh urged the public to unite to "protect your rice bowls by opposing the `one China' market" and "check power by opposing one-party rule."
The public needs to work together to "join the UN and oppose Chinese dictatorship," he said.
Hsieh also called on Ma to offer a clear account of why he had once said the future of the nation should be decided by the people on both sides of the Taiwan Strait, but now says otherwise.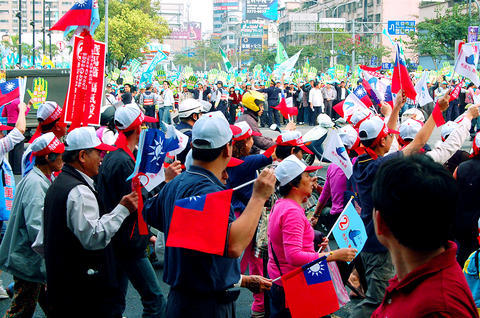 Chinese Nationalist Party (KMT) supporters, foreground, encounter Democratic Progressive Party supporters on the corner of Taipei's Wenhua and Minquan roads yesterday.
PHOTO: HO YU-HUA, TAIPEI TIMES
"I want to know what he means. China has 1.3 billion people and Taiwan has 23 million. How can they make a joint decision?" he said. "If Taiwan's future is jointly decided by both sides of the Strait, we will end up like Tibet. We must stop Ma's ridiculous proposition."
To mark the anniversary of China's "Anti-Secession" Law, which was enacted on March 14, 2005, DPP supporters gathered at 300 points across the country at 3:14pm, giving each other high-fives and wearing baseball caps backwards.
While Hsieh attended the rally in Taipei, Su attended a rally in Banciao (板橋), Taipei County, Vice President Annette Lu (呂秀蓮) was in Taoyuan County to lead supporters, Premier Chang Chun-hsiung (張俊雄) was in Taichung City, President Chen Shui-bian (陳水扁) was in Tainan County, Kaohsiung City Mayor Chen Chu (陳菊) was in Kaohsiung and former DPP chairman Yu Shyi-kun was in Ilan County. Hundreds of thousands of supporters rallied nationwide.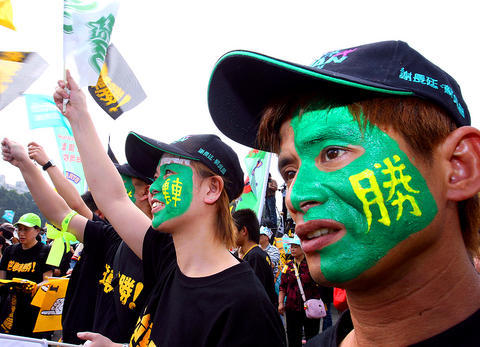 Supporters of Democratic Progressive Party (DPP) presidential candidate Frank Hsieh participate in his ``Million People High Five, Comeback Win'' campaign rally in Taipei City yesterday.
PHOTO: CNA
In a speech at Sun Yat-sen Memorial Hall, Hsieh said he was opposed to the "one China market" and urged the KMT to immediately abandon the platform.
If elected, Hsieh promised to put the interests of the nation and the public first and to fight for the nation's security and dignity.
One supporter from the US, who gave his last name as Herbert and has lived here for seven years with his Taiwanese wife, said that he backed Hsieh although he could not vote.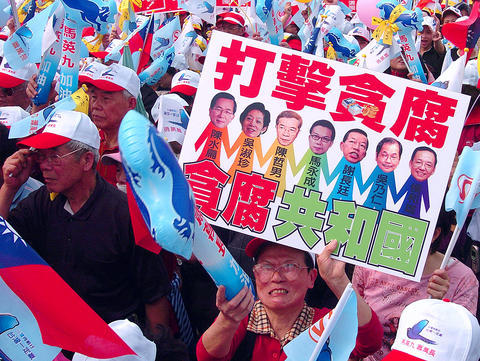 A supporter of Chinese Nationalist Party (KMT) presidential candidate Ma Ying-jeou waves a placard reading ``Fighting Corruption'' during a rally in Taipei City yesterday.
PHOTO: PATRICK LIN, AFP
"If he loses, I'm going to go back to America. I believe Taiwan will become part of China," he said. "I want to stay here for the rest of my life."
Stefan Braig, a researcher from Germany studying Taiwanese politics, said he had visited a rally for Ma before attending the DPP's. He said that he was attending the rallies to witness the development of democracy.
At the rally with her husband and two pet dogs, Wang Yueh-chao (王月昭), 54, said that she was worried that Taiwan would eventually face unification with China if Ma won and that an influx of Chinese workers would destroy the economy.
Media photographers sit in the back of a truck while taking pictures of the Democratic Progressive Party's ``Million People High Five, Comeback Win'' campaign rally in Taipei City yesterday.
PHOTO: YAO YUEH-HUNG, TAIPEI TIMES
After giving high-fives to supporters at the memorial hall, Hsieh continued in a bullet-proof vehicle to Banciao, where joined his running mate.
Su and Hsieh led the crowd as they bowed in unison in the direction of Yushan in a show of respect for the land and its people.
Early yesterday morning, Hsieh was in Taimali Township (太麻里), Taitung County, to welcome the sunrise over Taiwan.
PHOTO: HO YU-HUA, TAIPEI TIMES
Hsieh promised, if elected, to improve the political culture and economy and to deal with societal problems.
Hsieh said that he would see a "new economy" that involves more than the blind pursuit of economic growth.
He said he would seek continued economic growth in combination with prosperity for all social classes, fair allocation of resources and sustainable development.
He said he would work for "new politics" without infighting and create a situation in which political parties cooperate with each other.
The DPP finished off its campaign activities yesterday with a rally in Taichung last night.
Meanwhile, hundreds of thousands of KMT supporters took to the streets yesterday at rallies across the country to voice their support for Ma and his running mate Vicent Siew (蕭萬長).
Chanting "On March 22, vote for No. 2!" and flashing the "V" for victory sign, the supporters took to the streets in all 25 cities and counties simultaneously at 3:22pm.
Ma led more than 20,000 supporters at a rally in Tainan County, the home of Chen and a traditional pan-green bastion, pledging to be an "active" president if elected on Saturday.
"For the past eight years, Taiwan has either been stuck at the same place or gone backward. Taiwanese people need an active president," Ma told the crowd. "We can't afford to continue going backward. We need to stride forward."
At 3:19pm, Ma led the crowd in reversing their hats and putting their hands on their stomachs to show their digust with the DPP administration and corruption scandals, and the state of the economy.
Supporters joined Ma in chanting "Taiwan progresses, Taiwan wins," and began a one-hour march around veterans' communities in Yongkang (永康), Tainan County.
Waving campaign flags for Ma, local resident Chu Shao-cheng (朱紹誠) said he supported the KMT because he believed Ma could improve the economy.
College student Fang Kuo-chang (方國昌) and his brother welcomed Ma and the crowd as they passed on the street and berated the DPP administration.
"It's hard for college graduates to find jobs now. We think it's time for a change and we believe that Ma will make our lives better," Fang said.
Ma was joined later by KMT Chairman Wu Poh-hsiung (吳伯雄) and former KMT chairman Lien Chan (連戰) in Taipei via a live video feed. At 5:20pm, supporters pushed a giant ball onto the stage with a picture of Ma running, symbolizing their hope that Ma would win the election and enter the Presidential Office on May 20, inauguration day.
Wu and Lien yesterday led the rally in Taipei City, which began in front of the Songshan Tobacco Factory and ended at Ketagalan Boulevard, while KMT Secretary-General Wu Den-yi (吳敦義) led a rally in Taichung and Siew solicited support in Kaohsiung.
Ma's wife Chow Mei-ching (周美青) campaigned for Ma in Chiayi.
Ma participated in 17 campaign events in Tainan County. Before attending the evening rally, he met with the Taiwan Solidarity Union's (TSU) Tainan City branch head, Tsu Chian-ming (褚顯名), who later endorsed Ma.
"The TSU and the KMT share different ideologies, but we both strived for government integrity and a better economy," Ma said.
Ma also promised to consider non-KMT members when appointing ministers in the Control Yuan, Examination Yuan and Judicial Yuan if elected on Saturday.
Tsu declined, however, to confirm whether TSU spiritual leader Lee Teng-hui (李登輝) had approved his meeting with Ma.
The National Police Agency said more than 30,000 police officers were mobilized across the country to ensure that the DPP and KMT rallies were peaceful.
In related news, Ministry of Education Secretary-General Chuang Kuo-jung (莊國榮) submitted his resignation last night because of remarks he made at a DPP rally yesterday morning insinuating Ma's father, Ma Ho-ling (馬鶴凌), had affairs with several women.
Minister of Education Tu Cheng-sheng (杜正勝) approved Chuang's resignation, the Central News Agency reported.
Additional reporting by staff writer and CNA
Comments will be moderated. Keep comments relevant to the article. Remarks containing abusive and obscene language, personal attacks of any kind or promotion will be removed and the user banned. Final decision will be at the discretion of the Taipei Times.