Court ruling keeps Ma in election race
EMBEZZLEMENT CHARGES The KMT presidential candidate said the High Court's not guilty verdict would only encourage the DPP to redouble efforts to suppress him
The Taiwan High Court yesterday found Chinese Nationalist Party (KMT) presidential candidate Ma Ying-jeou (馬英九) not guilty of corruption. Ma had been indicted on Feb. 13 on charges of embezzling NT$11 million (US$338,000) from his special mayoral allowance during his eight years as Taipei mayor.
The High Court Prosecutor's Office said yesterday it was considering an appeal to the Supreme Court.
The Taipei District Court had cleared Ma in August, but prosecutors had appealed.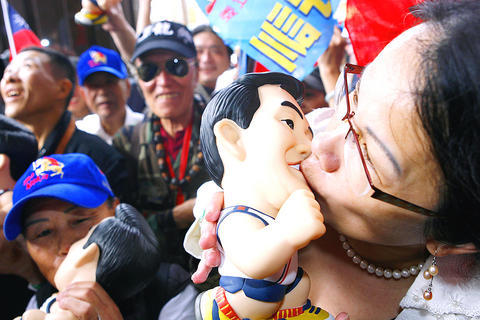 A supporter of Chinese Nationalist Party (KMT) presidential candidate Ma Ying-jeou kisses a Ma figurine outside the venue where Ma was to give a news conference in Taipei yesterday.
PHOTO: REUTERS
Prosecutors argue that Ma diverted half of his monthly special allowance -- NT$170,000 -- to personal bank accounts between December 1998 and July last year.
In this way, they said, Ma had accumulated NT$11,176,227 in accounts held in his name and that of his wife.
"The court ruled that the half of government officials' monthly special allowance not requiring accounting oversight can be cashed out or wired into personal accounts, and that accounting officials have no right to ask how this money is spent," Taiwan High Court spokesman Wen Yao-yuan (溫耀源) told a press conference yesterday.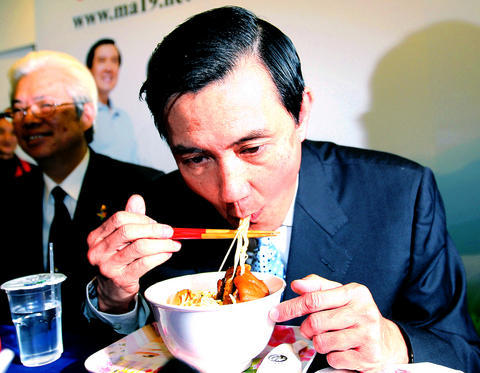 Chinese Nationalist Party (KMT) presidential candidate Ma Ying-jeou enjoys a bowl of pig's foot noodles at his campaign headquarters in Taipei yesterday as a traditional way to ward off bad luck after the Taiwan High Court found him not guilty of corruption.
PHOTO: CNA
Wen said the court upheld the view that government officials have, since 1973, not been required to account for half of their special allowance.
The court ruled that Ma had not overspent any of his allowance and that his use of the allowance had been legitimate, Wen said.
Since Ma made charity donations of more than NT$51 million during his time as mayor, an amount exceeding the special allowance he had received, the court found that he had not embezzled public funds, the spokesman said.
During the trial Ma admitted that he had taken half of his monthly special allowance for personal use, but said he believed that government officials' special allowances should be treated as a subsidy, not as public funds.
Presiding judge Liu Ching-hsing (劉景星) announced the verdict at 10am.
"The court rejects the prosecutors' appeal and upholds the Taipei District Court's ruling that Ma Ying-jeou is not guilty," Liu said, drawing cheers from a crowd of Ma supporters waiting outside the courtroom.
Ma's former secretary Yu Wen (余文), a co-defendant in the trial, was sentenced to one year in jail for using fraudulent receipts to claim reimbursements from Ma's special allowance fund.
Yu may appeal to the Supreme Court, Wen said.
Ma said in response to the ruling that it would only lead to a more challenging path to the presidency, as he was sure that the ruling party would try to suppress him by using more drastic measures.
Accompanied by five lawyers, Ma accused prosecutors of distorting the testimony of witnesses and applying different standards to similar cases.
He said the judicial system had failed to fulfill its duty, as it had failed to unify prosecutors' opinions on special fund cases.
"I felt calm the moment I heard the verdict. This is just another beginning. A more challenging road lies ahead, and there's no time to relax," Ma said yesterday at his campaign headquarters in Taipei.
"As a Hakka idiom says, `even high mountains can't cover the sun.' The truth will eventually be revealed. A total of six judges have proved my innocence, which just goes to show the prosecutors' case and appeal were both inappropriate and unreasonable," Ma said.
As supporters cheered "Go, go, Ma Ying-jeou" and waved the national flag outside his campaign headquarters, Ma said the six months he spent fighting for his innocence had made him realize that other people could suffer the same "insults and injustice," which was why he vowed to establish an impartial and equitable judicial environment if elected.
Ma accused the government of abusing its power and legal resources to attack him, and said his campaign team was prepared to defend him from further political attacks.
In response to a reporter's question, Ma said that while prosecutors were entitled to file an appeal, he hoped the judicial system would offer a unified interpretation about government officials' special funds.
"I made such suggestions after my initial trial, but no one listened. I would not have ended up in court if prosecutors had investigated my case with the same standards they applied to the pan-green camp's politicians," he said.
Ma said that, if elected president, he would adhere to the current regulations in using his special allowance and would not create new measures regulating the funds.
He declined to comment on whether he would pardon those who are charged with abuse of their special allowances if elected, but said he would seek to solve the issue via other measures, such as revising the law.
Yesterday's acquittal cleared Ma's road to his presidential campaign.
However, local cable channel FTV, citing anonymous sources, yesterday reported that the Democratic Progressive Party(DPP) would soon reveal information implicating Ma in other corruption cases. Among the cases the DPP claimed involved Ma were the KMT's sale of the Broadcasting Corporation of China, China Television Co and the Central Motion Picture Corp to China Times Group subsidiary Jungli Investment Co in 2005 for NT$9.3 billion (US$281.6 million); and the party's sale of the Institute on Policy Research and Development building to Yuan Lih Construction Corp for NT$4.3 billion last year.
Both deals took place when Ma was KMT chairman.
The DPP said yesterday that Ma would not escape public scrutiny, even though the court had cleared him of corruption charges.
"Ma will face a trial by the people on March 20," DPP Caucus whip Cho Jung-tai (卓榮泰) said.
Cho, along with DPP Cultural and Information Department director Hsieh Hsin-ni (謝欣霓) and DPP Legislator Shen Fa-hui (沈發惠), warned that Ma had lost all credibility when he "lied about never having used his special allowance for personal gain."
Hsieh, one of the first DPP lawmakers to question Ma's use of the allowance nearly a year ago, said if it was considered legal for Ma to use his allowance to buy personal items for his wife, daughters and dog, then the Executive Yuan should give back all the money other government officials have returned when they did not exhaust their allotted funds.
"The National Tax Administration should also tax all the government heads who used their allowances and the Judicial Yuan should reopen all the cases in which people have been found guilty of misusing their funds," she said.
Shen said one of the DPP's core values is to respect the judiciary's independence, but urged the public to closely examine presiding judge Liu Ching-hsing's political inclination.
In 1991, the judge had found a defendant guilty of sedition for handing a sticker of a pro-Taiwan independence group to another person, Shen said.
Judges should maintain their neutrality and refrain from participating in political movements, Shen said.
DPP presidential candidate Frank Hsieh (謝長廷) said there was a huge discrepancy between the High Court verdict and some people's expectations.
"It was obvious that Ma committed fraud because he kept changing his story on how he used the money," he said, adding that even if Ma had been found guilty, "I would have pardoned him if I won."
Frank Hsieh's running mate, former premier Su Tseng-chang (蘇貞昌), also said he found the verdict hard to accept.
Su said it was common knowledge that Ma had used his mayoral special allowance illegally.
"Many people find the outcome very bizarre, because everyone knows Ma is guilty. His secretary became the scapegoat," Su said.
Legislative Speaker Wang Jin-pyng (王金平) said yesterday at the legislature that Ma's acquittal and the special allowance cases highlighted discrepancies in the legal system.
"Maybe judges should stop hearing these cases and let the legislature begin on the work of fixing the problems with the system," Wang said.
He said that the Taiwan High Court's verdict in Ma's case created a precedent for other judges hearing similar cases.
ADDITIONAL REPORTING BY JIMMY CHUANG, STAFF WRITER, WITH AGENCIES
Comments will be moderated. Keep comments relevant to the article. Remarks containing abusive and obscene language, personal attacks of any kind or promotion will be removed and the user banned. Final decision will be at the discretion of the Taipei Times.