Southern towns under water after deluge
HAVOC Pingtung County bore the brunt of hundreds of millimeters of rain in less than 24 hours, but there was pain in Kaohsiung, Tainan, Chiayi and Taitung as well
Another day of heavy rain across a swath of Taiwan yesterday deepened the nation's weather woes as a forecast called for yet more rain and a typhoon -- a combination likely to further aggravate flood damage and other weather-related problems.
Severe flooding wreaked havoc in the south as rescue workers scrambled to save lives and property. Receiving more than 1,000mm of rain in several days, Pingtung County is so far the hardest hit of the affected areas. The townships of Machia (瑪家) and Tungkang (東港) were inundated for a second day at levels not seen in a century, as residents waded through streets and rescuers floated between buildings on rafts.
The Coast Guard Administration dropped food and supplies by helicopter to residents in remote Haocha Village (好茶), Pingtung County, after the Aboriginal community was cut off by landslides that knocked out roads and utilities.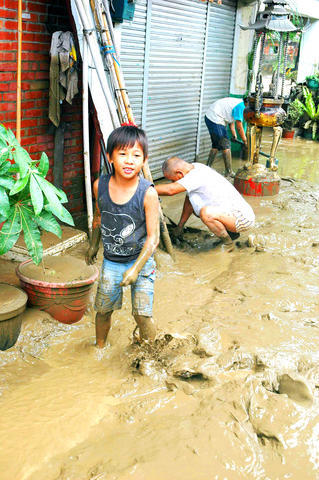 A child helps his father clean up the mud left in the street after flooding in Kaohsiung yesterday.
PHOTO: FANG CHIH-HSIEN, TAIPEI TIMES
Parts of Kaohsiung City and County were also flooded yesterday, as firemen scrambled to pry free a gate to an underground parking lot in the city amid heavy rains that threatened to submerge the lot's vehicles. The city's Love River rose 100mm above its usual level as hundreds of millimeters of rain accumulated in the area.
TV footage yesterday showed residents from southern to central Taiwan in ankle or knee-deep water rushing to relocate their first-floor belongings. Floodwater was up to the residents' waists in some places, such as Paoan Village (保安), Tainan County, which was also hit hard.
Damage to agriculture has already led to a 20 to 30 percent increase in the price of locally grown fruit and vegetables, SET TV reported.
Chiayi County Commissioner Chuo Po-yuan (卓伯源) yesterday led an emergency government meeting to address severe flooding in Chiayi, especially in the townships of Lukang (鹿港) and Hsihu (溪湖), where damage to crops and property was too extensive to calculate at this time.
Chuo called on the Council of Agriculture to compensate farmers for their losses and consider emergency response measures, the Central News Agency reported.
The Ministry of Finance, meanwhile, announced that damage to property suffered after heavy rains could be included as a tax write-off.
Flooding in townships across Kaohsiung County abated yesterday, with residents emerging from their homes to assess the damage. Affected by its worst flooding in 30 years, roads in the popular Hakka tourist township of Meinung (美濃) were open again after widespread closures.
Nearly 3,000 tourists stranded on Green Island, Taitung County, for several days because of rough seas finally boarded ferries yesterday after the waters calmed.
Meanwhile, located 1,150km southeast of Taiwan and moving at 13kph, Typhoon Sepat is expected to continue moving toward the nation, the Central Weather Bureau said.
The typhoon is expected to continue gathering strength on its approach, the bureau said.
The bureau is waiting until tomorrow before predicting if Sepat will make landfall on Taiwan. But it said that the typhoon would bring more rain until at least Monday regardless of its course.
Comments will be moderated. Keep comments relevant to the article. Remarks containing abusive and obscene language, personal attacks of any kind or promotion will be removed and the user banned. Final decision will be at the discretion of the Taipei Times.