Two legislators' campus security `drill' goes awry
IMPROMPTU The two lawmakers staged an exercise they said was designed to test police response to an incident at a local university, but the police had not been informed
Two days after the worst shooting rampage in US history on the campus of Virginia Tech University, heavily armed police swarmed the school's sister institution in Taiwan, National Taiwan University (NTU), responding to what they believed was a hostage incident carried out by two armed assailants.
What police and students did not know, however, was that the incident was a stunt staged by two elected officials who had not notified law enforcement agencies of their intent.
Around 2:45pm on Wednesday, Democratic Progressive Party (DPP) legislators Lee Chen-nan (李鎮楠) and Lin Kuo-ching (林國慶) led several officials from the Ministry of Education (MOE) and the media to the university, where they announced they would conduct a "drill."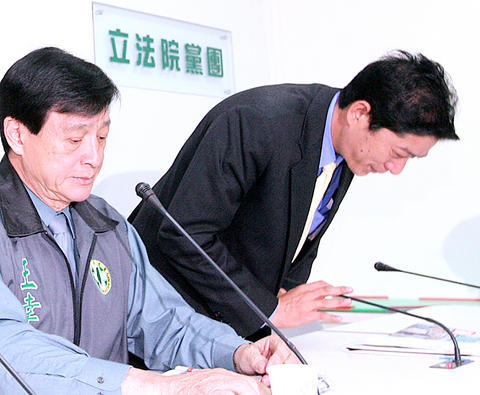 Democratic Progressive Party (DPP) Legislator Lin Kuo-ching apologizes to the faculty and students at National Taiwan University fro staging a mock attack Wednesday morning to test the police response.
PHOTOS: GEORGE TSORNG, TAIPEI TIMES
The pair demanded that officials begin by "simulating" a hostage situation at the university's College of Bio-Resources and Agriculture.
They then alerted campus police that two gun-toting madmen had just taken 30 students hostage in a classroom.
After receiving the initial report, the university police sent two officers to check on the situation, while calling for backup from the Taipei City Police Department.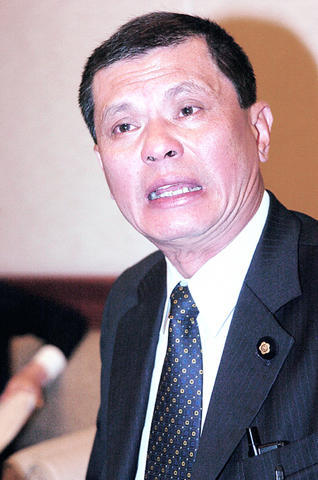 DPP Legislator Lee Chen-nan, who organized the drill with Lin, said he did not regret his actions, and had acted out of concern for student safety.
Meanwhile, the two legislators, MOE officials and members of the media roamed through the building's hallways.
At a classroom where students were studying, Lee walked in and held up a fork, saying it was a submachine gun, and pointed it at the students while asking them if they knew how to deal with such a situation.
Several minutes later, the legislative duo were confronted by dozens of police officers wearing bullet-proof vests and carrying 9mm pistols and M-16 assault rifles, who had been sent from nearby Daan Precinct.
The pair then explained to the visibly agitated officers that it was only a drill. Police then cleared the area and confirmed that there was no cause for genuine concern.
Speaking to the Taipei Times yesterday, university secretariat Fu Li-chen (傅立成) said schools nationwide had received a notice from the education ministry on Wednesday "at almost 1pm," stating that one university would be selected at random that afternoon for a "security exercise."
"We didn't know at that point what the exercise would be, or even at which university it would be staged," Fu said.
An hour later, an education ministry official phoned NTU president Lee Si-chen (李嗣涔) to inform him that an exercise would be held on his campus, to which Lee Si-chen agreed, Fu said.
"The Ministry of Education is, of course, our commanding administrative agency," Fu said, adding: "Our first reaction was that our sister school, Virgina Tech, had just experienced this horrible tragedy, and we're concerned about our own campus safety, so we gave our consent."
Ministry of Education spokesman Lee Po-yen (李泊言) said yesterday that the two lawmakers had orchestrated the entire scenario, and that not even his ministry had known which school the exercise would be held at, or even what the nature of the exercise would be.
The lawmakers had merely informed the ministry that they sought to stage an exercise to test the response of police to an on-campus crisis, which led to the ministry's general notice earlier on Wednesday, Lee Po-yen said.
"They [the two lawmakers] decided where to go only after they had boarded a bus from the legislature with education officials to go stage the exercise," Lee Po-yen said, adding: "They had decided on the story, with two gunmen holding 30 hostages at the agriculture school, only after arriving at NTU."
The lawmakers then phoned campus security, who, believing that the situation was real, contacted police, Lee said.
Asked if the education ministry had violated procedures on holding such security drills, Lee said, "No, we were in line with the relevant rules and regulations."
The raucus drill threw the campus into disarray amid mid-semester examinations, Fu said, adding that students had complained en masse.
"We're happy to cooperate with the education ministry in staging such drills. But we probably won't accomodate legislators in such a fashion ever again," Fu said.
"Once was enough," he added.
The impromptu drill quickly drew criticism from all quarters.
Premier Su Tseng-chang (蘇貞昌) said he was very upset about the drill, and would look into the possibility of filing criminal charges.
"The premier said that he is very angry about this behavior by DPP lawmakers, and has asked related law enforcement offices to begin an investigation of the case immediately," said Chen Mei-ling (陳美伶), spokeswoman for the Cabinet.
She called for a press conference yesterday morning to make the announcement on behalf of the premier.
"What they did caused a commotion on the campus and made a lot of people scared. It was really unnecessary," Chen said.
She also said that the premier had requested that MOE officials be punished.
"It is lawmakers' natural obligation to make sure the government is doing its job. However, we will not allow nor tolerate ridiculous behavior like this," Chen said. "In addition, for those MOE officials who accompanied Lee and Lin on the ridiculous show on Wednesday afternoon, we will seek appropriate punishment for them as well."
Chen, a former prosecutor, said that prosecutors could charge the two with violation of Article 171 of the Criminal Code.
That article states that anyone making a false report to law enforcement officers faces up to one year behind bars.
"Lawmakers enjoy immunity, but the immunity only applies to their comments and behavior inside the legislature. What they did had nothing to do with their jobs as lawmakers, I'm afraid," Chen said.
The DPP caucus issued an open apology to the public yesterday.
DPP caucus whip Wang Sing-nan (王幸男) told a press conference that although the caucus did not ask the pair to initiate the drill, it was willing to accept responsibility for the event.
Wang said that the drill violated "procedural legitimacy."
Another caucus whip Wang Tuoh (王拓), who was present at the conference, said the pair had "good motives," but that their approach was "ridiculous."
Wang Tuoh said the caucus will hold meetings to discuss whether to discipline the pair and how.
DPP Deputy Secretary-General Lin Yi-cheng (林宜正) said the party headquarters will investigate.
Chinese Nationalist Party (KMT) legislative caucus whip Hsu Shao-ping (徐少萍) yesterday demanded that the DPP refer Lin and Lee to the legislature's Discipline Committee for punishment.
"The two lawmakers made the move to get the media's attention so that they can elevate themselves in the upcoming legislative election," Hsu told a press conference.
Taipei Mayor Hau Lung-bin (郝龍斌) yesterday said all of the 55 police from Taipei City Police Department were dispatched in response to an order from the National Police Agency, and did not know it was a drill arranged by legislators.
Hau said that the department received a call from the agency yesterday informing it about a drill, followed by another call from the university reporting an incident on campus.
"The department sent the police to the university immediately, and realized later that there were legislators at the scene," Hau told the reporters yesterday at Taipei City Hall.
"The department did its job. The legislators should be blamed for arranging the drill," he added.
The legislators, however, defended their actions.
Lin said the two had initiated the drill out of concern for the state of campus security, and had not expected to see a backlash afterwards.
"In the past, our campus drills only include fire or earthquake drills. We never have any drills to deal with terrorist attacks," he said.
"But it is a fact that we inconvenienced students and teachers at NTU," he said, bowing to show his apology.
Lee said he did not think he did anything wrong.
"My child is still attending a graduate school. I was supervising [campus security] as a legislator and as a parent yesterday," he said at a press conference.
"Can't legislators have a say in campus security after an international tragedy happens? What kind of society is this? Did I do anything wrong by caring about our students? Is there still justice in Taiwanese society?" Lee said, choking up.
Additional reporting by Shih Hsiu-chuan and Mo Yan-chih
Comments will be moderated. Keep comments relevant to the article. Remarks containing abusive and obscene language, personal attacks of any kind or promotion will be removed and the user banned. Final decision will be at the discretion of the Taipei Times.