Government `ignored' telecom's woes
SEE NO EVIL A firm which counts lawmakers and political parties as investors failed to file financial reports for years, and was never forced to do so. The only question is: Why?
A massive financial scandal continued lumbering forward yesterday, as lawmakers alleged that one of the companies involved had not submitted financial reports for years, while the government apparently turned a blind eye.
Legislators yesterday demanded that the Cabinet dismiss seven government officials who were board members for Asia Pacific Broadband Telecom Co (亞太固網), a company related to the scandal-plagued Rebar Asia Pacific Group (力霸亞太企業集團).
Asia Pacific Broadband Telecom was raided yesterday in an effort to determine the fate of more than NT$60 billion (US$1.83 billion) the company raised in bonds.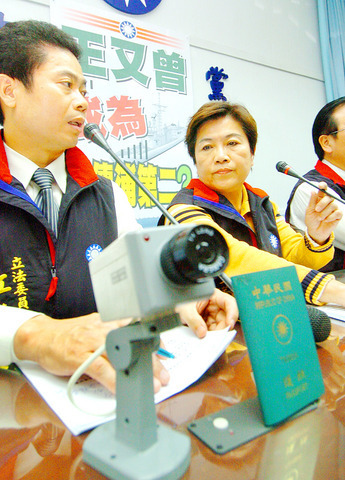 Chinese Nationalist Party (KMT) legislators Chiang Lien-fu, left, and Hsu Shao-ping yesterday hold a press conference at the legislature where they demanded that the Ministry of Foreign Affairs prevent fugitive Rebar Asia Pacific Group Chairman Wang You-theng from signing away his assets while overseas.
PHOTO: FANG PIN-CHAO, TAIPEI TIMES
Lawmakers and political parties invested heavily in the firm, as did a number of state-run companies.
Taiwan Solidarity Union (TSU) Legislator Tseng Tsahn-deng (曾燦燈) told a press conference that over the past six years, the broadband company had not presented financial reports to its board members.
Despite this, he said, seven government officials who represented three government-related investors on the company's board had done nothing.
The caucus said figures from the Ministry of Economic Affairs (MOEA) showed that the Taiwan Railway Administration (TRA) had invested NT$8 billion (US$243 million) in the company in 2000.
The Chiao Tung Bank (交通銀行) -- which became Mega International Commercial Bank (兆豐國際商銀) after merging with International Commercial Bank of China (中國國際商銀) -- invested NT$2.1 billion, while state-controlled China Steel Corp (中鋼) invested NT$1.2 billion in the company the same year.
As the government owns a major portion of the shares of the bank and China Steel, the TSU caucus criticized officials for failing to safeguard the public's money.
Tseng also urged prosecutors to investigate whether government officials had been covering up for the company over the past six years.
"You had not seen financial reports between 2000 and last year, and you did not find out the fact that the company had problems? Have you all been asleep?" TSU Legislator David Huang (黃適卓) asked the officials, who were present at the conference.
None of them respondend.
MOEA State-owned Enterprise Commission section chief Ho Hua-hsun (何華勳) said that the only financial report the company submitted showed the company's financial status for the first two quarters last year. According to that report, the company had financial dealings with the Rebar Group without first applying for approval from its board.
Ho added that China Steel was considering taking joint legal action with other stock holders againt the company.
TRA Deputy Director-General Hsu Yi-nan (徐亦南), who was also at the conference, denied that the TRA had made a careless investment, saying that the TRA did not decide to invest in the company as a result of any "outside pressure."
He did not, however, explain why the TRA had decided to invest in the company or why it had taken no interest in its financial performance.
Meanwhile, Premier Su Tseng-chang (蘇貞昌) has ordered new probes into financial dealings between Rebar Group and Eastern Multimedia Group (東森多媒體), Cabinet Spokes-man Cheng Wen-tsang (鄭文燦) said yesterday.
Su gave the directives at a Monday meeting of a special task force handling the Rebar Group scandal, Cheng said.
According to Cheng, the premier also called for probes into the personal assets and bank accounts of Eastern Group chairman Gary Wang (王令麟). While Rebar Group, which controls 120-odd enterprises, has major financial problems, Eastern Group has been thriving.
The Ministry of Justice has formally requested US officials to assist with its investigation into fugitive Rebar Group chairman Wang You-theng's (王又曾) assets in that country, Cheng said.
FUGITIVES
Meanwhile, the hunt for Wang You-theng and his wife Wang Chin She-ying (王金世英) continued, as foreign affairs officials explored the possibility that the couple were traveling under passports from another country.
The two are believed to be holding passports from the Solomon Islands and Saint Kitts and Nevis, two of Taiwan's diplomatic allies, officials said yesterday.
The couple may have used the passports to flee the country, Ministry of Foreign Affairs (MOFA) Spokesman David Wang (王建業).
David Wang confirmed that Wang Chin Shyh-ying served as an honorary consul-general of the Solomon Islands and Saint Kitts and Nevis. Whether the couple obtained passports from the two countries is not yet known, he said.
"Serving as an honorary consul-general for those countries does not necessarily mean they possess passports. The ministry cannot infer such a conclusion based on this fact, but we will ask these two countries to help find out," he said.
MOFA revoked the couple's Taiwanese passports on Monday and informed Taiwan's representative offices in other countries that the government has listed the two as wanted.
Su has instructed MOFA to contact the American Institute in Taiwan (AIT) for possible US assistance in the apprehension of the couple.
Although Taiwan signed a judicial aid agreement with the US in March 2002, the agreement does not cover extradition of criminal suspects or convicts.
As Taiwan and the US do not maintain formal diplomatic ties and have not signed an extradition treaty, MOFA officials said it won't be easy to repatriate the fugitives from the US.
But they added that the possibility exists, particularly if the two were involved in money laundering on US territory.
Rebar Group's financial woes came to light after two of its subsidiaries applied for insolvency protection on Dec. 29.
Judicial probes into the group's suspected financial crimes followed. Investigators have launched a number of rounds of large-scale searches at Rebar's headquarters and offices of its subsidiaries and private homes of the Wang family and corporate executives.
Early investigation results also prompted a decision by the prosecutors to impose an overseas travel ban on a total of 48 Rebar group executives and Wang family members on charges of breach of trust, forgery, fraud, insider trading, embezzlement of corporate funds and violations of the banking law and accounting regulations.
Comments will be moderated. Keep comments relevant to the article. Remarks containing abusive and obscene language, personal attacks of any kind or promotion will be removed and the user banned. Final decision will be at the discretion of the Taipei Times.