Rice calls for a `new Middle East'
I'M NO KISSINGER The US' top diplomat yesterday backed the Israeli bombing of Lebanon, called for a democratic Middle East and said she wouldn't do any peace shuttling
US Secretary of State Condoleezza Rice threw her weight yesterday behind the Israeli blitz on Lebanon with a call for "a new Middle East," on a visit that has stood in sharp contrast to past multi-city US peace shuttles to the troubled region.
Following a surprise visit to Beirut the previous day, Rice met yesterday with Israeli Prime Minister Ehud Olmert and was later to travel to the West Bank for talks with Palestinian president Mahmud Abbas, before heading to an international conference on Lebanon in Rome.
Rice said it was "time for a new Middle East," after talks with Olmert, underlining US backing for the Israeli bombardment that has drawn widespread international criticism and warnings of a humanitarian catastrophe.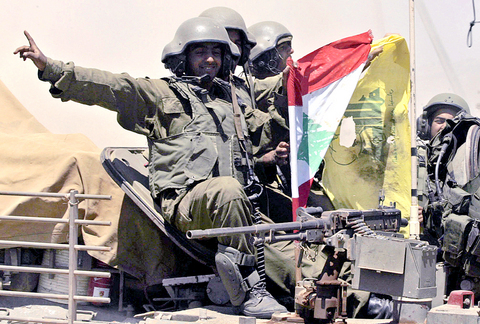 Israeli soldiers hold up the Lebanese and yellow Hezbollah guerrilla flags as they roll back across the border from southern Lebanon into northern Israel yesterday.
PHOTO: AFP
On the current mission Rice has already said there will be no repeat performance of the days-long peace shuttles of previous US administrations, which carved diplomatic lore and forged peace deals with exhaustive diplomatic bartering.
In the 1970s, Henry Kissinger spent weeks shuttling between Middle Eastern capitals trying to end the 1973 Arab-Israeli War.
Interestingly, his tactics were often seen as an attempt to separate the idea of a ceasefire from deep fundamental problems which helped spark the conflict.
Rice says an immediate ceasefire between Israel and Hezbollah would simply freeze problems and leave the militia in place to regroup and cause future conflicts.
"We cannot return to a status quo ante in which extremists at any time can decide to take innocent life hostage again by using their rockets or using their capabilities," she said side-by-side with Olmert.
"I have no desire to be back in three weeks, or three months or six months when once again the extremists have decided to use their advantages to destabilize the peace," said Rice before meeting Olmert.
More recently, during the Clinton administration, peace envoy Dennis Ross kept up an almost continuous Middle East shuttle, devoted to heading off flash points as they developed and targeting progress in Palestinian-Israeli talks.
Part of the reason for the differences is cultural -- from its first days in office, whether it be on the Middle East, or North Korea, the Bush White House has regarded anything resembling its predecessor's approach with disdain.
Rice has signaled her tactics are different, and in keeping with the "new" Middle East, where democratization is supposed to flourish and the old truths where the balance of power is dictated in Damascus or Tehran no longer hold.
"I could have gotten on a plane and rushed over and starting shuttling around and it wouldn't have been clear what I was shuttling to do," Rice said, anticipating criticisms of her mission on Friday.
She has also dismissed charges that Washington is unlikely to get any progress unless it sends a high-level official to Syria -- along with Iran, one of the states Bush aides say sponsor Hezbollah.
The idea that Washington did not talk to Syria was a "false hobby horse" she complained, adding that the problem was the Damascus government did not do as it was told when people did talk to it.
Meanwhile, Israeli warplanes bombarded Hezbollah's stronghold in south Beirut yesterday, as aircraft pounded south Lebanon towns and villages, killing 12 civilians.
At least five blasts shook Beirut as warplanes fired missiles at the southern suburbs of the capital, witnesses said. Thick smoke billowed into the sky over the area.
Lebanese security forces said Israeli aircraft launched more than 100 strikes on towns and villages in south Lebanon yesterday as fighting raged between Israeli troops and Hezbollah guerrillas at the frontier town of Bint Jbeil nearby Yaroun.
also see story:

Israeli ground forces facing stiff opposition
Comments will be moderated. Keep comments relevant to the article. Remarks containing abusive and obscene language, personal attacks of any kind or promotion will be removed and the user banned. Final decision will be at the discretion of the Taipei Times.