Hau wins KMT's Taipei primary
THE WINNER Hau Lung-bin beat rival Ting Shou-chung in Taipei, while in the Kaohsiung primary, a second vote will be held after no candidate met the minimum requirement
The Chinese Nationalist Party (KMT) chose Hau Lung-bin (郝龍斌) as its candidate for the Taipei mayoral election yesterday, with Hau winning a 60 percent support rate from party members and Taipei residents in the party's primary.
Hau, a former Environmental Protection Administration chief, won the primary with an overall 59.68 percent rate of support. His rival, KMT Legislator Ting Shou-chung (丁守中), scored a 40.31 percent support rating.
The winner was decided through a telephone survey and a vote among members, with the survey accounting for 70 percent of the final outcome and voting making up 30 percent. The party conducted a random telephone poll from May 21 to May 23, followed by a vote by members yesterday.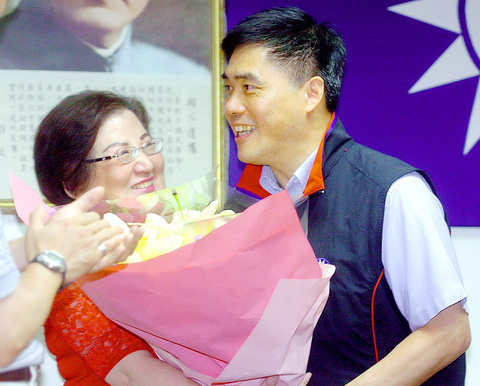 Chinese Nationalist Party (KMT) Taipei mayoral hopeful Hau Lung-bin smiles while being congratulated by a supporter on winning the party's nomination yesterday. Hau won the primary with overall support of 59.68 percent compared with rival Ting Shou-chung's 40.31 percent.
PHOTO: LIAO CHEN-HUEI, TAIPEI TIMES
Ting, however, won the most support among party members, attracting 10,730 votes yesterday compared with Hau's 6,412. The voter turnout rate was 38.7 percent. But Hau won the most support in three surveys conducted by three different polling firms, with an average 60 percent of those polled backing him, while Ting received an average support rate of 30.76 percent.
"I will continue a gentlemen's competition with my future rivals from other parties and earn residents' support with a good municipal blueprint ? We will run a clean election," Hau said at KMT headquarters after the primary result was announced.
Ting expressed regret over the result, and urged the KMT to examine its primary procedure.
"There is a big disparity between the result of the party member vote and the poll. I think it shows that it's necessary for the KMT to re-examine the primary mechanism," he said at his campaign headquarters.
Questioning the primary system's design, Ting issued a statement last night saying he would not accept the primary result.
KMT Chairman Ma Ying-jeou (馬英九) earlier yesterday expressed his expectation for the party to remain harmonious during the primary, and urged KMT members to support the final candidate.
"I hope all party members will support the party's nominee whether or not they supported him before," Ma said after voting at Chin Hsin Elementary School.
Hau cast his vote with his father, former premier Hau Pei-tsun (郝柏村), while Ting accompanied former KMT chairman Lien Chan (連戰) to vote.
Kaohsiung undecided
Meanwhile in the KMT's Kaohsiung primary, former Kaohsiung deputy mayor Huang Jun-ying (黃俊英) won an average of 29 percent support, beating the seven other hopefuls. But as the party required a minimum 30 percent support rate to win the primary, the KMT will hold a second vote in 15 days to select the final candidate.
The other seven included KMT Legislator Lee Chuan-chiao (李全教), Huang Chao-shun (黃昭順), Apollo Chen (陳學聖), Lwo Shih-hsiung (羅世雄), former legislator Su Ying-kuei (蘇盈貴), former Penghu County commissioner Lai Feng-wei (賴峰偉) and former Kaohsiung City speaker Huang Chi-chuan (黃啟川).
Comments will be moderated. Keep comments relevant to the article. Remarks containing abusive and obscene language, personal attacks of any kind or promotion will be removed and the user banned. Final decision will be at the discretion of the Taipei Times.