Sabotage victim-turned-suspect kills self
STRANGER THAN FICTION A man who had been on a train that derailed, killing his wife, committed suicide after police revealed that he was a suspect in the case
One of the prime suspects in the sabotage that caused a recent train derailment -- who in a Hitchcock-esque twist was also the husband of the only woman who died in the incident -- hanged himself yesterday, police said.
Lee Shuang-chuan's (李雙全) body was found hanging from a rope tied to a tree in the backyard of his home in Taitung early yesterday morning.
Several bizarre coincidences surrounding the death of his Vietnamese wife, Chen Hong-chen (陳紅琛), led investigators to suspect that Lee, a railway worker, may have played a role in the derailment.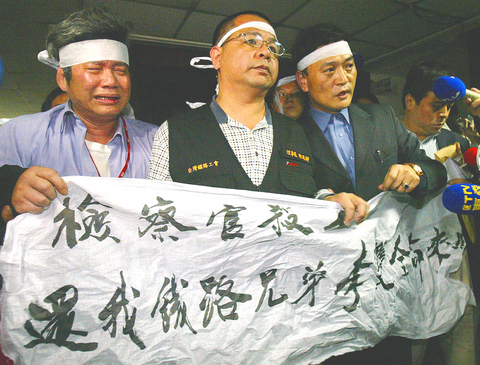 Leaders of the Taiwan Railway Labor Union hold up a protest banner after charging into the Legislative Yuan yesterday. The protesters claimed investigators had wrongfully accused a Taiwan Railway Administration employee of causing a derailment on the Southern Link Line in order to murder his wife.
PHOTO: CNA
Chen suffered no obvious physical injuries in the derailment, which occurred on March 17. However, she died shortly afterwards. Although an initial examination showed no evidence of poison, investigators have ordered that her body not be cremated, so that an autopsy can be performed.
The suspicion of police was aroused after they discovered that Lee's second wife -- also Vietnamese -- died under mysterious circumstances four years ago. At the time, Lee and his family claimed that her death was the result of a snake bite, according to prosecutors. Lee was divorced from his first wife.
Police became even more interested in Lee after they learned that he had taken out a NT$20 million (US$625,000) insurance policy on Chen Hong-chen covering "accidental death" just days before the derailment.
The details of the case were revealed by Chuang Jung-sung (莊榮松), chief prosecutor at the Pingtung District Prosecutors' Office, at a press conference.
Chuang said another element implicating Lee was the fact that he and his wife had been on trains that had derailed twice before.
On June 21 last year, both Lee and his wife were on a train that derailed, as well as aboard another that derailed on Oct. 21, 2004.
According to Chuang, the couple was originally sitting in the fifth car of the train last Friday night, and then moved to the rear of the seventh car. When Lee returned to the fifth car to pick up his newspaper, the "accident" occurred.
After the derailment, Lee told investigators that the couple was going to Vietnam to visit his wife's relatives. But investigators learned that he had not reported this to his company nor asked for a leave of absence.
Chuang said that as Lee was a Taiwan Railway Administration employee and worked as a railway inspector two years ago, prosecutors believe he was familiar with railway matters.
Since Lee's previous Vietnamese wife was killed under suspicious circumstances, prosecutors were highly suspicious.
Pingtung prosecutors last night disclosed that Lee had lost more than NT$33 million on the stock market between 2001 and 2004.
"We are now trying to determine where this money came from," Chuang said.
Lee was being hounded by the media at the time of his death, as details of the case had been leaked by the authorities. The investigators said they had found two notes next to Lee's body, but had yet to reveal whether they were in fact suicide notes or whether they shed light on any of the circumstances surrounding the bizarre case.
Comments will be moderated. Keep comments relevant to the article. Remarks containing abusive and obscene language, personal attacks of any kind or promotion will be removed and the user banned. Final decision will be at the discretion of the Taipei Times.