Bombs in Egyptian resort town kill 83
MAYHEM Egypt's worst-ever terrorist attack is likely to claim more victims as rescuers pick through the wreckage at the summit home of the Israeli-Palestinian peace process
A rapid series of car bombs and another blast ripped through a luxury hotel and a coffee shop in the Egyptian Red Sea resort of Sharm el-Sheik early yesterday, killing at least 83, a hospital official said. Terrified European and Arab tourists fled into the night, and rescue workers said the death toll was almost certain to rise.
Two Britons, a Czech and an Italian were reported among an estimated eight foreigners killed.
The bombings, Egypt's deadliest terror attacks ever, appeared well coordinated. Two car bombs, possibly suicide attackers, went off simultaneously at 1:15am some 4km apart. A third bomb, believed hidden in a sack, detonated around the same time near a beachside walkway where tourists often stroll at night.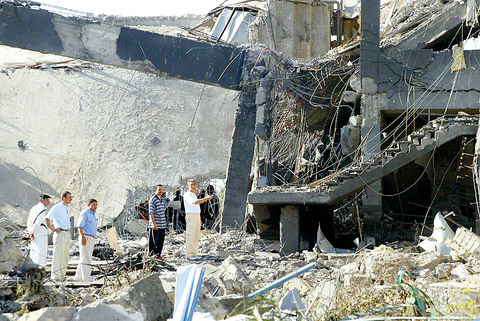 A hotel lies in ruins in the Red Sea resort of Sharm el-Sheik after a bomb attack early yesterday.
PHOTO: AFP
Saeed Abdel Fattah, manager of the Sharm el-Sheik International Hospital where the victims have been ferried, said 83 people were killed in the blasts and more than 200 were injured.
Several hours after the attacks, a group citing ties to al-Qaeda claimed responsibility on an Islamic Web site. The group -- the Abdullah Azzam Brigades, al-Qaeda, in Syria and Egypt -- was one of two extremist groups that also claimed responsibility for October bombings at the Egyptian resorts of Taba and Ras Shitan that killed 34. The group also claimed responsibility for a Cairo bombing in late April.
The authenticity of the statement could not be immediately verified.
But a top Egyptian official said there are some indications the latest bombings were linked to last fall's Taba explosions.
"We have some clues, especially about the car that was exploded in the Old Market, and investigators are pursuing," Interior Minister Habib al-Adli said. He called it "an ugly act of terrorism."
Attacks condemned
Neighboring countries, the US, Israel and Italy and others condemned the attacks. Jordan said it was immediately tightening security at its tourist sites.
At least eight foreigners were killed, al-Adli said. The fatalities included British, Dutch, Kuwaitis, Saudis and Qataris, a security official said on condition of anonymity.
The Italian Foreign Ministry said a 34-year-old Italian man was killed and 10 other Italians injured. A Czech tourist was also killed, said Czech Foreign Ministry spokesman Vit Kolar.
"This is something that is part of what we are seeing all across the world today. Terrorism has no nationality," Egyptian Prime Minister Ahmed Nazief said in Sharm. "This is a terrorist act and ... can't be explained or justified."
The British embassy said up to eight Britons were wounded, while three Spaniards were also injured, according to Spanish officials. Danish travel group Atlantis Travel said four Danes were lightly injured in the Old Market area blast.
The death toll was likely to rise, rescue workers said. The lobby of the 176-room Ghazala Gardens hotel in Sharm's Naamah Bay, the main strip of hotels, collapsed into a pancaked pile of concrete. Rescue workers feared more victims were buried under the rubble.
Smashed
David Stewart, a tourist from Liverpool, England, was staying with his wife and two teenage daughters at the Ghazala Gardens when the explosion hit. The windows of his room were smashed, and he and his family ran.
"Somebody shouted, `Keep moving,'" he said. "The lights were out. I couldn't tell what was happening."
Egyptian President Hosni Mubarak flew into Sharm el-Sheik from Alexandria on the Mediterranean coast and went directly to inspect the attack scenes, including the Ghazala hotel. Heavily armed security forces guarded the president as he walked passed the bomb-ravaged complex and spoke with officials.
On the other side of Sharm in the Old Market, a second car bomb in a minibus parking lot sent a ball of flaming wreckage shooting over a nearby beach and into the sea and littered the sand with body parts. Overturned chairs, broken waterpipes and pools of blood were scattered around the ravaged coffee shop nearby, frequented by Egyptians who work in the resorts.
"The country's going to come to a stop. That's it!" sobbed Samir al-Mitwalli, who arrived in Sharm only a month ago to work as a driver. "Who's paying the price? ... Whoever did this wants to destroy the economy."
The string of attacks stunned a town that has long been dedicated to scuba diving at the famed coral reefs off its shores and partying on the beaches.
Sharm el-Sheik has expanded at a furious pace, making it a major player in the tourism industry. It has been the host to summits for the Israeli-Palestinian peace process.
Comments will be moderated. Keep comments relevant to the article. Remarks containing abusive and obscene language, personal attacks of any kind or promotion will be removed and the user banned. Final decision will be at the discretion of the Taipei Times.