Dreaded gangster caught after gunfight
GOTCHA Chang Hsi-ming was the most sought after criminal in Taiwan, and he had eluded police dragnets on four separate occasions. Now, his escapades are over
In another major victory for the nation's law enforcement officials, the notorious gangster Chang Hsi-ming (張錫銘) was arrested after a shootout with police in Shalu Township (沙鹿), Taichung County, yesterday.
Chang was shot at least twice in his left arm, and according to pictures provided by the police, he also had countless minor wounds all over his body. Police said that the wounds were probably from the gunfight.
Criminal Investigation Bureau (CIB) Detective Tang Jia-jen (唐嘉仁) was also wounded in the battle, although he suffered only a flesh wound to the neck.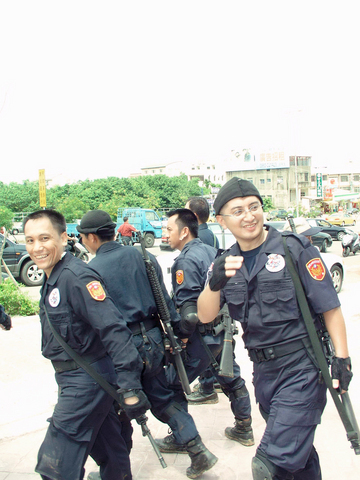 Police officers smile after they successfully arrested notorious fugitive Chang Hsi-ming in Shalu Township, Taichung County yesterday.
PHOTO: TSAI CHIH-MING, TAIPEI TIMES
Both Chang and Tang were described as being in good condition after receiving emergency medical treatment.
A man described as Chang's bodyguard, Lin Tai-heng (林泰亨), was also apprehended. However, Lin was shot in the head during the morning raid, and he was in critical condition as of press time yesterday.
Approximately half an hour after yesterday's raid began at 9am, the injured Lin was captured and immediately hurried to Taichung's Kuang Tien General Hospital (光田綜合醫院).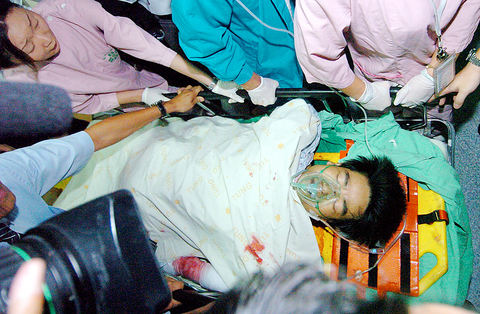 The wounded Chang Hsi-ming receives medical care yesterday. Chang was shot twice in his left arm when he was arrested, in addition to suffering other minor wounds.
PHOTO: LIAO YAO-TUNG, TAIPEI TIMES
A few minutes later, the wounded Chang was also captured, then escorted to an ambulance and hurried to Tungs' General Hospital (童綜合醫院) for surgery. The CIB then sent a text message to reporters with the message: "The police have located and arrested Chang Hsi-ming at 308 Chung-hsing Road in Shalu Township a few minutes ago."
Chang is best known for his high-profile escape from a bungled police raid in July last year after a series of running gunbattles between his heavily armed gang and more than 1,000 police officers.
At the time, people were captivated by the dramatic television footage of the gangsters, wearing bulletproof vests and equipped with assault rifles, as they took hostages to cover their escape.
Chang, whose gang specialized in kidnapping for ransom, had escaped police dragnets on at least four occasions before.
But the "Evil Dragon" -- as he was dubbed by some media outlets -- and his band of outlaws have now been brought to heel.
Chang's arrest sent shivers of excitement through the government, and Cabinet Spokesman Cho Jung-tai (卓榮泰) was so excited that he had difficulty speaking, and could barely finish his sentences during the regular press conference after the weekly Cabinet meeting yesterday morning.
"I believe that everybody is as excited as we are now," Cho said. "This is such an inspiration for our police officers and to my fellow Taiwanese people, as well."
According to the spokesman, during the breakfast before the Cabinet meeting, Minister of the Interior Su Jia-chyuan (蘇嘉全) told Premier Frank Hsieh (謝長廷) in private that the police would launch the raid at 9am.
When Su got the message of good news, he immediately shared it with the premier. The premier then interrupted the meeting and made the announcement in front of the Cabinet.
"The applause was thundering for minutes," Cho said. He quoted the premier as having said: "This is the most perfect ending to this case."
Hsieh and Su then left for Taichung right after the meeting yesterday morning to congratulate the police, and visited Tang in person.
According to Cho, although Chang has been very cautious and has tried to stay low-profile during his flight from justice, police have "always" had an idea of his whereabouts, because he sent his henchmen to buy large quantities alcohol for him almost every day.
"The police were able to maintain surveillance on his gang. But officers did not take action until [yesterday], because Chang is extremely cunning and knows how to take advantage of his surroundings to protect himself. The police did not do anything for fear of harming innocent people," Cho explained.
In addition to following the alcohol trail, CIB Commissioner Hou You-yi (侯友宜) said that Internet gaming also played a key role in locating Chang.
"He played online games a lot. Although he always used a pseudonym, Taichung City Police Department Internet Squad Chief Chang Cheng-juei (張承瑞) had already locked on to him, and was able to confirm his location through his IP address approximately one week ago," the CIB chief said.
The build-up to yesterday's raid began at 3am, when the police confirmed Chang and Lin's whereabouts and began surrounding the townhouse where they were staying in Shalu Township.
Around 9am, more than 130 police officers from nine different police units gathered at the scene. Under the personal direction of the CIB chief Hou, a military armored vehicle smashed through the garage door of the townhouse, leading to a shootout between the two sides.
`Extremely calm'
The injured detective Tang told reporters from his hospital bed that Chang was extremely calm during the entire battle.
"I went inside the townhouse to search for [Chang]. We bumped into each other accidentally in a hallway inside the house. To my astonishment, he simply identified himself by saying, `I am Chang Hsi-ming. I think my arms are broken. Help me,'" Tang said.
According to Hou, Chang and Lin moved into the townhouse two days ago, and none of the neighbors knew who they are.
As of press time yesterday, the police said that they had discovered two rifles, two pistols and several rounds of ammunition, as well as hand grenades. The exact amount of ammunition and number of grenades has not yet been released.
Chang and his gangsters began to kidnap for a living in 1995.
He is a former bodyguard of the gangster Chan Lung-lan (詹龍欄), known as "the Pangolin" for ability to escape from custody, who is now serving jail time for his involvement in more than 10 cases of robbery, drug smuggling, murder and kidnapping. Chan was arrested by Chinese police and extradited to Taiwan for trial on April 2, 2002.
Chang and his gang members were involved in at least 10 kidnapping cases. However, two recent cases made front-page news across Taiwan and made capturing Chang a priority for the police.
On July 2 last year, Chang and his gang allegedly kidnapped Hohsin Bus Co owner Yang Chin-yuan's (楊錦元) second-oldest son, and held him for a ransom of NT$36 million.
Hohsin is one of the nation's biggest bus companies. Police have refused to reveal the full name of Yang's son.
The victim was released after Chang and his members were paid the ransom. Yang's son told police that Chang and his fellow kidnappers had not harmed him.
Then, on March 23 this year, Chang and his fellow outlaws kidnapped Taichung businessman Yu Kuo-chu (于國柱) and asked for a ransom of NT$500 million. Yu was also released after his family paid the ransom.
Target
Local Chinese-language news-papers reported that Yu made roughly NT$10 billion last year from an international sports gambling and casino Web site -- which is illegal in Taiwan -- and police believe the widespread media coverage of Yu's fortune was the reason that Chang and his members targeted the gambling tycoon.
Since Chang was taken alive, he will almost certainly face trial in the near future.
The Criminal Code allows for the death penalty, a life sentence or more than seven years in prison for kidnappers. However, it is unlikely that Chang and his fellow crime-ring members will be sentenced to death, as they are not known to have killed any of their victims. Also, they always released their victims once they received the ransom.
Comments will be moderated. Keep comments relevant to the article. Remarks containing abusive and obscene language, personal attacks of any kind or promotion will be removed and the user banned. Final decision will be at the discretion of the Taipei Times.