Ex-teacher weds ex-pupil she raped
Former US schoolteacher Mary Kay Letourneau has married the ex-pupil she was jailed for raping when he was just 12 years old, in a ceremony shrouded in secrecy, according to US media reports.
Letourneau, 43, and 22-year-old Vili Fualaau were married late on Friday at a winery near Seattle, where the two have been living together since she was released from prison last August.
Details of their reunion were closely guarded -- except for a series of interviews by US celebrity TV tabloid show Entertainment Tonight and its sister show, The Insider. They had exclusive rights to the nuptials, but officials said they did not pay for it.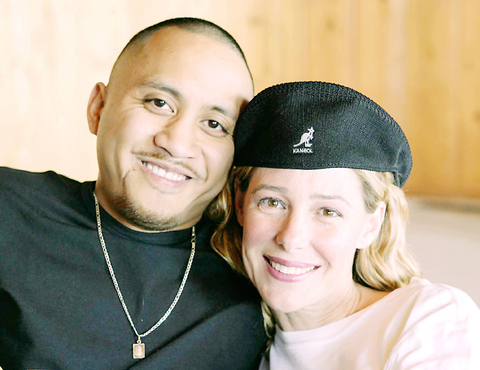 This photo provided by ``Entertainment Tonight'' and ``The Insider'' shows Mary Kay Letourneau and Villi Fualaau posing on April 9, in their home in the Puget Sound area of Seattle, during an exclusive interview. The couple were married late on Friday.
PHOTO: AP
Letourneau and Fualaau exchanged vows they had written themselves, shortly after 10pm, Janet Annino, a producer on Entertainment Tonight, told Seattle's KOMO TV.
The ceremony was at the Columbia Winery in Woodinville, some 30km northeast of Seattle, according to Annino.
"Mary Kay was whisked out of the hotel to this venue under intense security," she said. "She arrived here with a sheet over her head. She had to lie down in the car coming in to avoid the paparazzi."
The couple's two daughters, Audrey, 8, and Alexis Georgia, 7, were flower girls. Letourneau chose her teenage daughter, Mary Claire, from her earlier marriage, to be her maid of honor.
Letourneau was an elementary- school teacher and married mother of four when she met Fualaau, of Samoan parents, then in second grade. Their relationship became sexual when he was 12 and she was a 34-year-old, unhappily-married mother of four.
Letourneau was arrested in 1997 after her husband found some love letters from the boy. She was pregnant with Fualaau's first child.
In May 1997, Letourneau gave birth to a daughter, three months before she pleaded guilty and was sentenced to seven-and-a-half years in prison.
After six months, she was released on parole on condition that she receive treatment and not see her underage lover. But in February 1998, police caught the couple having sex in a van and Letourneau was sent back to serve out her entire sentence. She gave birth in prison to Fualaau's second daughter in October 1998.
Comments will be moderated. Keep comments relevant to the article. Remarks containing abusive and obscene language, personal attacks of any kind or promotion will be removed and the user banned. Final decision will be at the discretion of the Taipei Times.