US, Japan team up against EU arms push
EAST ASIAN SECURITY The two allies continued to voice their dissatisfaction with possible Chinese access to European arms as Condoleezza Rice toured the region
Top US and Japanese diplomats agreed yesterday to cooperate and oppose EU moves to end a ban on selling arms to China imposed after the 1989 Tiananmen Square Massacre.
US Secretary of State Condoleezza Rice and Japanese Foreign Minister Nobutaka Machimura agreed "they should cooperate to deal with this issue," a Japanese official said.
The official quoted Rice as telling Machimura about lifting the EU arms embargo: "We don't think it is a good idea. We are concerned."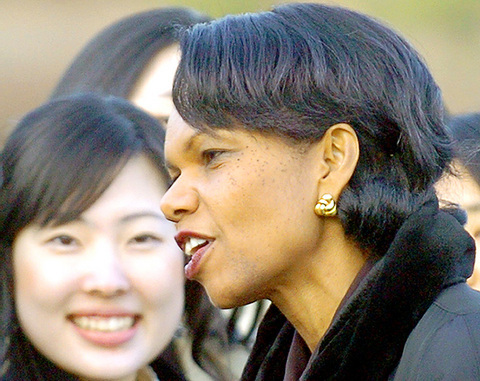 US Secretary of State Condoleezza Rice meets South Korean students as she arrives at Seoul Airport yesterday.
PHOTO: AFP
Machimura said arms sales to China would "affect the security of East Asia."
"So far we have not received any explanation adequate enough to erase Japan's concerns," Machimura was quoted as saying.
On her flight to Tokyo on Friday from Islamabad, Rice cited the tensions over Taiwan to explain US opposition to arms sales to China.
Especially for the US, "which plays the role of a guarantor of stability in that region, it simply sends the wrong message at a time of rising Chinese military expenditure to lift the arms embargo," she said.
Rice, who heads to Beijing today for the last leg of her Asian tour, later called for China to embrace democracy as its economy surged forward.
"Time and again we have seen that economic and political openness cannot long be separated. Even China must eventually embrace some form of open genuine representative government if it is to reap the benefits and meet the challenges of a globalizing world," Rice said.
"Clearly, America has reason to welcome the rise of a confident, peaceful and prosperous China. We want China as a global partner able and willing to match its growing capability to its international responsibility," she said. "Raw power will not define Asia in the 21st century, as it has done in centuries past. Instead, ideas -- the idea of freedom -- will define 21st-century Asia."
But she added: "There are of course issues that complicate our cooperation with China, particularly Taiwan."
Rice also told North Korea yesterday it must immediately return to talks on its nuclear program.
She said North Korea could only realize its wishes for security assurances and aid if it ended its boycott of six-nation talks on curbing its nuclear weapons ambitions.
"North Korea should return to the six-party talks immediately if it is serious about exploring the path forward that we and the other parties have proposed," Rice said in a speech at Tokyo's Sophia University.
The talks on the nuclear program include the two Koreas, the US, China, Russia and Japan, but Rice said a special responsibility lay with Beijing, which is the main ally of the reclusive Stalinist state.
Rice also hailed "Japan's willingness to accept global responsibility" as a reason for US backing of its bid for a permanent seat on the UN Security Council.
On Friday, French President Jacques Chirac suggested that Europe might not sell sophisticated weapons to China if the EU lifts its embargo on arms sales to Beijing.
Chirac said the European position is "clearly for the lifting of the embargo -- without meaning, naturally, that that implies the sale of arms and notably sophisticated systems to China."
Russian President Vladimir Putin joked that lifting the ban would not be good for his country's armaments industry.
"We sell a lot of weapons to China," Putin said through a translator. "The fewer competitors, the better. I say things like they are."
Also see story:
Comments will be moderated. Keep comments relevant to the article. Remarks containing abusive and obscene language, personal attacks of any kind or promotion will be removed and the user banned. Final decision will be at the discretion of the Taipei Times.