Hu warns against independence moves
BEIJING RHETORIC Hu said that while `new and positive factors' appear to have cut support for Taiwan's formal independence, it would never be allowed to `secede'
China won't tolerate formal independence for Taiwan, President Hu Jintao (胡錦濤) said yesterday as the National People's Congress (NPC) prepared to enact an "anti-secession" law.
"We will continue to make our greatest efforts with the utmost sincerity to seek the prospects of peaceful reunification," Hu said at an official gathering, according to the official Xinhua News Agency.
However, "We will never tolerate `Taiwan independence' and never allow the `Taiwan independence' secessionist forces to make Taiwan secede from the motherland under any name or by any means," he said.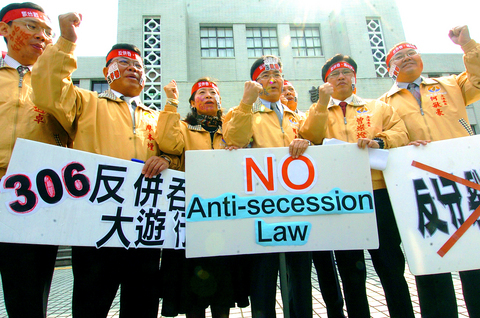 A group of Taiwan Solidarity Union (TSU) legislators gather in front of the Legislative Yuan yesterday to promote an ``anti-annexation, protect Taiwan'' campaign. The TSU and a coalition of five pro-independence groups are sponsoring a large-scale demonstration in Kaohsiung tomorrow.
PHOTO: SEAN CHAO, TAIPEI TIMES
While those comments echoed Beijing's longstanding policy toward Taiwan, other comments by Hu seemed intended to set a more positive tone.
Tensions between the two sides have developed "certain signs of relaxation," Hu said, adding that "new and positive factors" had recently appeared to dampen support for Taiwan's formal independence.
Hu didn't say what those positive factors were, but he appeared to have been referring the failure of President Chen Shui-bian's Democratic Progressive Party to win an outright majority of legislative seats in last December elections.
China's parliament, which opens its annual session today, is due to pass an anti-secession law that officials say is aimed at discouraging Taiwan from pursuing independence.
Hu was speaking to delegates appointed by Beijing to represent Taiwan in the Chinese People's Political Consultative Conference, an advisory body to the NPC, according to Xinhua.
"The intensified activities of the `Taiwan independence' secessionist forces have posed a grave impact on the peaceful and stable development of cross-strait relations," Hu was quoted as saying.
He accused Taiwan's leaders of pursuing "creeping independence," Xinhua said.
"The Taiwan authorities have deliberately provoked antagonism across the Taiwan Straits and tried every means to undermine the status quo that the mainland and Taiwan belong to one and the same China," Hu said.
"If we do not oppose and check the `Taiwan independence' secessionist forces and their activities resolutely, they will certainly pose a severe threat to China's national sovereignty and territorial integrity, ruin the prospects of peaceful reunification, and harm the fundamental interests of the Chinese nation."
Another Chinese official defended the anti-secession bill earlier yesterday, saying it was not a preparation for war with Taiwan.
"China's secession law is not a war mobilization act," Jiang Enzhu (姜恩柱), a spokesman for the NPC, told a news conference.
Jiang said it was aimed at "opposing and containing" separatist forces on Taiwan.
"It is by no means targeted against the Taiwan compatriots. The Taiwan compatriots are not in favour of independence," he said.
He also accused Taiwanese activists of misrepresenting the proposed law: "It will be futile for independence forces to distort this law to mislead international public opinion."
Jiang also officially announced details of China's military budget, including a 12.6 percent increase in military spending for this year.
The rise in military spending adds to a series of double-digit annual increases as Beijing modernizes its forces to back up threats to invade Taiwan. The military budget will total 247.7 billion yuan (US$29.9 billion), Jiang said.
China has announced double-digit increases in military spending nearly every year for more than a decade as it modernizes the 2.5 million-member People's Liberation Army. With unreported sums for weapons acquisition and other confidential expenditures added in, China's total military spending is believed to be as much as several times the announced figure.
This year, the additional spending will help pay for added training and more modern weapons, Jiang said.
In related news, former Chinese president Jiang Zemin (江澤民), 78, submitted his resignation yesterday from his last official post as chairman of a largely ceremonial government military panel, the government said, completing a long-planned retirement.
Jiang submitted his request to resign as chairman of the Central Military Commission to leaders of the NPC, the official Xinhua News Agency announced.
Comments will be moderated. Keep comments relevant to the article. Remarks containing abusive and obscene language, personal attacks of any kind or promotion will be removed and the user banned. Final decision will be at the discretion of the Taipei Times.