Thousands of Japanese endure night outdoors
DESTRUCTION At least 21 people have been killed by the quake, which has forced thousands to evacuate. Yesterday, many were readying to spend another chilly night outside
Tens of thousands of traumatized residents huddled in makeshift emergency shelters or out in the open last night after a string of earthquakes in northern Japan killed at least 21 people and reportedly injured 1,800 others. Eight people were believed missing. \nA 6.8-magnitude quake centered in Ojiya, about 260km northwest of Tokyo, rocked the area Saturday evening, knocking a bullet train from its rails, ripping through roadways and rattling buildings as far away as the Japanese capital. Several strong quakes followed through the night, and aftershocks continued to jolt the area through yesterday evening. \nThe disaster was the deadliest quake in Japan since a massive tremor struck the western city of Kobe in January 1995 and killed more than 6,000 people. \nTens of thousands of rural residents -- many of them elderly -- were evacuated from flattened homes to emergency shelters. Officials handed out blankets to guard against chilly nights and flew in bottled water since most utility services were severed. \nJapan's military used helicopters to airlift stranded villagers from a riverside hamlet, Shiotani, that was cut off when the bridge connecting it to Ojiya was toppled. Several other villages were isolated, including Yamagoshi, a mountain village of 600, where a landslide swept away the only road. \nThe injured overwhelmed small local hospitals, where patients were being treated in the hallways. \nTemperatures were expected to drop to 13?C in the evening, and some 60 people crowded into the lobby of the Nagaoka City Hall to take advantage of the heating, laying out thin foldable mattresses or lawn chairs from home. \n"I don't have any water, electricity or gas in my apartment, so I have no choice but to be here," said Naomi Matsuki, from Nagaoka. \nSewage and water mains burst, gas and telephone services were down. Homes in 36 cities, towns and villages in Niigata prefecture had no water. Close to 124,000 homes were without power yesterday evening, Tohoku Electric said on its Web site.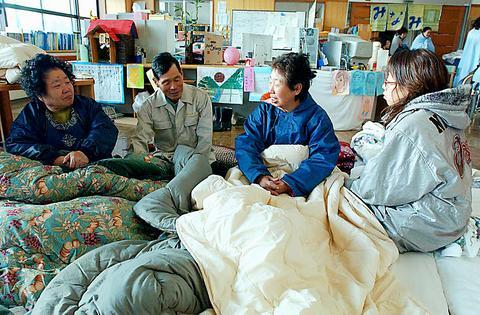 Earthquake victims gather at a shelter in Ojiya town, Niigata Province,yesterday. At least 21 people were killed and more than 1,500 injured in Niigata Province following an 6.8 magnitude earthquake Saturday.
PHOTO: EPA
Comments will be moderated. Keep comments relevant to the article. Remarks containing abusive and obscene language, personal attacks of any kind or promotion will be removed and the user banned. Final decision will be at the discretion of the Taipei Times.