Lee defends constitutional reform plan
`OUT OF DATE' The former president told a group of US academics and officials that he beleived it was time to change the Constitution and talked about Taiwan's sovereignty
Former president Lee Teng-hui (李登輝) yesterday evening gave a speech in English to US officials and academics who were in Washington via a videoconference, in which he said it was high time to "save Taiwan" by writing a new constitution, and that sovereignty issues are the main flaws with Taiwan's Constitution. \n"This Constitution does not meet the needs of present day Taiwan. In fact, it is completely out of date, not practical, not reasonable and not suitable," Lee said yesterday night, saying that the current "Constitution of the Republic of China" as promulgated in 1947 still claims to include the territories and the people of both China and Mongolia, in addition to Taiwan. \n"A constitution is the supreme legal manifestation of national sovereignty. Taiwan's Constitution must be made collectively by the 23 million people of Taiwan in order to be suitable to this island nation. This new constitution must be able to protect our own national sovereignty, but at the same time, not infringe upon the sovereignty of other nations," Lee said. \nStaunchly upholding his belief in a democratic Taiwanese nation, Lee said that the current Constitution is a barrier to an accurate portrayal of Taiwan's national identity and people, and affirmed his long-lasting support for a change of Taiwan's national title. \n"The `Republic of China' is an obstacle to the normalization of Taiwan as a country and an unsuitable title, one that our people cannot use in the international community. Taiwan is Taiwan -- a name that matches the reality. A new Taiwanese constitution must move in this course in order to have lasting relevance," said Lee yesterday. \n"The fictitious title of the Republic of China must be abandoned so as not to infringe upon China's sovereignty. Likewise, Taiwan must insist upon and protect its own sovereignty," Lee said, implying that peaceful relations with China, and Taiwanese participation in the international scene, can only begin when negotiations are held between China and Taiwan under terms of mutual respect for each others' sovereignty. \nAt a time when the Taiwanese people have increasingly come to realize the importance of their national identity and take pride in Taiwan's history, Taiwan should enact a new constitution to codify and safeguard its newfound democracy, Lee said. \nLee said that the Constitution must be rewritten, for there are too many flaws with the current version to be amended, Lee said. \nPraising the maturity of Taiwan's democratic state, Lee also stressed that a push for a new constitution would allow the people to participate in Taiwan's political reform. \n"Under Taiwan's new democratic system, the process of drafting and adopting a new constitution would be discussed and debated openly by all the people. This would show the world that Taiwan is truly democratic," said Lee yesterday. \nAt the end of his speech yesterday, Lee urged that a new constitution is also fundamental to upholding Taiwan's democracy. \n"Having a new constitution is a goal of the people of Taiwan; it is also the right of a democratic citizenry and a basic human right. We hope that our friends in the democratic community can understand and support us," Lee said. \nLee's speech was the opening of the symposium held at the Hart Senate Office Building in Washington organized by the Taiwan-based groups Center for Taiwan International Relations and Action for a Taiwanese Constitution. The symposium was named Taiwan's Constitutional Reform and US-Taiwan-China Relations, and included many US-based Asian specialists, officials and people who are concerned about Taiwan's new constitution to participate.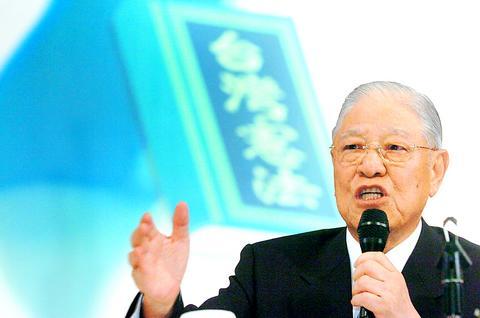 Lee Teng-hui gives a speech via videoconference to a symposium in Washington about Taiwan's constitutional reform.
PHOTO: SEAN CHAO, TAIPEI TIMES
Comments will be moderated. Keep comments relevant to the article. Remarks containing abusive and obscene language, personal attacks of any kind or promotion will be removed and the user banned. Final decision will be at the discretion of the Taipei Times.