Yu wants Japan to be regional power
REGIONAL SECURITY Japan is trying to reform its security role in the region, and the premier said that Taiwan backs its desire to take a more active stance
Taiwan fully supports Japan in its effort to remove the restrictions on its foreign policy that have been in place since World War II, and believes the country should become a regional power in Asian security affairs and take on a more important role in the UN, officials said yesterday. \n"The Treaty of Mutual Cooperation and Security between the US and Japan is a cornerstone of Asia-Pacific security. Ensuring the security of Taiwan is also an important part of the US-Japan alliance, because the Taiwan Strait is a lifeline for Japan's marine transportation," Premier Yu Shyi-kun said. \nNormality \n"For the security of the Asia-Pacific, many Japanese academics and heavyweights have advocated that Japan should develop into a `normal nation' and play an active role in the region's security and defense affairs. We completely agree and support this position," Yu said. \n"We also believe that Japan regards the peace and security of the Taiwan Strait seriously," Yu said. "Considering the shared interests between Taiwan and Japan in terms of regional security, the two nations should establish a security and defense dialogue mechanism." \nYu made his remarks yesterday while addressing the opening ceremony of the 2004 Forum on Taiwan-Japan Relations, which was held by the Foundation on International & Cross-Strait Studies. \nHe then focused on the increasing military threat from China, saying that since the end of the Cold War, China's military has expanded, and with the North Korean nuclear issue still unresolved, China and North Korea have become the biggest threat to the security of Northeast Asia. \n"Taiwan, Japan and the US should establish a closer `alliance of values' and secure communication channels," Yu said. \nIn recent years, many Japanese have proposed making changes to the Constitution to expand the nation's military capabilities. Although Japan has the most advanced military in the region after that of the US, its capabilities are limited under Article 9 of Japan's Constitution, which limits it to a purely defensive role. \nStill, some politicians and academics say Japan should become active in ensuring the security of Asia. Japan is also lobbying to become a permanent member of the UN Security Council. \nHowever, some of Japan's neighbors -- in particular countries that were invaded by Japan during and prior to World War II -- have been strongly opposed to such moves, mainly because of Japan's imperial conquests. \nYu said that in contrast to other countries' doubts and opposition, the Taiwanese government supports a stronger Japan that is more involved in regional security affairs. \nTaiwan hopes to enhance the relationship between the US, Japan and Taiwan, creating a de facto alliance, Yu said. \nChiou I-jen (邱義仁), secretary-general of the National Security Council, also attended the forum. \nChiou said that Japan's evolution into a "normal country" and its taking up the role of a leader in Asia would be beneficial to the peace and prosperity of the region. \n"Taiwan is willing to work with Japan toward these goals," he said. \nAs diplomatic relations between Japan and Taiwan were cut in 1972, Chiou told the Japanese representatives in the forum that "the 1972 structure should not hinder the normalization of the Japan-Taiwan relationship." \nJapan's view \nMeanwhile, the Taiwan question should be viewed as an international issue which affects the interests of other countries, a Japanese official said yesterday. \nUchida Katsuhisa, director-general of the Taipei Office under the Interchange Association of Japan, told the forum that the international community is shifting away from the conventional notion that the "Taiwan question" is a Chinese internal affair as Beijing has consistently claimed. \nAlso See Story: \n \nRightist Tokyo governor Ishihara says war kept Asia safe from `white people'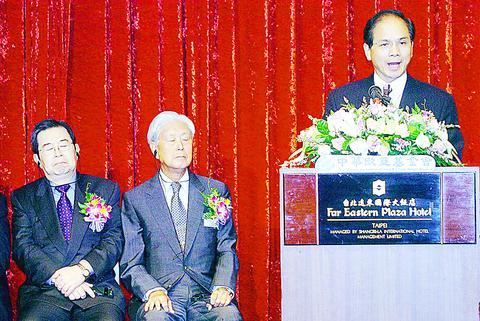 Premier Yu Shyi-kun, right, yesterday gives a speech in the opening ceremony of the 2004 forum of Taiwan-Japan Relations in Taipei.
PHOTO: CHEN TSE-MING, TAIPEI TIMES
Comments will be moderated. Keep comments relevant to the article. Remarks containing abusive and obscene language, personal attacks of any kind or promotion will be removed and the user banned. Final decision will be at the discretion of the Taipei Times.