Iraqi-US gulf widens, clashes continue
Two US soldiers and more than a dozen Iraqi militiamen were killed in skirmishes overnight around the Shiite holy city of Najaf, the fourth day of clashes since militia leader Moqtada al-Sadr offered a truce.
Iraqi leaders sharply criticized US officials for blocking their choice of a president to succeed former president Saddam Hussein when the US occupation authority is wound up in a month's time.
The gulf between US and Iraqi preferences was so wide that US officials asked to postpone talks by a day until today.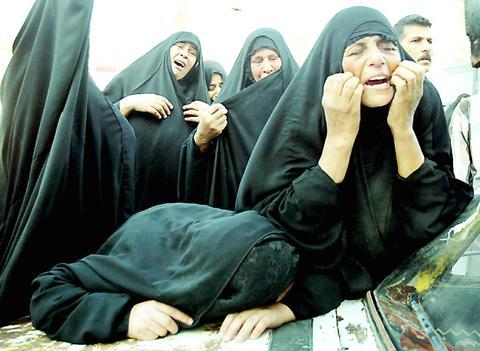 Shiite women grieve the death of a deceased relative in Kufa, near the Iraqi city of Najaf yesterday. Clashes between the US and the Mahdi Militia erupted on Sunday.
PHOTO: REUTERS
With the top post of prime minister filled by Iyad Allawi on Friday and key ministerial jobs also broadly agreed on, deadlock set in when the US-appointed Governing Council rallied behind Ghazi Yawar for the largely ceremonial post of president against Adnan Pachachi, who is favored by Washington and the UN
Both are Sunni Muslim Council members. Yawar is a tribal chief and civil engineer from northern Iraq and enjoys support from Kurds and majority Shiites. Pachachi is an 81-year-old former foreign minister from a Baghdad political dynasty.
"There's quite a lot of interference. They should let the Iraqis decide for themselves. This is an Iraqi affair," said Mahmoud Othman, a Kurd on the 22-member Council.
Many Iraqis question whether the Council truly represents public opinion. Washington asked UN envoy Lakhdar Brahimi to consult broadly among Iraqis and nominate an interim government to oversee elections in the new year.
But the Governing Council caught Brahimi off-guard on Friday by announcing the choice of Allawi, a secular Shiite who worked with the CIA from exile to overthrow Saddam. It appears set on having its way again. US and UN officials were not available for comment and their objections to Yawar were not clear.
The current head of the council, he left Iraq in 1990 and ran a telecoms company in Saudi Arabia. He has criticized the US-drafted UN resolution that sets out the handover plan, complaining it gives Iraqis too little control of the 150,000 mainly American foreign soldiers remaining in the country.
The US military said two soldiers were killed by Shiite militia at Kufa, just outside Najaf, late on Sunday and that US troops killed close to 20 guerrillas in response.
A car blew up on a busy Baghdad street yesterday, killing two Iraqis and wounding 13. The cause of the blast was unclear.
A bomb blew up in a van as a Dutch patrol approached it in Samawa but there were no casualties, Dutch troops at the scene said. Japanese forces are also in the area.
Comments will be moderated. Keep comments relevant to the article. Remarks containing abusive and obscene language, personal attacks of any kind or promotion will be removed and the user banned. Final decision will be at the discretion of the Taipei Times.