Chen tells China he may revoke `five noes' pledge
ARMS THREAT The president said the launching of a missile by China would result in a cancellation of the promise and urged Beijing to renounce the use of force
President Chen Shui-bian (陳水扁) said yesterday a referendum to ask China to dismantle its missiles is the least the country can do to defend itself, adding he will give up his "five noes" promise if Beijing steps up its military threats. \n"The `five noes' promise I made in my inauguration speech is conditional upon Communist China's not intending to take military action against Taiwan," Chen said. \n"But during the past three years, Beijing has put in place more ballistic missiles targeting Taiwan, expanded its military expenditure on a large scale and repeatedly threatened Taiwan," he said. \n"All of these [actions] have clearly displayed its intention of using force against Taiwan." Chen said. "Therefore, my `five noes' actually cease to exist while China's wields the threat of military action. \n"The reason that I still pledge to firmly maintain the `five noes' is because I am willing to make a concession, to compromise with the other side of Taiwan Strait," Chen said, adding that he could not keep making compromises without gaining safeguards for Taiwan's dignity and safety. \nChen made the remarks at a "glutinous rice ball" party to mark the winter solstice yesterday. \nHe said his administration had endeavored to improve cross-strait relations over the past three years, but that his humble approach had failed to get a positive reaction from Beijing. \n"From this moment on, if China tries to launch any missile -- as it did in 1996 to threaten the people of Taiwan to affect the presidential election -- I will revoke the `five noes,'" Chen said. \nHe said he would cancel the planned "defensive referendum" should China withdraw its missiles or renounce the use of force against Taiwan. \nChen said the "defensive referendum" should be called a "peaceful referendum." He said the referendum is a basic right of all people of Taiwan, a measure to strengthen the nation's democracy and a modest request to maintain the status quo of independence. \n"Some say the referendum ... is not necessary because everyone knows what the result of the referendum will be," Chen said. "Some opposition politicians even say that such a topic should be left to the Legislative Yuan. \n"I want to remind them that advanced democratic countries have their own parliament and may also use referendums to make up the insufficiency of representative democracy," he said. \n"When people leave their home and go to the booth to cast their votes to ask China to withdraw its missiles and renounce the use of military force, it will bring a completely different reaction and carry a significance different from that of a legislative resolution," Chen said. \n"Only because we hold the peaceful referendum will the entire international community pay attention to this small island," he said. "Only through this opportunity can we make the international community understand the real situation in the Taiwan Strait. \n"It is the best way to maintain Taiwan's security," he said, adding the referendum would not violate the "five noes" and is designed to maintain the status quo. \nAs to whether he has US support for the referendum, Chen said communication between two countries' governments is proceeding and that it takes time to eliminate misgivings or anxiety. \n"I think the crucial moment in the US-Taiwan relationship is in the next three to five months," he said, adding that he believes the US is more concerned about his inauguration speech on May 20 than the defensive referendum.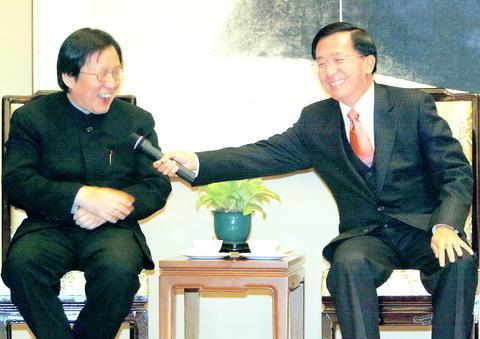 President Chen Shui-bian, right, asks Presidential Office Secretary-General Chiou I-jen to answer a question during a winter solstice party with journalists yesterday.
PHOTO: CNA
Comments will be moderated. Keep comments relevant to the article. Remarks containing abusive and obscene language, personal attacks of any kind or promotion will be removed and the user banned. Final decision will be at the discretion of the Taipei Times.