Wave of bombings hits Baghdad, killing dozens
DEADLY BLASTS About 40 people were killed after bombs went off at Red Cross offices and four police stations, just hours after clashes killed three US soldiers
Car bombers struck the international Red Cross headquarters and four police stations across Baghdad yesterday, killing about 40 people and wounding more than 200 in a spree of destruction that terrorized the Iraqi capital on the first day of the Muslim holy month of Ramadan, according to police and Red Cross reports.
The Red Cross said 12 were killed at its offices, and police said 27 were killed in the police station bombings, most of them Iraqis. The US military said one American soldier was killed in one of the police station attacks.
The bombings came hours after clashes in the Baghdad area killed three US soldiers overnight, and a day after insurgents devastated a hotel full of US occupation officials with a rocket barrage, killing a US colonel and wounding 18 other people.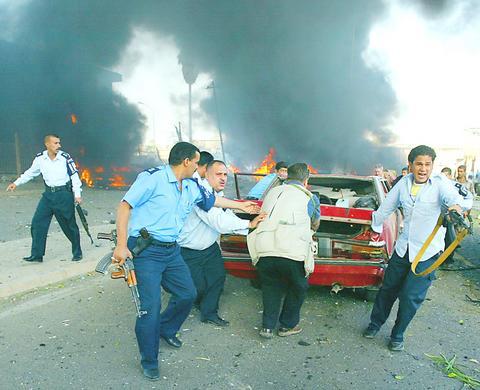 Iraqi police pull a car away from burning vehicles near the Baghdad headquarters of the International Committee of the Red Cross yesterday.
PHOTO: REUTERS
It was two days of violence unprecedented in this city of 5 million people since the end of the US-Iraq war last April -- attacks aimed at the American-led occupation and those perceived as working with it.
"We feel helpless when we see this," a distraught Iraqi doctor said at the devastated Red Cross offices.
Other Iraqis, meanwhile, were reported dying at the hands of Americans. In Fallujah, 65km west of Baghdad, witnesses said US troops opened fire indiscriminately, killing at least four Iraqi civilians, after a roadside bomb exploded as a US military convoy passed. The US command did not immediately confirm the incident or any US casualties.
At the offices of the International Committee of the Red Cross (ICRC) in central Baghdad, witnesses said a suicide bomber drove an explosives-packed vehicle, apparently an ambulance, right up to security barriers outside the building at about 8:30am and detonated it, blowing down the Red Cross' front wall, devastating the interior and blowing shrapnel and debris over a wide area.
The ICRC said at its headquarters in Geneva that 12 people were killed, including two of its Iraqi employees. Baghdad ICRC spokeswoman Nada Doumani said she believed the employees were security guards.
Then, through the morning, four other vehicles exploded at police stations in the Baghdad area. Ambulances, sirens wailing, crisscrossed the city all morning.
"From what our indications are, none of those bombers got close to the target," Hertling said. But the explosions outside police stations left streetscapes of broken, bloody bodies and twisted, burning automobiles. Iraqi police reported some 27 people killed in those attacks, including 15 Iraqis at the ad-Doura station in southern Baghdad.
One US soldier was among them, and other Americans were wounded, said Lieutenant Sarmad al-Hakim, an ad-Doura officer. The US command confirmed one soldier died but did not mention any wounded. Teams of US military police have been stationed at Baghdad police stations in recent months.
At a fifth police station in central Baghdad, officers stopped a suicide bomber before he could detonate his Land Cruiser. "He was shouting, `Death to the Iraqi police! You're collaborators!"' said police Sergeant Ahmed Abdel Sattar.
Hertling said he believed the attacks may have been timed to coincide with the start of Ramadan in order to heighten tensions during the fasting month, when Muslims abstain from food and drink during daylight hours and religious feelings run high.
Comments will be moderated. Keep comments relevant to the article. Remarks containing abusive and obscene language, personal attacks of any kind or promotion will be removed and the user banned. Final decision will be at the discretion of the Taipei Times.