Bali bomber gets death sentence
JUSTICE The man who commanded the attack on the nightclubs that killed 202 people became the third person to be sentenced to death for his crimes
An Indonesian court yesterday sentenced to death the man who commanded the Bali nightclub bombings, wrapping up the trials of the four main accused ahead of the first anniversary of the atrocity. \nIslamic militant Mukhlas, who now joins a younger brother on death row, shouted "Allahu Akbar" [God is greatest] as the verdict was announced. He said he would appeal. \n"We hereby declare the defendant has been proven legally and convincingly guilty of collectively plotting crimes of terrorism and possession of firearms without permission. We impose the death sentence," said presiding judge Tjokorda Rai Suamba. \nMukhlas, alias Ali Gufron, was the fourth key suspect to be convicted for the Oct. 12 attacks and the third to be sentenced to death by firing squad. \nHe was accused of overall responsibility for the blasts, which killed 202 people, mainly foreign tourists partying in nightclubs. \nJakarta also wants to put an Indonesian preacher called Hambali on trial over Bali, blaming the alleged operational brains of the Southeast Asian militant group Jemaah Islamiah for funding the bombing operation. Hambali has been in US custody since his arrest in Thailand in August. \nMukhlas remained defiant throughout his trial and refused to cooperate with investigators, angering survivors and the victims' families. \nDressed in a white skullcap, grey Muslim shirt and dark trousers, Mukhlas smiled at reporters as police with automatic rifles escorted him from an armored vehicle into court at the start of the session. \nThere were few spectators on hand, but Jan Laczynski, an Australian who has attended other sessions, said in Indonesian as the suspect passed: "Death for you today, Mukhlas." \nAustralia lost 88 citizens in the attacks. \nThe Denpasar district court sent the first two key suspects, Amrozi, Mukhlas's younger brother, and another Indonesian, Imam Samudra, to death row. \nA third brother, Ali Imron, received a life sentence after he cooperated with authorities, showed remorse and urged family and followers not to imitate him. \nSpeaking after the verdict, Laczynski said the trial of those responsible for the worst act of terror since the attacks on American cities in 2001 brought some sense of closure. \n"In many ways this is the most important fortnight for Australia because we will get a sense of closure. The four key players are out of the way now and we look forward to the [memorial] ceremonies on Oct. 12," he said. \nA spokesman in Canberra for Australian Foreign Minister Alexander Downer said the government did not plan to protest over the sentence, despite the country having no death penalty. \n"The verdict again sends a strong signal to terrorists the world over that the international community will not sit back and allow them to strike with impunity," the spokesman said. \nLike other key suspects, Mukhlas was charged with plotting, organizing and carrying out the bombings in Kuta, Bali's tourist hub which for years was the favorite playground for foreign visitors to the world's most populous Muslim nation. \nThe court has so far convicted 17 people, out of more than 30 facing trial, for their roles in the bombings. \nAnother trial in Bali yesterday sentenced Hamzah Baya, accused of hiding Imron in his home after the blasts, to six years in jail. \nIn a separate case, a court in Makassar convicted a second suspect in a bomb attack on a Mc-Donald's restaurant last December, jailing him for seven years for hiding key suspects. \nDuring previous court sessions Mukhlas showed no remorse and accused Western leaders of being the real terrorists. He retracted his earlier statements to police, saying they were given under duress after he was tortured. \nJakarta blames the Bali attacks on Jemaah Islamiah, which has links to Osama bin Laden's al-Qaeda. \nDuring the trial, witnesses said Mukhlas was one of Jemaah's top leaders, a charge he denied. \nJudges in their summation yesterday said Mukhlas met bin Laden in 1987 in Afghanistan, echoing earlier claims by the defendant. \nThe repentant Imron pleaded on Wednesday for a reduction of his life sentence. \nAn earlier appeal by Amrozi was rejected by the court last month. He has since lodged a second appeal.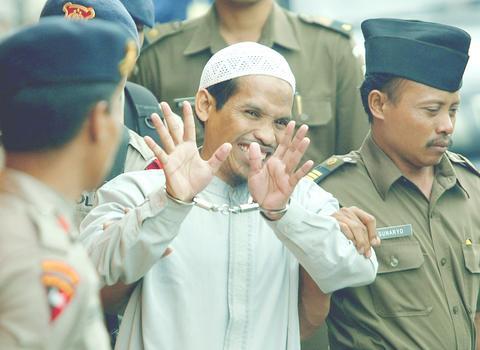 Convicted Bali bomber Mukhlas, also known as Ali Gufron, waves yesterday as he leaves a Denpasar courtroom after receiving a death sentence for the bombings on the Indonesian resort island on Oct. 12 last year.
PHOTO: REUTERS
Comments will be moderated. Keep comments relevant to the article. Remarks containing abusive and obscene language, personal attacks of any kind or promotion will be removed and the user banned. Final decision will be at the discretion of the Taipei Times.