Marches mark `intifada' anniversary
UPRISING Three years after the start of the violent rebellion against Israeli rule, the outgoing security chief said taking up arms had been a bad mistake
On the three-year anniversary of the Palestinian uprising, the outgoing Palestinian security chief said militants made a mistake in using arms against Israel and failed to understand that the world had changed after Sept. 11. \nViolence has been "detrimental to our national struggle," the security chief, Mohammed Dahlan, said in remarks published Sunday, as thousands of Palestinians marked the anniversary with marches in the West Bank. \nIn the West Bank city of Nablus, militants wearing fake explosive belts and burning a miniature Israeli bus led a crowd of several thousand. \nThe intifada began Sept. 28, 2000, after Israel's then-opposition leader Ariel Sharon, now prime minister, visited the hotly contested Jerusalem holy site known to Muslims as Haram as-Sharif and to Jews as the Temple Mount. \nPalestinians called the visit a provocation, because Sharon emphasized Israel's claim of sovereignty. Violent clashes followed, and grew into three years of violence marked by repeated terror attacks against Israelis and Israeli military strikes into Palestinian areas. A total of 2,477 people have been killed on the Palestinian side and 860 on the Israeli side. \nToday, the US-backed "road map" peace plan, stalled but still on the table, offers the Palestinians a state by 2005 if the violence ends. \nHamas, responsible for scores of suicide bombings against Israel, marked the anniversary Sunday with a pledge to continue the uprising nonetheless. Hamas reiterated its opposition to the road map and called on the Palestinian Authority and an incoming Cabinet to uphold the Palestinians' right to resist the occupation. \nIn the latest attack on Friday night, an Islamic Jihad gunman burst into a Jewish holiday dinner at a West Bank settlement, shooting to death a seven-month-old baby and a 27-year-old Israeli man. \nOn Monday, Israel eased a tight closure it had imposed on the West Bank and Gaza Strip during the two-day New Year's holiday that ended Sunday night. However, travel restrictions remained largely in place. \nPalestinians have been living with such restrictions since the uprising erupted, with checkpoints zigzagging around their towns and villages in the West Bank and Gaza Strip, hindering travel and devastating their fledgling economy. \nDahlan, who served as security chief for four months under outgoing Prime Minister Mahmoud Abbas, said the militant groups have been misreading the situation. \n"Resorting to armed violence in certain phases of the Palestinian intifada, the way it was done in the past three years, proved to be detrimental to our national struggle," Dahlan told the Lebanese English-language newspaper Daily Star in an e-mail interview. \n"We had hoped that the various Palestinian factions would understand the new world that emerged after the events of Sept. 11, 2001, and learn from their outcome," Dahlan said. \n"Each era of national struggle has its own characteristics and means. What is positive at a certain time might be counterproductive in other times," Dahlan added. \nDahlan was security chief under Abbas, who stepped down after Arafat failed to relinquish control over security forces. Dahlan, who had the support of the US, will not be in the new government of Prime Minister-designate Ahmed Qureia. \nThe new Cabinet was presented to Arafat's Fatah movement on Saturday. An Arafat loyalist, Nasser Yousef, will serve as interior minister, a job that grants him control over part of the security branches, with the rest commanded directly by Arafat, who also presides over a new 12-member National Security Council. \nThe composition of the Cabinet was relatively smooth, though Saeb Erekat, an Arafat stalwart, turned down the portfolio he was offered, as minister of negotiations with Israel, Palestinian officials said. \nQureia, who says he wants as broad a Cabinet as possible, was also rebuffed by a radical PLO faction, the Popular Front for the Liberation of Palestine, or PFLP. \nOn Sunday, Qureia met with the group's leader, Ahmed Saadat, in a West Bank jail, where Saadat is being held under US and British supervision, for his alleged role in the assassination of an Israeli Cabinet minister in October 2001. \nSaadat told Qureia his group would not join the Cabinet, officials said. The Palestinian opposition groups, including Hamas, Islamic Jihad and the PFLP, say they want no part of the Palestinian Authority because it is a product of interim peace deals with Israel they oppose. \nIsrael initially said it would not do business with an Arafat-controlled Cabinet. However, officials have softened their tone in recent days, saying they would judge Qureia by his deeds. Israel insists that the Palestinian Authority begin dismantling Palestinian militant groups.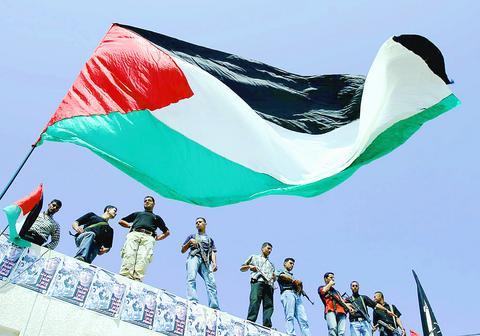 Palestinian militants and members of al-Fatah stand atop a building during a demonstration in Gaza City on Sunday.
PHOTO: REUTERS
Comments will be moderated. Keep comments relevant to the article. Remarks containing abusive and obscene language, personal attacks of any kind or promotion will be removed and the user banned. Final decision will be at the discretion of the Taipei Times.