SARS cases fall, but officials urge caution
WORD OF WARNING As the number of cases declined for a second consecutive day, health authorities suggested that waning vigilance could cause another outbreak
Taiwan's number of SARS probable cases continued to fall yesterday for the second consecutive day as three cases were reclassified and two more probable cases were reported.
"All of the five cases concerned were old cases. Three probable cases were reclassifed and two suspected cases were identified as probable cases," said Department of Health (DOH) official Wang Chih-chao (王哲超) yesterday.
"All together, the total number of Taiwan's probable cases fell from 679 of the previous day down to 678 and the death toll remained at 81 for the seventh consecutive day," Wang said.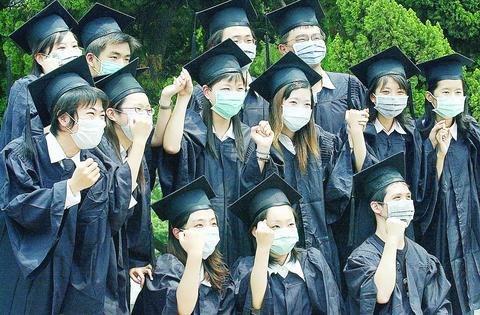 Graduates of National Taiwan University yesterday take pictures to celebrate their graduation after the school announced replacing the original commencement by an ``online commencement'' due to the SARS outbreak. Many schools have already canceled their commencements this year for the same reason.
PHOTO: CHANG CHIA-MING, TAIPEI TIMES
"The situation is almost under control due to our efforts. But it can be also attributed to hot summer days," Su Yi-jen (蘇益仁), director of the Center for Disease Control, said yesterday.
Su said the public should remain alert to SARS because the virus might hit Taiwan this winter and again early next year.
Su said hospitals would still need to be vigilant against SARS and residents were encouraged to try their best to take the necessary prevention measures.
DOH Director General Chen Chien-jen (陳建仁) said yesterday that Taiwan should continue to be cautious about additional SARS outbreaks.
Chen said that medical records show that an increase in SARS carriers -- patients infected with SARS without apparent symptoms -- indicate that the virus' virulence has decreased but also noted that this shows that SARS might not be eradicated soon.
"What happened in the Toronto, Canada -- where the virus crept back while the country thought the disease had been contained, is likely to happen to any place in the world. We have to pay heed to such a warning," Chen said.
However, he said, "it is unlikely that the scale of the infection would be as large as what we had in the past month with a huge spike of the number of people infected and quarantined.
Comments will be moderated. Keep comments relevant to the article. Remarks containing abusive and obscene language, personal attacks of any kind or promotion will be removed and the user banned. Final decision will be at the discretion of the Taipei Times.