Forecasters expect drought to defy storm
TROPICAL STORM Dry conditions in northern Taiwan are expected to continue, while residents in the south have been advised to be on alert for possible landslides
Tropical Storm Nangka, which will leave Taiwan today, was expected to do little to ease the threat of drought in northern Taiwan, the Water Resources Agency (WRA) said yesterday. \nNangka, just off southern and eastern counties yesterday, was expected to pass Taiwan today as it moves northeast, Central Weather Bureau officials said. \n"The impending drought in the north, however, remains a threat because little rainfall will be brought by Nangka," WRA Deputy Director Chen Shen-hsien (陳伸賢) said. \nIn order to limit consumption, water pressure in northern counties, including Hsinchu, Taoyuan and Taipei, is still being reduced at night. \nChen said heavier water consumption due to the spread of SARS over the past two months has increased demands on the Shihmen Dam in Taoyuan County and the Feitsui Reservoir in Taipei County. \nChen said that the water supply for the north could be sustained until the end of the month because the storage level is 100 million cubic meters more than at the same time last year. \nFacing the worst drought in the past two decades, Taipei City adopted water restrictions on May 13 last year. \nChen said a meeting by the Ministry of Economic Affairs about handling the impending water shortage will be held on June 17 to review rainfall this month and determine whether stricter conservation measures are needed. \nAccording to the weather bureau, expected relief may come on Thursday with new precipitation. \nAccording to bureau, rainfall last month was disappointing. Forecasters said yesterday that rainfall last month in Taipei was 88.8mm, far less than the normal level of 188mm to 303mm. \nIn central Taiwan, officials said, last month's rainfall was 100.8mm, less than the normal level of 162mm to 280mm. \nIn southern Taiwan, rainfall last month was only 13.5mm, which is far less than normal levels ranging from 98mm to 235mm. \nWRA officials said yesterday that Nangka might make it possible to channel more water from the Kao-ping River, which divides Kaohsiung and Pingtung counties, to the Nanhua Reservoir in Tainan County. \nThe officials said water levels at the Tsengwen and Wushantou reservoirs in Tainan County are falling due to heavy demand from the agricultural sector for irrigation. \nThe water accumulations at the two reservoirs yesterday were at their second-lowest levels in the past three decades. \nThe level at the Tsengwen, the largest reservoir in the country, was 168.84m yesterday, lower than the dead storage level -- the level below which water must be pumped out -- of 171m. \nDue to the approach of Nangka, the Council of Agriculture yesterday urged residents in mountainous areas to take precautions in the event of mudslides. \n"Although Nangka is just a tropical storm, residents in mountainous areas on the Hengchun Peninsula should check to see whether revetment and escape canals nearby can resist torrential rain," said Wu Hui-lung (吳輝龍), chief of the council's Soil and Water Conservation Bureau.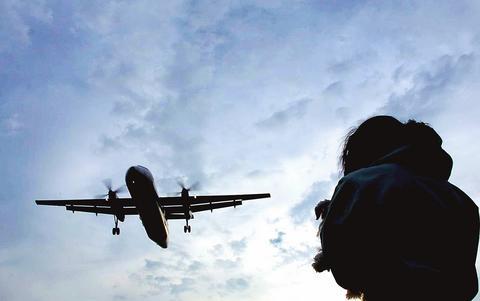 A woman with a dog in her arms watches a plane landing at Taipei's Sungshan Airport yesterday afternoon. Thick clouds in irregular shapes appeared as Tropical Storm Nangka was sweeping across southern and eastern Taiwan yesterday.
PHOTO: SEAN CHAO, TAIPEI TIMES
Comments will be moderated. Keep comments relevant to the article. Remarks containing abusive and obscene language, personal attacks of any kind or promotion will be removed and the user banned. Final decision will be at the discretion of the Taipei Times.