Mystery bug strikes Taiwan couple
HEALTH SCARE Doctors believe a Guangdong-based businessman and his wife have atypical pneumonia, the disease thought to have killed five people in China
The Mainland Affairs Council yesterday warned people planning to visit Hong Kong to be alert to the dangers of catching atypical pneumonia there, as a hospital in Taiwan treated a couple suspected of contracting the potentially deadly disease in Guangdong Province.
Chen Tzai-chin (陳再晉), head of the Center for Disease Control, said that National Taiwan University Hospital believed a Guangdong-based Taiwanese businessman and his wife have atypical pneumonia.
Chen said the couple's condition could not be confirmed until tests are completed on Monday.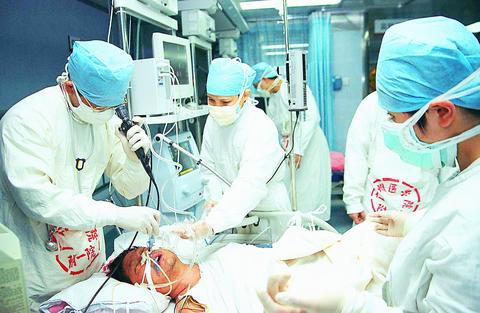 A Chinese man with pneumonia receives treatment at a hospital in Guangzhou on Thursday.
PHOTO: AP
Chen declined to identify the couple, saying only that the businessman suffered symptoms similar to those of atypical pneumonia after coming back from Guangdong, and his wife's symptoms appeared after she began taking care of her husband.
Earlier yesterday council Vice Chairman Chen Ming-tong (陳明通) urged Taiwanese traveling to Hong Kong to exercise caution.
"We are hopeful that local citizens intending to travel to Hong Kong can steer clear of crowded and poorly ventilated public places and maintain vigilance regarding their own health and safety," Chen said, adding that officials will continue monitoring developments in the health situation in Hong Kong.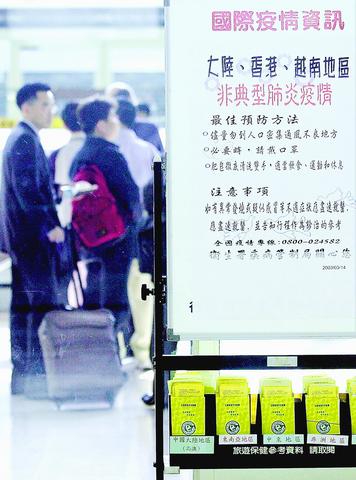 Passengers line up at CKS airport yesterday behind a sign warning them to be wary of pneumonia in China, Hong Kong and Vietnam. The sign advises travelers to avoid crowded places, wear a mask, and eat, drink and sleep well. It tells travelers to see a doctor if they get an unusual fever and to tell someone of their itinerary before departing.
PHOTO: AFP
As many Taiwanese people often make pleasure trips to or transit stops in Hong Kong, staff members at CKS airport have stepped up a publicity campaign to remind Hong Kong-bound travelers of the new health hazard.
They distributed flyers and put up posters to inform outbound visitors of the atypical pneumonia alert.
The Department of Health issued a similar warning Thursday.
Taiwanese travelers who develop symptoms of pneumonia or flu after visiting Hong Kong or Vietnam should see a doctor immediately and list the places they have toured to facilitate diagnosis of their disease, the DOH said in a press release.
Many diseases, such as epidemic influenza and legionnaire's disease, can display symptoms of atypical pneumonia and should be treated carefully, the DOH press release said.
Comments will be moderated. Keep comments relevant to the article. Remarks containing abusive and obscene language, personal attacks of any kind or promotion will be removed and the user banned. Final decision will be at the discretion of the Taipei Times.