North Korea sinks Southern patrol boat, killing four in worst clash in three years
In a blow to Korean reconciliation efforts, a North Korean navy boat crossed the maritime border and sank a Southern patrol boat yesterday, killing at least four sailors and wounding another 20, the South Korean military said.
At least one South Korean sailor was missing from the worst border clash in three years between the rivals, which share the world's last Cold War frontier.
There was no immediate word on North Korean casualties or missing in the 21-minute fight in the Yellow Sea. A Northern warship was seen being towed away in flames, according to South Korea's Joint Chiefs of Staff.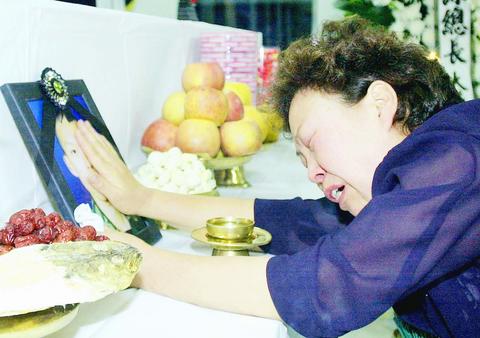 Bak Bong-hee weeps at the picture of her dead son, Hwang Do-hyun, one of at least four South Korean sailors who died yesterday in a border clash with North Korea.
PHOTO: AP
The South Korean military said a squadron of fighter jets patrolled the sea border afterward, and a 1,200-tonne battleship deployed closer to the area.
The clash was a setback to President Kim Dae-jung's so-called "Sunshine Policy" of trying to engage the isolated, communist North, which shares a sealed, heavily fortified border with the South. The 1950-1953 Korean War ended with an armistice, not a peace treaty.
"The military provocation of pre-emptive firing by a North Korean navy patrol ship is a clear violation of the armistice and an act that raises tension on the Korean peninsula. We cannot keep silent," the presidential Blue House quoted Kim as saying at an emergency meeting of the National Security Council.
In a statement after the hourlong meeting, Defense Minister Kim Dong-shin demanded an apology, punishment of those responsible and a promise from North Korea that such an incident would not happen again.
But North Korean state-run media denied the South's claims that its boat fired first, saying the communist vessel was defending itself against an intrusion into Northern waters.
"The South Korean military authorities sought to invent any shocking incident" in order to disrupt efforts to improve inter-Korean relations, said KCNA, the North's news agency.
South Korea's opposition Grand National Party, which has criticized Kim's policy toward the North as too lenient, said in a statement that the sea battle "throws cold water over warming ties."
It speculated that North Korea was trying to disrupt the World Cup soccer tournament, which is being co-hosted by South Korea and Japan and ends today.
President Kim canceled plans to watch on television the South Korean team's evening playoff game against Turkey in the World Cup. Big crowds were gathering in the streets of major cities to cheer their national soccer team.
"We urge the people to continue their everyday life with ease and resolution as the military and the government is thoroughly prepared," presidential spokeswoman Park Sun-sook said.
Kim planned to go ahead with a trip today to Japan to attend the World Cup final between Brazil and Germany, Park said. His Cabinet ministers will brief him frequently by telephone and fax until his return to Seoul on Tuesday, she said.
It was unclear how the incident would affect prospects for a revival of long-suspended dialogue between North Korea and the US, South Korea's chief ally.
On Thursday, a US State Department official proposed to North Korean diplomats at the UN that talks resume in the second week of July in Pyongyang, the North Korean capital.
A North Korea expert at the Sejong Institute, a private research center in Seoul, speculated that the North might apologize secretly to the South for what he believed was an "isolated" case.
"If the case is not resolved smoothly, it will have a devastating impact on South-North relations as well as US-North Korean relations," said the expert, Paik Hak-soon.
South Korea's Unification Ministry, which handles North Korea policy, said exchanges between local non-governmental groups and North Korea would continue despite the clash.
South Korea said two communist boats intruded up to 4.8km into South Korean waters, ignoring warnings to withdraw, broadcast from South Korean military boats with loudspeakers.
The clash occurred at 10:25am when South Korean navy vessels tried to repel two North Korean navy warships and an unspecified number of Northern fishing boats, the Southern military said.
A South Korean navy speedboat with 27 sailors aboard took a direct hit in its steering room from a heavy-caliber gun and caught fire. The South Korean military said a communist boat fired from about 500m away. The dead included a lieutenant and three enlisted men.
The South Korean military said 22 sailors were injured, but later revised the number to 20.
Comments will be moderated. Keep comments relevant to the article. Remarks containing abusive and obscene language, personal attacks of any kind or promotion will be removed and the user banned. Final decision will be at the discretion of the Taipei Times.