President Lee announces emergency decree
EXTRA POWERS The measure, the first to be issued since constitutional reforms in 1990, will be limited in its geographical coverage and time frame
President Lee Teng-hui (李登輝) yesterday declared a state of emergency in areas affected by last Tuesday's massive earthquake that killed more than 2,000 people, as rescue efforts continued to shift from search-and-rescue to recovery of bodies -- and as powerful aftershocks continued to shake the island.
The death toll from the quake, meanwhile, actually dropped yesterday as officials said figures from neighboring counties had overlapped.
After as many as 2,191 were reported dead late on Friday, but the figure was readjusted Saturday morning to 1,965 -- but as rescue efforts continued with little hope of finding survivors, the numbers rose again, to 2,002 as of press time.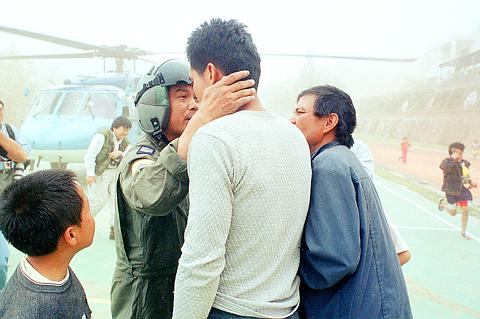 An Air Force helicopter pilot who brought supplies to Jenai township in Taichung County asks residents what further supplies they require.
PHOTO: CHEN CHENG-CHANG, TAIPEI TIMES
A further 8,544 people were injured, 206 were said to be missing or trapped under rubble from collapsed buildings, and 1,629 were listed as "stranded" in remote areas not yet reached by rescuers.
In advance of the president's announcement last night, Vice Premier Liu Chao-shiuan (劉兆玄) said yesterday that the cabinet had made a resolution about the emergency decree which will grant the government extra powers to cope with the extraordinary losses and damages -- estimated at NT$100 billion (US$3.14 billion) -- and to speed a drive to repair infrastructure, homes and industry.
The government has warned of gross domestic product falling 0.5 percentage points.
Liu pointed out the decree was "limited in scope to be as narrow as possible," placing curbs on its time frame, where it would be enforced, and how it would be implemented.
The decree will be the first since constitutional amendments allowing such a measure were implemented in 1990.
Under Clause 3, Article 2 of the Additional Articles of the Constitution, the president may issue emergency decrees to spare the nation from calamity or economic and financial crisis. But the president may do so only on the Cabinet's recommendation and should seek the legislature's confirmation within 10 days.
Legislative speaker Wang Jin-pyng (王金平) said yesterday after preliminary talks with legislators that there should be no difficulty confirming the decree next Tuesday.
"We are emphasizing rehabilitation and reconstruction," said Liu.
Liu said the measures, once proclaimed in the form of an emergency decree, will only be those that need to be taken urgently, and will only cover the disaster areas of Nantou and Taichung -- the two hardest-hit counties -- and other pockets where the earthquake wrought havoc.
He said the measures, which will be in effect for six months, will aim to:
* Raise money by issuing government bonds for reconstruction, irrespective of legal restrictions for these types of bonds;
* Extend long-term soft loans to the people whose homes have suffered damage in the tremor;
* Settle displaced people by reconstructing leveled apartment buildings regardless of current regulations concerning urban planning;
* Commandeer water resources, private estates, vehicles, aircraft and vessels for relief purposes to cut down on bureaucratic red tape;
* Cordon off and evacuate disaster areas, by force if necessary, to speed up the relief effort and prevent the outbreak of diseases;
* Impose prison sentences on those caught hoarding materials or cornering the market in essential goods;
* Simplify procedures for issuing ID cards for those whose cards were destroyed along with their homes.
The area included in the decree is to be confined to Taichung and Nantou counties, as well as parts of Taipei, Taipei County and Yunlin County affected by the earthquake.
Vice President Lien Chan (連戰), who is also the KMT's presidential candidate, said on Friday in Nantou County that such a decree had nothing to do with next year's presidential elections.
"It is an extremely important matter, why should we make a fuss about it?" Lien said.
Vice Premier Liu backed Lien, saying the "timing for the announcement was just perfect, since we are preparing to step into a new phase of reconstruction.
"Anything related to elections would not be contained in an emergency decree,'' Liu said -- referring to not only the presidential election in March, but also the Yunlin County commissioner's by-election, originally scheduled for October 16. The latter has since been postponed.
An emergency decree has been imposed only three times in the past four decades. The previous three occasions were in the wake of devastating floods on Aug. 7, 1958, when the US cut off its diplomatic ties with Taiwan in 1979, and when then-president Chiang Ching-kuo (蔣經國) died in 1989.
Strong aftershocks, meanwhile -- earthquakes in their own right -- continued to rattle Taiwan. One that struck in the morning measured 5.1 on the Richter scale, and was centered in Taichung County -- the first quake from a separate fault line to hit the island.
Another later aftershock measured 5.6, Taiwan's Seismology Bureau reported.
Since Tuesday's killer quake, the island has been rocked by close to 6,300 aftershocks, more than 60 classed as major quakes, most originating from the same epicenter in the central county of Nantou.
Typhoon Cam, meanwhile, currently hundreds of kilometres southwest of Taiwan, began bringing rain to quake-hit regions yesterday afternoon -- although officials said there was little chance it would actually hit the island.
But with one dam in central Taiwan partially damaged, and with a heightened danger of mudslides, officials are keeping an eye on weather conditions.
"There is no immediate danger of overflow at this point unless heavy rains or a typhoon hits," King Shao-hsing, deputy director of Taiwan's Water Resources Bureau, told AFP.
The rains were also expected to further weaken collapsed buildings and cause more landslides.
Comments will be moderated. Keep comments relevant to the article. Remarks containing abusive and obscene language, personal attacks of any kind or promotion will be removed and the user banned. Final decision will be at the discretion of the Taipei Times.