Quake of the century
As the international community poured out condolences and sent rescue workers to Taiwan last night to join the desperate search for survivors of yesterday's earthquake, the nation continued to count the loss in life and property caused by its biggest temblor this century.
By midnight yesterday, a total of 1,712 people were reported killed, 4,005 injured, 219 missing and 2,991 trapped inside buildings, according to the Ministry of the Interior's disaster management center. About 30,000 houses were damaged or destroyed.
Meanwhile the first foreign group of rescue workers, comprising 71 professionals and six government officials, arrived from Japan, the Ministry of Foreign Affairs said.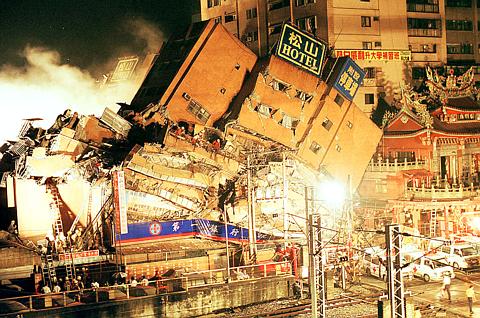 The Tunghsing Building in Taipei, which housed the Sungshan Hotel, stands ruined after yesterday's earthquake. Less than a half of the 12-story building was left above ground. At least 60 people were still trapped inside at press time.
PHOTO: CHEN CHENG-CHANG, TAIPEI TIMES
Chinese President Jiang Zemin extended condolences and offered aid to the quake victims, even though the disaster occurred at a time of tense relations between China and Taiwan.
Thanks were expressed in Taiwan, with Su Chi (蘇起), chairman of the Mainland Affairs Council, saying Jiang's remarks have helped improve the worsening ties between Taiwan and China.
President Lee Teng-hui (李登輝), meanwhile, busied himself with directly overseeing the rescue operations in the worst-hit parts of the island. Early yesterday he flew by helicopter to sites which suffered the worst damage. Late last night, he was presiding over an emergency meeting of the Cabinet, where he was briefed on the current situation.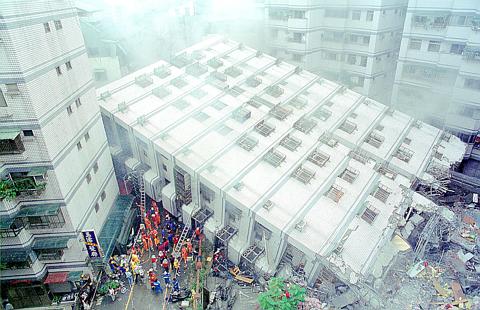 An apartment complex lies destroyed in Hsinchuang, Taipei County. If the government takes a more committed approach to upgrading the standards of Taiwan's buildings, seismologists say, such damage could be avoided in the future.
PHOTO: GEORGE TSORNG, TAIPEI TIMES
Legislative Speaker Wang Jyn-ping (王金平) reportedly raised the prospect of declaring a state of emergency, but it received little support and was not pursued.
Minister of Finance Paul Chiu (邱正雄) announced after the meeting that the stock market would remain closed today, and a decision on opening it tomorrow would not be made until later today.
The quake struck at 1:47am yesterday morning, 12.5km west of Sun Moon Lake (日月潭) in Nantou County, while most residents were sleeping, hitting with what officials in Taiwan initially claimed was a force of 7.3 on the open-ended Richter scale. The US Geological Survey's National Earthquake Information Center, however, listed its strength as 7.6.
Since the main earthquake, the island has been struck by at least 36 major aftershocks among a total of 600 aftershocks of various strengths.
The quake caused power outages almost islandwide, though as of press time Taipower said electricity had been restored to 59 percent of the island.
Damage was sustained across nearly the entire island, mostly from Chiayi in the south to Taipei in the north, but the majority was sustained in Nantou and Taichung, near the epicenter, where hundreds of buildings -- many recently built -- were flattened.
In Taichung County alone, the death toll had reached 816 by press time and was expected to climb further along with the rescue work.
Several towns in central Taiwan were cut off as night fell with thousands of people still unaccounted for.
Centering on the small town of Puli, an area with a radius of at least 30 kilometers was still unreachable by rescuers except by helicopter.
As night fell, the few crews flying into the heart of the disaster zone were forced to suspend drops of medicine and food and airlifts of the injured as a cut in all supply of power to the hilly area had made flying too dangerous.
With communications and land transport broken, word of conditions inside the eye of the catastrophe, normally a honeymoon haven and center for culture and the arts, was scant.
At Nantou, the number of bodies ferried by helicopter to waiting ambulances from Puli and surrounding areas painted a cataclysmic picture.
The corpses quickly swamped hospital morgues and staff began laying the dead by the roadside taped up in blue plastic sheets. Power shortages meant even those bodies in morgues soon began to decay in the 27 degree heat.
Frantic survivors tried to peer through the colored wrapping as they searched for missing family members. Ambulances rushed past in a constant file, ferrying fresh victims.
At the end of a line of bodies, a family gathered around one corpse and rocked back and forth on their knees, murmuring Taoist prayers over offerings of ghost money for the dead to take with them.
Work was impeded by a lack of supplies and replacements for weary rescue teams as the night wore on.
Travelling with a 30-member team from the Buddhist Compassion Relief Tzu Chi Association, on a rescue mission with a small group of doctors, a Taipei Times reporter witnessed attempts to pull victims from a damaged building in the Nantou town of Tunghsi.
But the work was hampered by a lack of heavy machinery, as well as continuing aftershocks that made working in the wreckage very dangerous.
One injured man said the earthquake had caught him by surprise, having been woken from slumber in a traditional farm house -- a "si he yuan (四合院)" -- which collapsed in a hail of beams and heavy bricks on top of him.
Lin Yun-feng (林雲風) was crushed, held in his house for 20 minutes until a neighbor came and dragged him out. Fortunately, he emerged with only bruises on his back and legs, in much better condition than his neighbors.
In the town, virtually every building appeared to have suffered some structural damage.
Publication Notes
Brace yourselves, experts say, the `big one' is yet to come
Taiwan's leading seismologists had been predicting for some time that a large-scale earthquake was imminent. So one might expect members of their scientific community to be relieved, in a way, that it has finally arrived. But they aren't. The reason? This was not the earthquake they had been expecting. Which means that their original predictions stand: Taiwan is still, according to past records, scheduled for another
Comments will be moderated. Keep comments relevant to the article. Remarks containing abusive and obscene language, personal attacks of any kind or promotion will be removed and the user banned. Final decision will be at the discretion of the Taipei Times.