Notes from Central Taiwan: Projections of the future past
Allowing women to work remotely and boosting immigration could go a long way to curbing Taiwan's alarming demographic future, but conservative social attitudes have to be overcome
Last week, an article in the Asian Times by James Hsueh (薛承泰) cited National Development Council (NDC) projections that by 2060, 41 percent of the population would be elderly. The article was originally published at East Asia Forum and also picked up by the News Lens, but none noted that Hsueh had lauded the pro-natalist policies of former president Ma Ying-jeou (馬英九) and that he had been apart of that administration tasked with population planning.
Last week as well, TaiwanPlus News flagged a Ministry of the Interior report saying that in the next nine years, 4 million workers are going to retire, thanks in part to Taiwan's low retirement ages, it said. It goes without saying that low retirement ages are a fine thing, if the nation has policies to keep the birth rate up and a robust immigration policy, along with tax policies to fund retiree pensions and services, but this is Taiwan.
Back in 1986, demographer Ronald Freedman laid out a series of predictions for Taiwan's population growth in the journal Population and Development Review. Taiwan had already made the demographic transition by that time, its society shifting from high death and birth rates to low death and birth rates.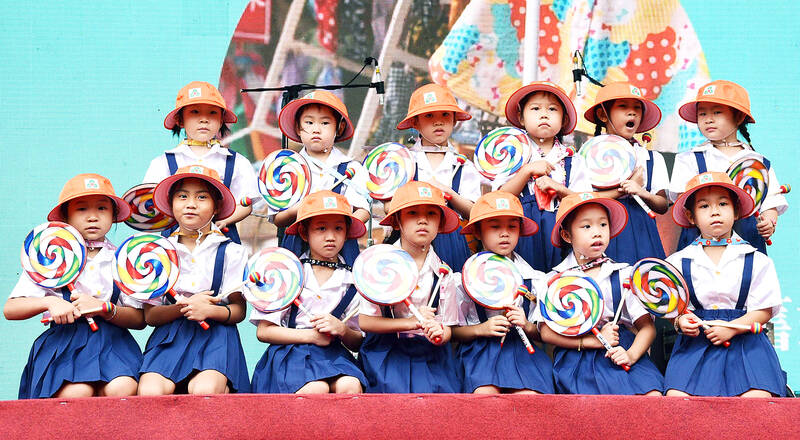 Children pose for a photo in Taoyuan in August last year.
Photo: Lee Jung-ping, Taipei Times
Freedman's calculations, based on a 1984 population of 19 million that was still growing 1.5 percent annually, showed that "the population will grow by 6 to 11 million people during the next 40 to 75 years."
He also rejected the official prediction that Taiwan's fertility rate would fall to 1.6 by 2011 as too "radical," preferring a more moderate fall, with the population reaching zero growth rate at around 27 million in 2034.
"The more radical 'low' assumption produces a near zero-growth population of around 25 million in about 2025," he wrote.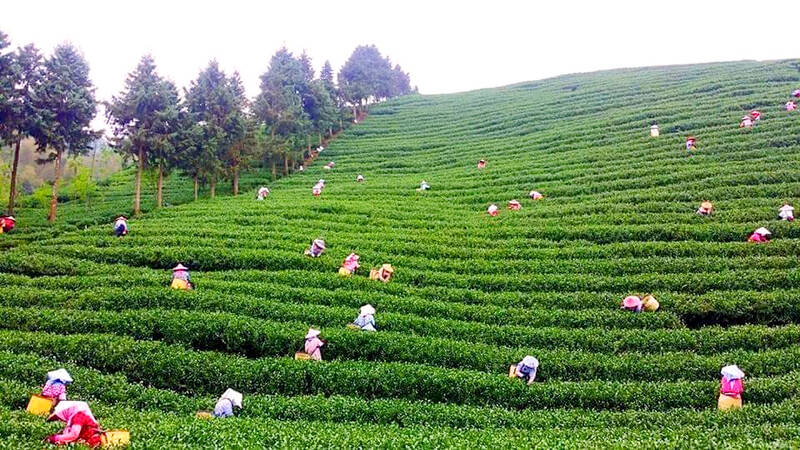 Elderly women last month pick tea at a tea plantation in Nantou County.
Photo: Hsieh Chieh-yu, Taipei Times
In fact, as we know today, the official prediction was too conservative. According to the NDC, the population peaked in 2019 at 23.6 million. Clearly, it was not difficult to foresee the trend.
In contrast to Freedman's relative optimism, studies of the early 1990s fertility numbers were already signaling a five-alarm fire. Writing in the journal Demography, Griffith Feeney observed of Taiwan's fertility trends that "even an optimistic linear extrapolation of the long-term trend brings fertility down to zero early in the next century."
'DEMOGRAPHIC TRANSITION'
Indeed, by that time scholars had begun debating the validity of the idea of "demographic transition," with its assumption that fertility rates would decline to replacement level and then level off. Even then it was obvious that fertility would just keep declining.
And so it has. In 2020, China had a fertility rate of 1.28 births per woman, Korea had 0.8 births, Japan had 1.34 births, while Taiwan last year had 1.2 births per woman — all figures that have received plenty of attention. However, most of Asia is already at or below the replacement rate, generally seen as 2.1.
Figures from last year show that Thailand was below 1.5, Malaysia was at 1.9 and India was at 2.1, while Indonesia was at 2.20 and Vietnam was at 1.9 in 2020. Cambodia and the Philippines, both at 2.4 last year, remain markedly above the replacement rate.
But all of those nations have declining fertility rates. Many might, at some point, begin competing for immigrants. The 21st century in Asia may well belong to the nations with the most robust immigration policies.
This phenomenon is global. The advanced economies are all below the replacement rate, as is Latin America. Africa has an overall replacement rate of over 4 at the moment, but it is falling as well. In our generation, the peak in the historical human population appears to be dawning.
The effects are obvious. In Taiwan, the NDC currently predicts the population will fall by 7.8 million by 2070.
"Within this decrease, the population aged 0-14 is projected to fall by 1.6 million and the population aged 15-64 to fall by 9.0 million," it says.
According to the NDC, the 15-64 population peaked in 2015. In 2017 the population of elderly passed the population of youths. The demographic dividend, when the share of the working age population is greater than the share of the non-working population, ends in 2027. The average age of farmers is 62, according to the Council of Agriculture.
At the end of its analysis of Taiwan's alarming demographic future, the NDC offers a set of policy proposals. None approaches the scale of need, and a program of sustained immigration is not among them.
REMOTE WORK
A fascinating new paper from public policy organization Economic Innovation Group by Adam Ozimek and Lyman Stone on remote work shows that it has powerful effects on marriage and birth rates. It is still early, but the authors note that, particularly for wealthy or more educated women, remote workers experienced higher birth rates. Remote workers whose finances improved were 10 percent more likely to be/try to get pregnant than non-remote workers with similar financial improvement.
Moreover, unmarried remote workers were more likely to marry in the year following remote work, which they attributed to higher migration rates. Further, the effects of remote work on birth rates were stronger for women over 35, and especially over 39. Note that the NDC now has the average age of marriage at over 29, and first child at 31.
Taiwan, with its relatively good income inequality, highly educated workers, convenient intercity transport and stable Internet, seems poised to benefit from such effects. Unfortunately, the study showed, remote workers with several children were most likely to add another. Remote workers with a single child showed no difference in their birth rates.
It used to be commonly said that: "The worst of the three types of unfilial behavior is to have no male heirs" (不孝有三, 無後為大). These retrograde attitudes linger still, as in James Hsueh's get-off-my-lawn judgment in the article above: "But in a society like Taiwan, with young people pursuing freedom and individual values imported from the West, declining fertility seems difficult to reverse."
Such social attitudes and the immigration laws they create are hard to change. It would likely be easier to at least try to change birth rates by government policies that encourage (or perhaps even pay) Taiwan's notoriously controlling bosses to send employees home to work remotely. That would not require many changes in the laws and regulations. It might also encourage more emigrants to stay in Taiwan. The government could also set an example by doing that itself.
Otherwise, given how conservative previous demographic predictions have been, and how the "radical" predictions have understated the future, these unfolding crises are more than likely arriving sooner than everyone thinks.
Notes from Central Taiwan is a column written by long-term resident Michael Turton, who provides incisive commentary informed by three decades of living in and writing about his adoptive country. The views expressed here are his own.
Comments will be moderated. Keep comments relevant to the article. Remarks containing abusive and obscene language, personal attacks of any kind or promotion will be removed and the user banned. Final decision will be at the discretion of the Taipei Times.