What does the top 100 films say about our changing society?
The line-up is compiled every 10 years from the votes of international directors, actors and critics
It is May 2, 1945 and an airborne RAF pilot is reciting poetry with the clipped delivery of the British upper class. His plane is going down fast over the English coast as he offers his last words to June, an American wireless operator he has never met, stationed on the ground below. This is the memorable opening of A Matter of Life and Death, a British romance which, despite its 76 years, continues to hold its critical standing alongside the world's top films.
Made by Michael Powell and Emeric Pressburger and starring David Niven, it is part of the canon of world cinema. And yet many British filmgoers will never have watched its vivid glories.
Three nights ago, after a decade-long wait, the results of an influential poll of the world's greatest films prompted shock and joy in equal measure. Both Citizen Kane and Vertigo, established as bywords for the best the big screen has to offer, were dislodged from the top of the chart.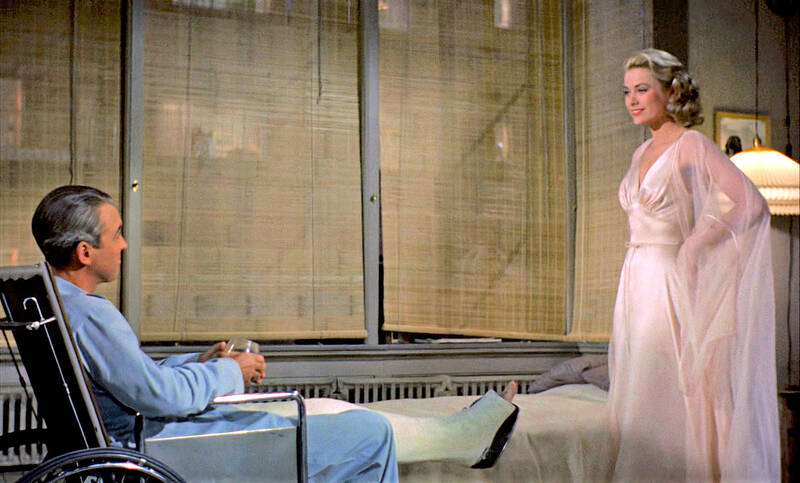 James Stewart and Grace Kelly in a scene from Rear Window (1954).
Photo courtesy of Wikimedia Commons
The new winner, Jeanne Dielman, 23 quai du Commerce, 1080 Bruxelles (1975) – a comparatively little-known feminist drama by the Belgian director Chantal Akerman – is also the first film by a woman to make the top 10. Powell and Pressburger's A Matter of Life and Death came in well below, at number 78, nine places behind their vibrant ballet drama, The Red Shoes.
This weekend, film lovers seem happy to salute this fresh list of 100 illustrious titles, published by Sight and Sound, the British Film Institute's journal. It is a line-up compiled every 10 years from the votes of international directors, actors and critics, a constituency expanded this time to 1,639. Since the poll began in 1952, the results have been dominated by male directors, so the time was ripe, most concede, for a broader view.
True, a few commentators are quibbling about the usurping of the acknowledged "great movies" of the past in favor of more zeitgeisty offerings, such as 2019's Oscar-winning Korean satire, Parasite, at number 90, Barry Jenkins's story of queer identity, Moonlight, at 60, Jordan Peele's racially astute horror debut Get Out, now at number 95, and the notable ascent of a three-year old film, Celine Sciamma's Portrait of a Lady on Fire, now at 30. Others have grumbled about a suspected "tick box" instinct among voters, allegedly prompting them to make sure that more female directors made the grade.
But as the dust settles and the list is analyzed for what it says about changing critical tastes, there is good news for the sustained power of British storytelling. Although there are now 69 different international directors, rather than 55, in the top 100, the talents of Alfred Hitchcock, Charlie Chaplin and Powell and Pressburger are still well represented, to say nothing of director Carol Reed, maker of that stylish favorite The Third Man in 1949. Seventy three years later, it holds 63rd place jointly with Goodfellas and Casablanca.
So the British titles that still ride high are rather different to the realist, kitchen-sink dramas commonly thought to characterize good British film making. Acclaimed work such as Ken Loach's Kes or Mike Leigh's Vera Drake — which laid the gritty groundwork for British directors working today like Clio Barnard, Lynne Ramsay or Andrea Arnold — are not so visible across the world.
"There is a colorful thread of British imaginative world-building that you can see in the directors still included in the poll," said Isabel Stevens, managing editor of Sight and Sound. "It is an almost theatrical tradition."
Comments will be moderated. Keep comments relevant to the article. Remarks containing abusive and obscene language, personal attacks of any kind or promotion will be removed and the user banned. Final decision will be at the discretion of the Taipei Times.